You have been diagnosed with hearing impairment and your hearing professional recommends hearing aids. Thanks to today's technology, that you have a variety of brands and styles to choose from.
Keeping the same thing in mind many hearing devices are made which are very small in size. These devices are very small such that they are 100% invisible to the other person, that's why called Invisible Hearing Aid Devices.
You can purchase the latest hearing aids at a fair price through HearingSol, If you need any assistance or you have a query regarding Invisible Hearing Aid or Hearing Loss, feel free to call us at +91-9899437202. We are always here to help you.
According to the National Institutes of Health, out of every 1000 people with moderate to severe hearing loss, at least 182.5 people use a hearing machine. Different brands or manufacturers of hearing aids provide various types of hearing devices. Today, these are very expensive. But every person wants the best, smallest, and the reliable hearing device.
One of the smallest and effective ears aids are Invisible In the Canal(IIC) and Completely In the Canals(CIC). These hearing devices are so tiny that people will not even notice it. They are also very suitable for mild to severe deafness. However, these ear machine's styles are not meant for everyone. Therefore, before buying any kind of hearing device, it is extremely important to consider the pros and cons of small hearing aids with your audiologist.
What Is Invisible Hearing Aid?
Invisible hearing machines are the hearing devices which are very smaller in size and are very helpful for the hearing impaired people. These devices are very small that they even don't get noticed by other people if someone wears them. Comes in different size and in various colors to suit the taste and style of the individual wearing it.
The size of such devices is very tiny that the person staring directly to your ears from just a feet away will struggle to see the device. Invisible hearing machines are purposely designed for the people who are slightly self-conscious about their hearing loss.
Features of Invisible Hearing Aids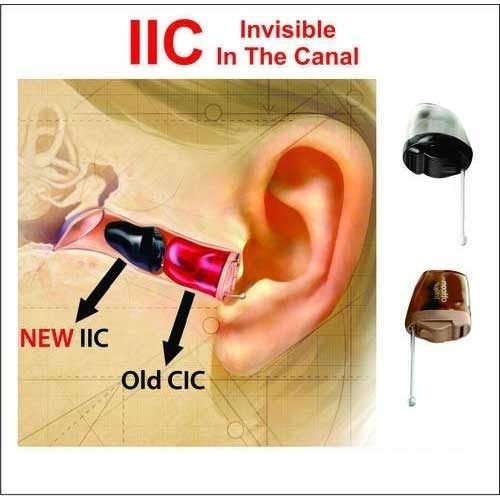 The impression is turned into a 3D computerized rendering. From there, each hearing aid component is "virtually" positioned, in order to create the tiniest finished product possible. Then, your hearing aid is built and delicately sculpted until it matches the contours of your ear canal.
These hearing aids have fitted extraction cords to insert and remove from the ear. IIC hearing aids house size 10 (Yellow) battery. The typical lifespan of a size 10 battery is between 3-5 days, but this can vary depending upon the number of hours per day the hearing aid is worn, the severity of hearing loss and the technology level of hearing aid.
It has the following features :
Custom design as per individual
Completely invisible
User-friendly
Longer working life
2 years international warranty
Benefits of Invisible Hearing Aids
It reduces the sensation of 'occlusion' (e.g. hearing your voice louder in your head as if it's trapped inside) which can sometimes occur when IIC hearing aids fit in the outer cartilaginous portion of your ear canal. This is because unlike the cartilaginous portion, the bony part of the ear canal doesn't internally vibrate as much when you talk.
It is of the miniature size and has an invisible appearance. It is custom-made for you and is totally invisible from outside. Their size not only makes them comfortable but also invisible in the sense that it is hard to make out whether a person is wearing them or not.
The microphone located in Invisible In Canal (IIC) hearing aids helps in using the telephone. It also helps in the preservation of the natural acoustics provided by the external ear (pinna) that help with localizing the direction of sound from in front and behind you.
Types of Invisible Hearing Aids:
IIC (In the Canal):

It is the most discreet device which sits deep in the ear canal and probably invisible to other people.

ITE (In the Ear):

These devices has the latest digital technologies in a module casing that fits perfectly in the ear. These types can be visible within the ear.
Some of the best Invisible Hearing aid
Signia Silk Nx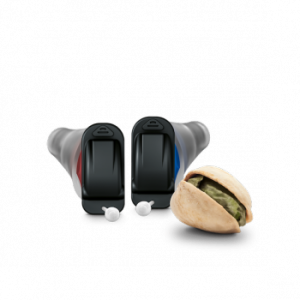 It is one of the best hearing aid devices based on the NX platform which has the best natural sound. This device is compatible with the touch control app for discreet remote control and ready for smooth trials.
Key Features :
It is invisible and discreet.

Smaller than its predecessor.

Binaural OneMic directionality.
Starkey Soundlense Synergy IQ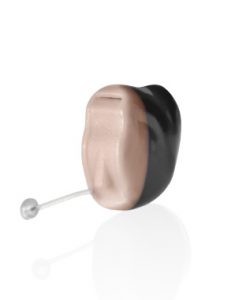 Starkey is renowned for the invisible ear machine and has excellent comfort in the ear and the sound quality. It is one of the smallest IIC's which is suitable for the majority of ear canals. It is the only hearing device which is compatible with the wireless accessories. The wireless solution gives you the ability to stream TV, music and much more.
Phonak Virto B Titanium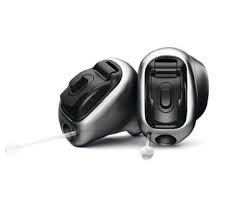 It is a 3D printed titanium shell which means better comfort and a much tiny hearing aid device. It is based on the Belong platform which seamlessly adjusts the program depending on the listening environment.
Pros and Cons of Small Hearing Aids
Well, there are benefits and limitations in all types of hearing machines. Hence, the pros and cons are given below:
Pros of Small Hearing Aids
Functionality
Both CIC and IIC hearing devices deliver outstanding sound quality. In CIC ear machine, outer ear of the person is used as a funnel to support location and sound amplification. They are also are very discreet. The tiny IIC hearing machine is deeply fit in the ear canal next to the eardrum for easy sound delivery.

Their design allows the air and sound to pass through the ear canal. Therefore, reducing wind noise when a person is at some outdoor place.

CIC and IIC hearing machine placement near the eardrum makes sure that less power is required for sound transfer. Resulting in the reduction of feedback sounds such as whistling noise.

They are suitable for mild to moderate hearing impairment.

Both hearing devices have outstanding bass reproduction.

Provides natural sounds for many users. The placement of the hearing devices also reduces the "occlusion effect" which can produce booming or hollow echo-like sounds.
Potential Comfort and Attractive
Hearing aid brands provides a wireless connection to mobile phones in tiny hearing devices.

These don't have any wires or external tubes.

They are also available in custom modeled and lightweight

These hearing devices because of their tiny size, are nearly invisible.

One can wear headphones over the hearing machine.

Natural and Easy use of the mobile phone.
Cons of Small Hearing Aids
In terms of strength, these are enclosed in a thin acrylic custom made of shell. The thin size of the shell could be broken easily. Therefore, re-shelling is required which can cost Rs 13,881 at one time.

Its tiny size doesn't allow fitting of many hearing device technologies like the directional microphone.

Siemens hearing aids

present Siemens' Insio Binax 7 which are

wireless hearing aids

that helps in improving speech understanding in noise.

The

batteries

of the CIC and IIC  are very small. Therefore, the battery lasts only for approximately 4 days. One needs to change batteries regularly.

People who use these tiny hearing devices usually feel of blockage in the ear or Occlusion. These tiny hearing machines fill the ear like the bad flu which also increases the echo sound in the voice. If the deafness is greater than 45 dB in low frequencies then the blockage is a big problem. Providing an outlet to the ear is also not possible as the size of the vent is according to the size of the person's ear.

The controls of the device are nearly impossible to see. People with vision difficulty usually have a problem in using such tiny hearing aids.

These IIC hearing machines are not suitable in hot, oily or wet conditions. Therefore, requires constant repair to compare other hearing devices.

They are also suitable for everyone's ear canal. People who have differently shaped ear or other than the normal are not able to wear these IIC hearing aids.

Requires excess

cleaning, care, and maintenance of hearing devices

for long-term use.
World's First Invisible Hearing Aid
Nanoplug was the world's first IIC hearing aid designed by an international research team. It is very small in size and almost unnoticeable. The development of the Nanoplug hearing aid was made possible by nanotechnology.
Features:
It Comprises a small battery and other micro-components.

Dimensions of nano plug areas: 7.1mm x 5.7mm x 4.17mm.

World researchers invented that there are no toxic chemicals inside the battery of the nano plug.

It doesn't cover the ear canal totally.

It can be removed by using the provided tool.
How To Choose The Right Hearing Aid?
For choosing a right hearing machine, consult an audiologist or a hearing health professional. There are different kinds of people with different ear structures and with varying hearing loss. Different hearing machine suits different people, for example, those who want behind the ear hearing aid use receiver in the canal(RIC). Or receiver in the ear(RITE) as their small size is very comfortable when worn. They come in different colors and also contains a nearly invisible tube. They are best for those who have severe deafness. These lightweight hearing devices are easy to handle.
Different hearing aid brands such as Phonak, Widex, Starkey, Resound which offers many types of hearing device style suitable for each and every person.
There are also some ear machines such as Siemens Aquarius waterproof which is very convenient to use in every weather condition. And some devices offer advanced wireless and Bluetooth technology such as Starkey Wi Series which offers one-touch sweep technology.
Depending on your lifestyle, budget, environment and your audiologist advice, buy a hearing machine. On the advice of health care professionals (+91-9899437202) take a hearing test before making any decision of purchasing a hearing aid.
Invisible Hearing Aid Price In India
Here we describe the price list of different type of hearing aid devices in India in the tabular form which is as follows:
Phonak
| | | | | | | | |
| --- | --- | --- | --- | --- | --- | --- | --- |
| Model | Type | Battery Size | Channel | Gain | Fitting Range | Total Programs | MRP (INR) |
| Virto Q 90 nano | ITC | 10 | 20 | S=46 M=50 | 0-85 | 5+7+0 | 2,54,000 |
| Bolero Q 90 M(IP 67) | BTE | 13 | 20 | 67 | 0-95 | 5+7+# | 2,38,000 |
| Bolero Q 90 SP | BTE | 13 | 20 | 75 | 0-120 | 5+7+# | 2,38,000 |
| Bolero Q 90 P | BTE | 13 | 20 | 71 | 0-110 | 5+7+# | 2,38,000 |
| Naida Q 90 UP | BTE | 675 | 20 | 85 | 30-120 | 5+7+# | 2,03,000 |
Oticon
| | | | | | |
| --- | --- | --- | --- | --- | --- |
| Family | Description | Fitting Bands | Fitting range | Battery | MRP(INR) |
| Swift | Swift 70 BTE | AFC | 80 | 13/270 | Rs 9,800 |
| GO PRO | GO PRO CIC | 4 | 85 | 312/145 | Rs 17,500 |
| TEGO | TEGO D BTE VC | 4 | 90 | 13/220 | Rs 30,000 |
| GET | GET CIC | 4 | 80 | 10/100 | Rs 27,000 |
| HIT | HIT D ITC | 4 | 85 | 312/140 | Rs 40,000 |
Widex
Model

Type

Battery Size

Max. BatteryLife(In hrs)

Fitting

Range

Features

MRP(INR)

Bravo B2

BTE

13

375

20-80dBHL

2channels, 2bands

13000.00

Bravissimo BV-8

BTE

13

450

20-80dBHL

Advance entry-level Digital Hearing Aids

20000.00

Real RE-9

BTE

13

370

10-90 dBHL

Latest technological development with Integrated signal processing,

30000.00

Bravo B32

High Power BTE

675

500

50 – 120 dB HL

Bravo B2 Series Features

20,000.00

Flash FL-CIC

CIC

10

120

0-75 dB HL

programmed up to 10KHZ in RIC

40000.00
Starkey
Model
Style
Fitting

Range

Features
MRP(INR)

Wi Series i110

CIC / ITC / ITE

0 – 90 dB

Designed for Vibrant Lifestyle, SoundPoint, 100% Wireless, Premium Binaural Spatial mapping, Live 3D Speech mapping, iQ Boost, Synchronized User Adjustments, Binaural Telephone Mode, T2 on Demand, Premium Voce iQ2, Invision Directionality, PureWave Feedback Eliminator, Self Check, Swap Fit, Live Real Ear Measurement, Self Learning, Spectral iQ, Compatible with all SurfLink Accessories,  Optinium High-resolution sound imaging,

Rs 217000

CIC / ITC / ITE Exp New

0 – 110 dB

Rs 232000

RIC

0 – 90 dB

Rs 213000

RIC AP

0 – 110 dB

Rs 218000
Siemens
| | |
| --- | --- |
| Pocket Models | MRP (INR) |
| VITA 118 | 2290.00 |
| Pockettio MP | 3790.00 |
| BTE Touching | 6990.00 |
| LOTUS 12 P BTE | 7390.00 |
| ITC LOTUS 23 | 12990.00 |
Lyric
Lyric is the smallest style of hearing aid. This device manages to fit all the electronics in a very small container that fits directly into your ear and is much smaller than the other hearing devices.
Benefits of Lyric:

100% Invisible: This device is placed in the ear canal, and remains completely out of sight. This means it is invisible to the world.

Clear & Natural Sound: This device helps you to hear the clear and the natural sound and makes to enjoy everywhere you go.
Cost of lyric hearing aid

: This hearing device is delivered on a subscription basis through your local lyric provider, i.e you cannot buy them. Its cost of a subscription is determined by the certified lyric provider. The cost of the device also varies according to the need. In general, the cost of subscription per pair is approximately around Rs 2,08,211 to Rs 4,16,421.
Best Invisible Hearing Aid 2018
Some of the most popular models from 2017-2018 are as follows:
Signia Silk Primax

: This hearing aid is marketed to the first time buyer because of the lack of required specification, and its simplicity. Signia offers you the easyTek, which is a multifunction button and helps to connect with the Bluetooth and hangs around the user's neck. It costs around Rs 1,38,807 for the pair with a remote.

Starkey Soundlens Synergy

: This model is unique among the others because it allows a transition from unassisted hearing to the use of hearing machines. The technology used in this device has a special design that improves the clarity of the quiet sound. The cost of one pair is around Rs 1,38,807 with three -year warranty.

Phonak Virto B

: It is Calibrated and shaped to the ear so that it can be fixed in the ear easily and to improve the hearing experience. This model has a variety of colors to make it more discreet. In this there are six version models for further specification, all of them costs between the Rs 1,24,926 – Rs 1,73,509.

Resound LiNX 3D LTIIC

: The LiNX 3D has a full range of style with one being an invisible hearing aid. This device is also based on the size of the ear canal.
Invisible in canal (IIC) hearing aids have a smaller surface area. Thus it will lead to :
Need any help with Invisible Hearing Devices? Call us at our toll-free number +91-9899437202 today or book an appointment for a FREE consultation at HearingSol and here you can also buy hearing aids at a reasonable price.
More useful articles:-