Hearing loss is the third most common rapidly growing health problem in the world. Thanks to today's technology, hearing aids & various other accessories have made life easier. These machines not only boost your hearing experience but also even enhance your daily life activities. Better hearing start with choosing the best hearing device that is adapted to you and gives you the sense of sound. So choose the one that fit your lifestyle.
Care and maintenance of a hearing aid are crucial. Along with care, any electronic machine needs the power to work. So, hearing aids are built up with removable batteries to overcome the power issue. And within the advancement of hearing aid technology, we meet our target to reach up to rechargeable hearing machines. Same as in hearing devices use some type of technology and features.
There are so many greatest accessories that exist in the market. They provide different functionalities like connecting with other Bluetooth devices to make them wirelessly accessible to your hearing aids. In this article, we will explain various hearing aid accessories or types of equipment available in the industry.
You can buy the latest hearing aids at a fair price through HearingSol, give us a call at 1800-121-4408.
Compulsory Hearing aids Accessories
Hearing devices can not work effectively without some of their parts & components. Battery and hearing aids cleaning kit come with the initial purchase. So, you could start using them as soon as they arrive but it's not sufficient for the rest of life.
You have to purchase more accessories once the old one is useless. They must-have hearing machines accessories are:
Hearing Aids Cleaning Tools
Keeping hearing aids clean is essential for the long life and reliable working of hearing devices. Wearing hearing machine for over time cause dirt, ear wax, and oil affects its functionality as well as its sound quality. So make a habit to clean and maintain your hearing machine on a daily basis because it's not possible to visit your audiologist for every cleaning of machines.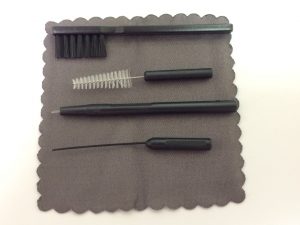 These kits are available in the market so you could clean your hearing aid by yourself on a regular basis. It consists of:
5 in 1 cleaning kit by Acu life for Earwax pick and removal, Battery door opener, Hearing aid tube & vent cleaner along with Battery replacement magnet.
A pack containing 5 hearing aid cleaning brush.
Threads.
Cleaning wire.
And cleaning wipes.
Battery Tester.
Hearing Aid Batteries
As you know, every electronic machine needs the power to work so as hearing devices. Hearing aids batteries provide all day working power to the hearing machines so, it is recommended to use hearing aids only when it is necessary to listen. This avoids the useless battery consumption and the battery may run longer. All ear machines require the battery to function properly unless you have a rechargeable hearing aids.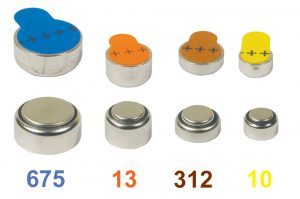 Zinc-air button disposable battery is the most common hearing aid battery that is available in the market. These are available in four different sizes with a different color i.e 10, 13, 312, and 675. Your hearing aids will run on one of these specific types of batteries. Batteries come in standard color with code to help ensure you get the right type. You can take a spare battery with you while traveling so, you could be ready if the battery ran out. You can also choose the latest hearing machines for yourself with low battery alert.
| | | | |
| --- | --- | --- | --- |
| Battery code | Color | Size | Lifespan |
| Size 10 | yellow | 5.8 mm wide by 3.6 mm high | 3 to 7 days |
| Size 312 | brown | 7.9 mm wide by 3.6 mm high | 3 to 10 days |
| Size 13 | orange | 7.9 mm wide by 5.4 mm high | 6 to 14 days |
| Size 675 | blue | 11.6 mm wide by 5.4 mm high | 9 to 20 days |
Optional Hearing aid Accessories
Hearing Aid Dryer or Dehumidifier
A hearing aid is a small delicate device and you can reduce the number of repairs by taking good care of it. You can store your hearing device in a safe and dry place like a dehumidifier for overnight to avoid moisture and debris from hearing aids. That is why many hearing professionals recommend dry containers to store your devices. This dehumidifying storage box provides a safe, inexpensive nighttime storage option for them while they are not in use. A hearing aid dryer or a dehumidifier is basically designed to escape moisture from them.
There are two main types of hearing aid dryers:
1) Dry and Store Global II Electric Hearing Aid Dehumidifier TRG-AA:
Electric dryers utilize a power source,
Good for Hearing aids, cochlear implant hardware, Tinnitus maskers, and in-ear monitors
The drying source can vary from heat, fan, or desiccant.
It provides conditioning for 8 long hours and then shuts down automatically.
The price of electric hearing aid dehumidifier ranges from Rs. 2,000 to Rs. 14,234.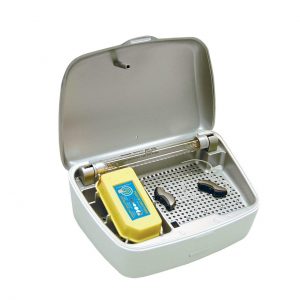 2) Siemens Stay Dry Hearing Aid Dehumidifier:
Non-electric utilize a desiccant or gel to absorb moisture.
Keep your hearing aids in the canister every night to suck out the moisture.
Keep the top closed always so that the desiccant material does not fill with moisture.
Either you can remove the battery or not before putting your hearing devices inside it.
They are reusable again and again.
They are cheaper than electric dehumidifier i.e Rs. 449.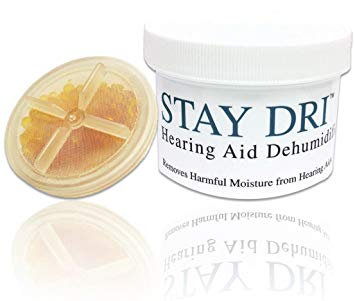 Bluetooth Streaming Devices
Digital hearing aid comes with advanced features of Bluetooth compatibility so that the user can connect wirelessly to another device like phone, TV, mp3 and more to the hearing machines. This is an optional accessory which you can buy according to your needs. This streaming device called "streamers" are designed to work with your specific devices like t-coil hearing aids.
Features of Bluetooth Hearing Aid:
It connects your device to many different Bluetooth-enabled devices wirelessly.
Any audio from specific source will come directly to your ears.
It is worn around your neck.
It keeps you connected and in control by streaming audio through your hearing machines or serving as a remote control.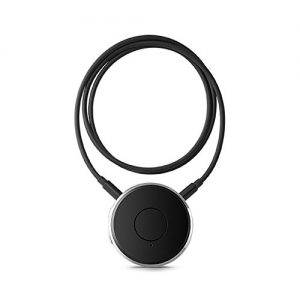 Hearing Aid Clips
Hearing machine are very expensive device and losing this can be stressful. Wearing them doesn't mean you can not live an active lifestyle. So there are many hearing devices accessories available in the market like hearing aids clips to avoid the fear of losing your aids. Some of its clips are given below,
1) Anchor Ear Bands(clip for babies) – Rs 1,281
The ear bands are a great way to reduce babies pulling and removing hearing aids.
2 silicon sleeves attached, silicone elastic band
Adjustable to the wearers with many color options
These clips do not come with hearing aids, you have to buy your own.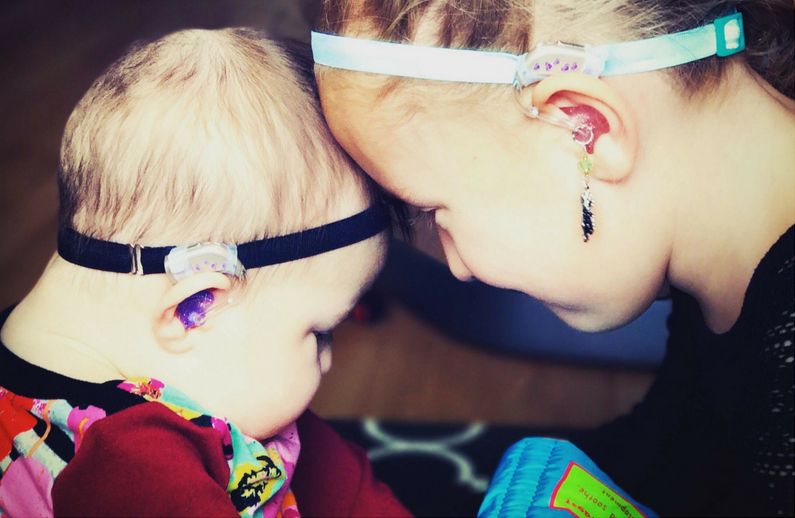 2) Kids Clips(clip for toddlers) – Rs 658
Used to protect BTE hearing aids against falling off.
A silicone ring slides easily and securely over the BTE (behind-the-ear) hearing aid
They are high quality, durable, non-toxic, resistance to high and the low-temperature environment, and available boiling water disinfection.
Comfortable to wear and especially suitable for children to use.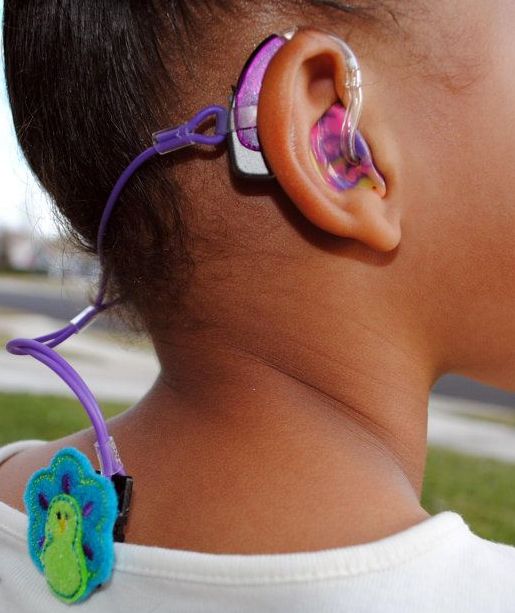 3) Ear Gear(Clip for school-age children) – Rs 2,627
It's a challenge for the children to wear hearing aids in school as they are being bullied by their friends. So, it's impossible for parents to make their kids ready to wear ear machines. A decorated hearing device clips will help your children to do the highly active task in school but it's a struggle to match it to their uniform, sports t-shirts or dancing costume.
double layer spandex sleeve that protects hearing aids from sweat, dirt, moisture, loss, and wind noise.
Suitable for all ages from infants to seniors.
Best for the cochlear implant, ITE, Baha models and available in 8 different colors to suit your children choice.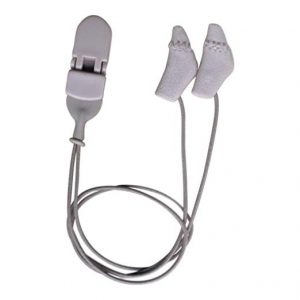 4) Safe N Sound Strapz(Clip for adults) – Rs 1,381
More secure and keeps your hearing aids in a place.
Attached to the clothes to avoid falling off.
Can be worn with glasses, cochlear implants, and BTE.
Suitable for all age type.
5) Otoclips(Clip for seniors) – Rs 894
Designed to work with ITE instruments
cords with clips attachment.
ITE OtoClips use a spring-loaded pin to secure the cord.
You can buy either BTE monaural or ITE Binaural.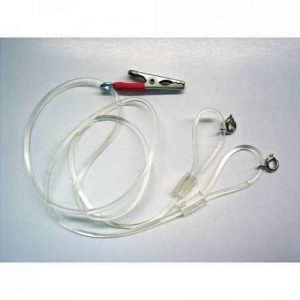 6) Safe N Sound Duo(Clip for glasses) – Rs 899
Suitable for all eyeglasses wearers with a compatible fit
Eyeglasses attachment
For all age groups with glasses.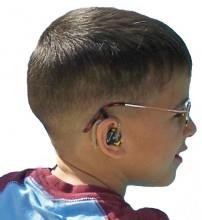 Assistive Listening Devices
Assistive listening devices are designed for listening to conversations on the phone, watching television, watching performances, hearing the doorbell, listening to public appearance or an alarm clock. It brings clarity to each one of them. The working of assistive listening devices is given below,
A microphone captures the sound from a surrounding or an individual and from the source, such as a telephone or a lecturer
The sound is processed by reducing the noisy sound so that speech is enhanced.
The sound is then transmitted to the receiver of hearing aid, and from there to the user's ear.
Wig Tape and Surgical Tape
Wig tape or the surgical tape are also termed as an optional hearing devices accessories as they are used to keep their device Behind The Ear(BTE) in a stable position by contact with the skin of a user. It will let you perform the heavy task without falling off of a hearing aids.
One side of the tape will get attach with the behind the ear machines and another side will stick behind the ear. The pack with 42 tabs costs Rs 682.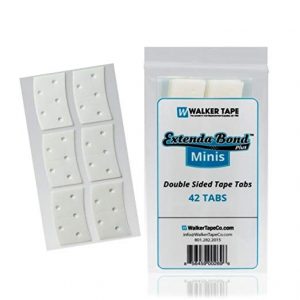 There are various types of hearing aid accessories that suit your lifestyle. You can choose them according to your needs and desire. Either you can use it as a medium to hear much better and clearer or you can use it as a part of decoration to bring up new fashion statement along with good hearing.
If you are suffering from deafness, consult with a hearing care professional. You can do it here by Booking an appointment at HearingSol or by giving a call on our toll-free number 1800-121-4408 and find the right treatment for your hearing disability.