A successful hearing aid fitting is more than just selecting an ear machine for your impaired ear. The hearing machine needs to be properly fitted to your ear. It is very mandatory because if your hearing device will not fit properly into your ear canal. So you will not able to get the correct amount of amplification, and can not get maximized benefits from your hearing aids. If a professional audiologist recommends an ear machine to you after taking the hearing test. They will help you to select the one ideal device that fits better inside your ear.
Approach for Hearing Aid Fitting
Before fitting the hearing machine into your dysfunctional ear, your audiologist will conduct a hearing test. It is necessary to let them know whether you need a hearing aid or not? With the help of these hearing tests, the doctor will able to know the overall performance of both the ear. They will measure how much sound you can hear at the different levels of pitches? Also, they can find that in which ear what is the actual degree of hearing loss, you are dealing with? According to your test, they will recommend the hearing device with soft sounds so they are audible. also, they suggest how much to compress loud sounds so that the voice does not become uncomfortable.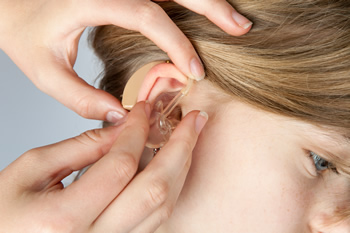 During the test, if your hearing care expert will observe that you are in need of a proper hearing aid? then they will suggest the best device and provide their assistance to you. Also, they will describe many advanced hearing aid features, cost, and technology. Hence you will also learn how to wear these listening machines? How to optimize the performance of your equipment in your everyday listening environments? Therefore You will get the customized hearing device features. Also, you will be able to adjust them according to your preferences in order to improve your hearing and your lifestyle too.
What to expect at your first hearing test?
If you think you are facing some issues related to your improper hearing abilities, or you find any symptoms of hearing loss? such as –
Then the best thing which you can do for yourself? is that you should schedule an appointment with a hearing professional. It is mandatory to have your hearing tested as soon as possible to avoid such situations of hearing loss. You should not afraid of these screening because It does not pain you. It hardly takes only an hour of all your time, and in many cases, it is free for you to have a hearing test.
If you are going for the first time for getting your hearing tested to your audiologist? So the hearing test specialists will follow the same basic procedure during your first appointment. It includes reviewing and gathering of your health history. Also, they can conduct several tests to see and judge how well your hearing degree and speech understanding quality is?
Process for Hearing Aid Fitting
When your hearing care expert decides that you are able to use a piece of listening equipment. An audiologist will follow this process for proper Hearing Aid Fitting into your ear :
Access hearing tests and test results are used for further process.
Prescribes amplification targets depending on hearing screening.
According to the test result, they will adjust the digital device.
Tuning the device will meet the amplification targets in each ear.
Investigate machine quality and check how well the patient can hear.
If they are listening well, progress with language and learning.
If not, they will take another test and decide what to change.
Hearing specialists use many tools in order to check your inner ear thoroughly. They can use magnify tools to view inside your inner ear or can use a video stereoscope. So that it will give you a clear and closer look at your own ear canal on a large video screen. Therefore your audiologist can check any disability or problem inside like – red patches in the ear canal, vent in the eardrum, amount of earwax, etc.
The appointment will begin with your health history to determine if you have a genetic problem. Also, about any hard experiences in the past of your life that could affect your hearing such as loud noise or frequent ear infections, when you were a child. The hearing specialist will also ask about any medications you take for any other disease. This is important because a number of common medicines are toxicity, meaning they are harmful to your ears and cause hearing disabilities.
Initial Hearing Aid Programming
When the hearing machine arrives at the hearing care center. The professional doctors analyze the features of that hearing aid through the computer. Then they match your preferences accordingly to that analysis. If the audiologist is satisfied with the match they recommend that appropriate heating device to you. Once the device comes out of the box and properly fits your ear, you will start hearing a lot of things that you have not heard for a long time. Maybe at the starting time, you feel it too loud. But it will take time for your brain to recognize which sound need to ignore and which need to hear.
But don't worry because your professional will do some other tests if it is needed to make sure that the given hearing aid is set appropriately for your hearing loss or not? They will also give you some tips about how to clean and take care of your ear machine, change the battery, and will tell you how to use any features of this device properly.
Adjusting your hearing aids
For the patient who purchases a hearing aid from HearingSol, any programming change or adjustment will be done by under our professionals. Adjusting a hearing aid can take time differently, for example, for some people it adjusts within 2 or 3 days but can take 1 week for others. As you start to increase the number of places where you wear a hearing aid, you feel confident and used to avoid any background noise.
You can use your hearing aid according to you. So that you can analyze it in different environments and see the changes in results. For extra practice with your ear machine, try to locate the sources of all the sounds in your environment, or listen to audiobooks, talk on the phone or wireless radio while you're home alone.
Following are some tips to get used to it with your hearing device :
Wear them in your home and all the environment.
Day by day increase the time of wearing them
Practice locating the source of a sound by listening only.
Practice listening to audiobooks or talk radio.
Take part in hearing devices orientation classes.
Don't be discouraged by background noise.
Hearing aid machines will work extremely well when they adjusted and fitted properly in your ear. This equipment should provide good sound quality and must be comfortable to wear. It is very important to remember that the hearing devices do not restore your normal hearing ability of the ears and they are not as good as a normal one. But it can make you able to hear those sounds which you have not listened to for a long period of time.
Successful hearing machine fitting is as important as choosing the right hearing aid or hearing aid brand. So you need to concern a hearing care professional to know the complete process.
You can purchase the latest hearing aids at a fair price through HearingSol, If you need any assistance or you have a query regarding Hearing aid fitting or Hearing Loss, feel free to call us at 1800-121-4408. We are always here to help you.
They will understand your preferences and according to that, they will recommend you optimized ear machine. And once you selected them according to your requirement, you can buy hearing aid at a fair price from HearingSol.