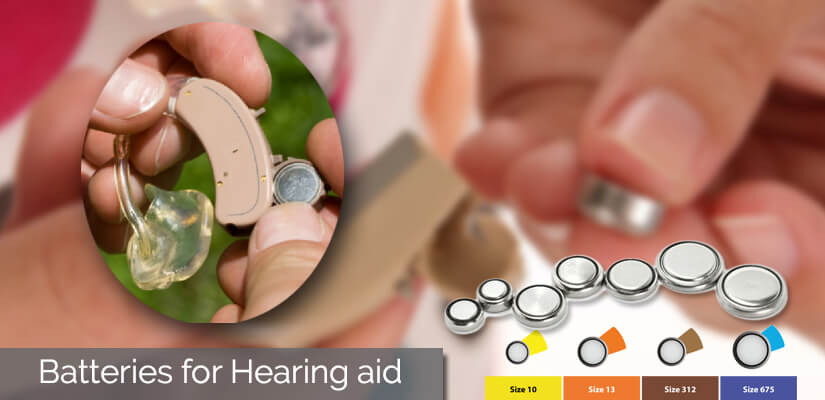 Batteries play a very important role in the hearing aids. All activity of hearing aids totally depends on the batteries. If it works properly then you ear machine also functioning well. You should always purchase batteries for your device by getting information from a good Hearing Consultant.
We ensure that our hearing aid batteries are not merely up-to-date but are also backed up with maximum battery life. We make it a point that all batteries are packaged and supplied in easy-to-open storage forms and are properly sealed so they are kept fresh until ready to use. Every pack of batteries holds six cells and the packets are suitably color coded to make the selection of battery size easier.
The makers of batteries and accessories that come along with hearing machine pay special attention to making things simpler for users by applying a standardized color coding system. This is done to make locating the correct battery size easier.
Types of batteries every hearing aid user should know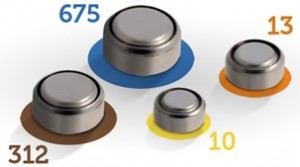 Made from Varta, power one hearing aid Zinc-air batteries are manufactured in the world's largest and most up-to-date hearing aid battery plant in Ellwangen, Germany. Well known for its quality and reliability, they are extremely long lasting and comfortable.Zinc-air batteries are ideal for today's digital hearing aids due to its high energy density as well as an almost flat drain curve. This means that the hearing aid can perform at a consistent level throughout the lifetime of the battery. With a protective tab to keep the batteries in an "inactive state", you can be sure that the batteries you get are in the best possible condition
● Size 10
The Size 10 batteries are mostly suitable for ITC (In the Canal) and CIC (Completely-In-Canal) types of hearing aids. The color yellow represents them. They are the smallest and most significant size of hearing aid battery with a regular battery life of 80 hour
● Size 13
They come with an impressive battery life of 240 hours. Denoted by color orange, they are the best fit for ITE (In the Ear) and BTE (Behind The Ear) forms of hearing aids
● Size 312
312 hearing aid batteries are represented by the color brown. They give a battery life of about 175 hours. It has to be noted that their size is smaller than size 10 and size 13 batteries and are mainly used for In-The-Canal (ITC) and In-The-Ear (ITE) hearing aids
● Size 675
Denoted by the color blue, they are visibly larger in size and thus have a larger battery life. They can provide up to 300 hours f battery life. Size 675 batteries are recommended for Behind-the-Ear (BTE) hearing aids and in cochlear implants.
Precautions
Make use of the following steps to avoid any sort of inconvenience that may arise through inappropriate use of hearing aid batteries. Following are some care and maintenance tips to make your hearing aid and its battery long lasting:
● In order to give long-lasting life to your hearing aids, keep your batteries sealed until the time you really need to put them to use.
● Be cautious that after removal of the label, they tend to lose power and get exhausted easily in 4 to 4.5 weeks, its better to put them to use right after the removal of the label.
● Batteries when placed in a cool climate last for a longer period of time. But please make sure you don't store them in very cool or hot places, any of that leads to draining of the battery's life.
● During the time of changing of the batteries, remove the label and let it sit for a few seconds before placing it in your hearing aid.
● Ensure that the changing of your hearing aid batteries is done in an uncluttered place having a soft surface like a table with a tablecloth is perfect.
It is very important to evaluate the hearing aid problem quickly and restore its functioning. We at Hearing Solutions are proud to offer hearing aid batteries online at low cost that are simple to replace and provide long-term, dependable functioning of hearing aids.