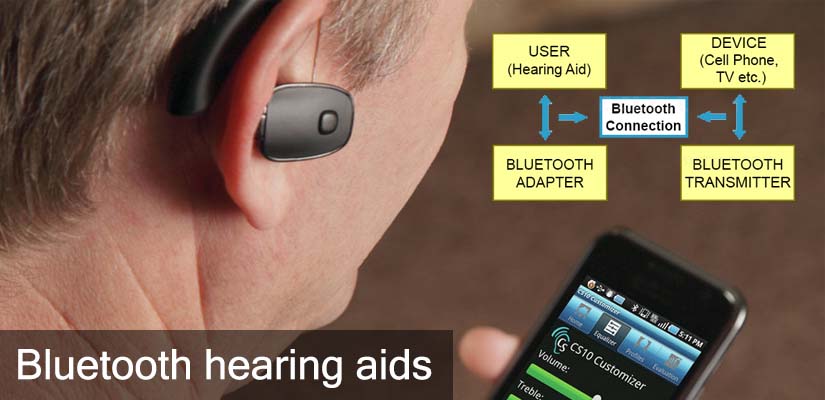 Bluetooth is the wireless technology to exchange data between two or more device in the short-range up to 100m. In was invented by telecom vendor Ericsson in 1994s. It is designed to recognize the radio signals that are sent from another electronic device like your phone, TV and hearing aid and communicate with them. Today's with the digital Bluetooth hearing aids it is possible to connect with other electronic Bluetooth devices. So on the page, we will reveal how new technology has changed the face of hearing aid.
What is Bluetooth Hearing Aid?
Bluetooth is perfectly integrated with hearing aid technology that can be delivered better and improve sound quality from electronic devices like your mobile phone, TV as well as the mp3 player. Most Bluetooth enabled ear machines to come with a controller that transmits and receives wireless signals sent from other connected devices. The wireless machines can be used in conjunction with assistive listening devices to stream sound to you. It provides a communication link between the wireless technology in the hearing aids and any Bluetooth-enabled device.
You can connect Bluetooth directly to a hearing machines or via streamers carrying the signal. Lots of manufacturers are offering different wireless solutions, which can improve the sound quality on the phone. There are many accessories which compatible hearing aid like remote control, TV Unit, cellphone, microphone and more.
How Does Bluetooth hearing aids work?
Before buying the hearing aids you should consulate with an expert about your need for wireless connectivity. If you want to connect with phone, TV, mp3 or other Bluetooth enabled device then according to your need then will discuss many wireless ear machines.
The wireless hearing aids can either be paired with an Apple device or be paired with the streamer. Headphones to be paired with external devices like mobile phones and TV. Once set up, the streamer will seek the Bluetooth signal and connect your hearing machines to the required device via an FM signal or electromagnetic field. It is done, depending on the manufacturer's design. Usually, the streamer is seen around the neck or placed in a pocket for hands-free operation.
Your Bluetooth enabled phone communicates wirelessly to the streamer which handles the hearing aid signal. So there is two option:
Hearing aids with an assistive listening device – As we have described above, the assistive listening device, or streamer, which is a small device, make a communication signal between the Bluetooth device and the hearing aid.
Made for iPhone hearing aids – Many hearing aid models are designated as "Made for iPhone," which means that the iPhone work as the streamer itself, connecting directly with the hearing aid.
Benefits of Bluetooth Hearing Aids?
A unique listening experience:- The biggest benefit having Bluetooth is that make possible for audio to connect with on a phone and sent direct user ear. By doing this, your hearing machines become a pair of top-quality earbuds.
Multiple Channels:-  Bluetooth device uses multiple channels to convey the sound and is, therefore, less likely to lose that signal due to interference with one of the channels. Multiple devices can usually be paired to one streamer, so you can easily switch between different devices.
Remote Control:- There is also the capability for Bluetooth enabled devices to adjust the volume of hearing aid remotely, either by the device itself or through use of an assistive listening device(steamer). This is a pretty cool benefit if your hearing aid to small to contain the external application.
Clear TV Sound:- Feedback and other problem associated with hearing aid are dismissed with the use of Bluetooth. Streaming the audio from your Bluetooth enabled device like TV, Mobile, mp3 and more, results in better sound quality. It elevated speech comprehension from movies and TV shows.
Offer a Hands-Free solution:- With a switch of a button, you can talk hands-free without the need to hold the phone to your ear.
Binaural Hearing:- Bluetooth technology allows hearing aids to speak with each other, maintaining the quality of speech and optimizing localization to your position. It allows the user to hear sound in both ears.
Conclusion
If you are interested in Bluetooth-enabled hearing aids, concern with your hearing specialist about all of your options. Bluetooth-enabled streamers are assistive listening devices that bring sound directly into the ear and improve the speech to noise ratio.  Bluetooth technology in hearing aid eventually proved a freedom for people with hearing impaired. They enhance the sound quality when you paired with the mobile app.
Your hearing care expert will decide which option will fulfill your need. For proper consulting and help, contact us.