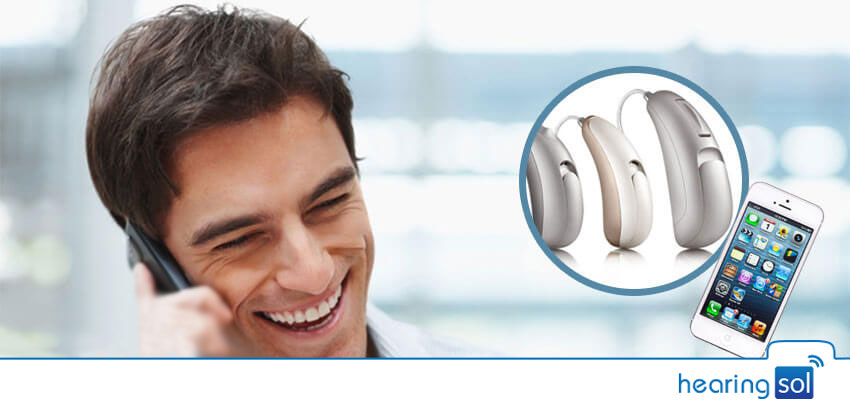 Today we are living in a digital world where we want control over our fingertips either its shopping, money transferring, studying, or our daily and most common activity i.e speaking and listening. Hearing Aids Connect iPhone gives the most desirable features to users.
We can connect anything to our phone to have effortless living then why not hearing aids. Hearing aids are the listening device that enhances the sound quality for the people with hearing loss.
You can purchase the latest hearing aids at a fair price through HearingSol, If you need any assistance or you have a query regarding Compatible Hearing Aids and Hearing Loss, feel free to call us at +91-9899437202. We are always here to help you.
The first hearing aids introduced were analog in nature having a microphone, an amplifier, and a battery.
---
Made For iPhone Hearing aids | Hearing loss
With the course of time we have various variety of hearing aids i.e Digital hearing aids without any switch, Bluetooth hearing aids which can detect a radio signal from another electronic device and can communicate through streamers and wireless hearing aids with a controller.
All of these hearing aids were android compatible and the iPhone users were starving to have these functionalities and features on their iPhone too.
So, GN Resound came up with Made for iPhone(MFI) Hearing Aids with their LiNX platforms. Made For iPhone hearing aids are a type of Bluetooth hearing aids in which the iPhone acts as a streamer itself and connects directly to your compatible hearing aids. After Resound, Starkey came up with their Halo Made For iPhone hearing aids.
Similarly, Phonak introduced the real Bluetooth hearing aids which were Made For iPhone, Made For Android, and Made For any Phones.
Made For iPhone hearing aids will always be different from the hearing aids invented later on due to its remarkable iPhone hearing aids accessories like live listening, visible and vibrating alerts, mono audio, type to Siri, facetime, a message with iMessage, closed captions.
There are a number of hearing aids apps available on iTunes for hearing protection, hearing test apps, assistive device apps, and sign language apps.
Hearing Loss is something we can only experience it from people. But sometimes it happens with our close ones like a family member, friends, or colleague.
Hearing loss is the disorder in which people lose their ability to hear properly. It can occur at any age with any cause commonly with the exposure of loud noise or aging.
Causes And Symptoms of Hearing Loss
Hearing loss can occur in one or both the ears. There are various types of iPhone hearing aids if you're concerned about it. Hearing problems can also affect the ability of spoken language and work-related difficulties.
It can be temporary as well as permanent which can only analyze by a hearing test.
If you suspect any type of hearing loss, the very first step is to consult hearing care professional (+91-9899437202) right away.
Causes of hearing loss
Genetics
Aging
Exposure to noise
Ear pressure(Trauma to the ear)
Birth complications
convinced infections during pregnancy like syphilis and rubella
Medications or toxins
Hearing problems can be categorized as mild, moderate, moderate-severe, severe, or profound. There are mainly three types of hearing loss: Conductive hearing loss, sensorineural hearing loss, and mixed hearing loss.
There are plenty of students with hearing loss who are unified into mainstream schooling. These students were also struggling with the day to day situations of life.
Symptoms of hearing loss:
Not able to listen to television or radio
Trouble understanding speech, especially in noisy environments
Difficulty hearing people on the phone
Often ask people to repeat themselves
Avoiding social situations
Exhaustion after attending social events
Tinnitus, or ringing in the ears
With the above causes and symptoms, you can analyze its sensitivity. Taking care of your hearing should always be a priority so, always have ear protection( like earplugs and earmuffs) with yourself before exposure to the loud noise.
Hearing aids can provide relief from deafness but are harder to live with. Connecting your iPhone to hearing aids via apps is not enough, first, you need to find compatible hearing aids with your iPhones.
---
Compatible Hearing Aids Connect iPhone
Yes, First you need to find compatible hearing aids for your wireless devices. Modern hearing devices are computerized electroacoustic systems sending sound also making it more comfortable, according to audiometric as well as cognitive rules.
The sound processing can be considerable, like highlighting a spatial region, shifting abolishes of noise as well as wind. Modern hearing aids devices need configuration to match the hearing loss, physical features, and lifestyle also.
This procedure is called "fitting" and is usually performed by audiologists. The extent of benefit a hearing aid delivers depends on the large fragment on the quality of hearing aid fitting.
There is a wide range of Hearing aids available so, you need to discover the best hearing aids which are suitable for your deafness and your phone too.
Signia

Audible

Audigy

Audika

First
Legend
Danavox Gala
Danavox Logar

EarLens

eMeritus

HearFocus

Intela-Hear

Interton

Kind

Kirkland Signature

MicroTech

Auris

Beltone

Boost
First
Legend
Boost Plus
Silk
Trust

Bernafon

NuEar

Optima

Oticon

ReSound

Cala
ENZO
ENZO2
ENZO 3D
Forte
Lancio
LiNX
LiNX TS
LiNX2
LiNX 3D
Sola
SOUSA Fine
Up Smart

Cochlear

Baha 5
Baha 5 Power
The Baha 5 SuperPower
Nucleus 7 Sound Processor

Concept

Danavox

Danavox Aio
Motion BT
Pure BT

Sonic

Starkey

TruHearing

Udisens

Udio Finissimo

Widex

Aquitis
Beyond
EarQ
Grand Audition
The Federal Communications Commission (FCC) has also approved hearing-aid compatibility (HAC) needs for digital wireless phones so you need to have a wireless phone to operate digital hearing aids.
According to the FCC rules, the iPhone devices are highly compatible with digital hearing aids. You need to have some basic learning regarding the use of hearing aids with iPhones as all of them are compatible with a wide range of digital hearing aids.
---
List of Some Hearing Aids Work Directly with an iPhone
Oticon Opn range –

Oticon

Opn

range is the

best hearing aid for teenagers because its 360o soundscape gives them the confidence to thrive in everyday situations.

It is a new kind of hearing aid, improving speech understanding by up to 30%, even in noisy situations, compared to traditional hearing aids.
The Zerena range from Bernafon – Bernafon Zerena 9 high-end hearing aids redefine the dynamics of hearing with exceptional DECS™ technology. Zerena 7 is one of the top hearing aids on the market today and perhaps the best in the Bernafon range.
The LiNX Quattro from Resound – It combines brilliant sound quality, unrivaled full spectrum streaming, support and optimization from anywhere with ReSound Assist and the world's most advanced rechargeable solution.
The Livio AI range from Starkey – It is the world's first hearing aid to provide both superior sound quality and the ability to track body and brain health. Featuring integrated sensors and artificial intelligence, Livio AI redefines what a hearing aid can do.
LiNX 3D range from Resound – With ReSound LiNX 3D you'll be better at identifying speech in noise and be able to hear more sounds around you.
Enzo 3D range from Resound – They are designed to improve clarity, connectivity, and convenience to people with severe to profound hearing loss. The new ENZO 3D range offers 60% more clarity and 60% better speech understanding in noise.
Beyond range from Widex
Halo 2 range from Starkey
Pure 13 BT from Signia
Nx range from Signia – It is based on its industry-leading Ultra HDe2e binaural link. Its continuous full-bandwidth audio exchange enables dynamic scanning and processing of the wearer's own voice completely independently from all other sounds, including all other voices.
---
Type of Apple or iOS Devices Which Have Features of Connectivity with Hearing Aid
iPhone 4s and later
iPad Pro
Air and later
iPad (4th generation)
iPad mini and later
iPod touch (5th generation) and later
---
Hearing Aid Compatibility(HAC) with iPhones
The hearing aids are compatible with your iPhone or any wireless device through two main functionality i.e either acoustically or by a feature called a telecoil.
This means you are going to listen through your hearing aids with these two functionalities when they are compatible with your phone. These two functionalities are:
1. Acoustic Coupling
It refers to the transmission of sound through some acoustic barrier like soundproof glass. In acoustic coupling, the receiver of the phone is placed over the hearing aid microphone.
They are suitable for the person with mild or moderate hearing loss and you can listen to background sound as well as speech clearly.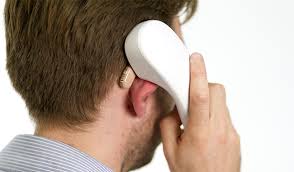 2. Telecoil Coupling
The telecoil couplers pick the electromagnetic energy emitted by the wireless phones and provide it to the user's hearing aids microphones.
They are suitable for the person with profound hearing loss and if they are digital aids, they will switch on automatically as soon they sense electromagnetic waves from the phone.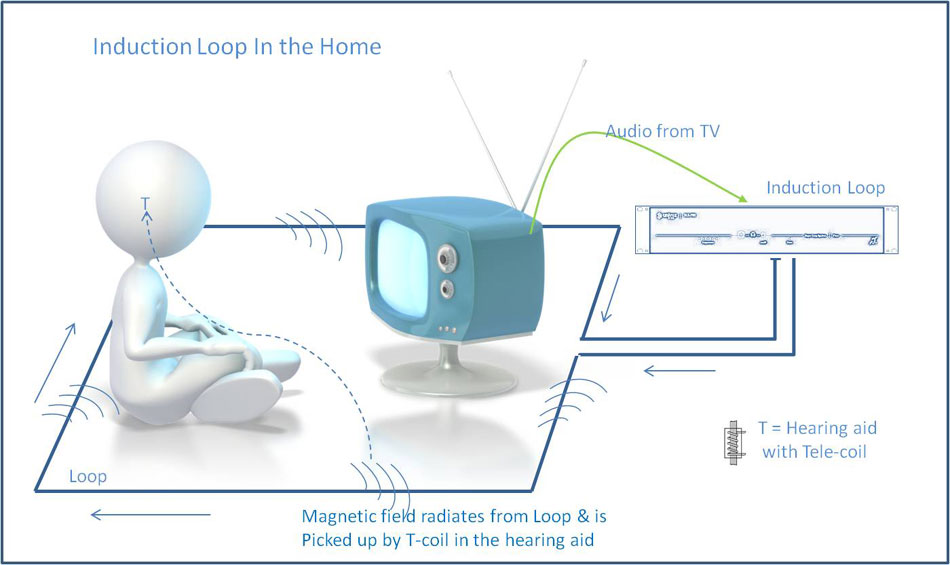 So, you need to know whether you will be listening to your phone through the hearing aid acoustically or by the telecoil feature before buying it.
---
How to Find a Compatible iPhone?
After selecting the required hearing aids, it's time to confirm that your aid will be compatible with your phone or not?
To find a compatible phone with hearing aids, The FCC created a rating system in which you will be provided by hearing aid compatibility score.
These will be based on rules and regulations that require being tested and rated on the basis of Hearing-aid compatibility standards.
The standard for hearing-aid compatibility consists of two types of ratings:
1. M rating
It is used to reduce radio-frequency interference to enable acoustic coupling with hearing aids. Don't use it to operate in telecoil mode.
2. T rating
It is used for inductive coupling with hearing aids operating in Telecoil mode. The wireless mobile providers must keep half of the there products compatible with T(Telecoil) coupling with T3 or T4 rating and one-third of there products compatible with M(acoustic) coupling with M3 or M4 rating.
Both the ratings are on a scale of one to four, where four is the most highly compatible rating. Hearing-device compatibility ratings aren't a guarantee that a particular hearing aid will work well with a specific phone.
Sometime some hearing aids might work well with phones that do not meet the need for Hearing Aid Compatibility. Therefore, to ensure that hearing aid works with a phone, try it before purchasing it from the market.
---
iPhone Hearing Aid Experience
Cellular telephones consist of radio transmitters that may obstruct hearing and the performance of hearing aid. To ensure that a specific hearing aid device works well with a particular phone, we should try them together before making a purchase from anywhere.
If you already own an iPhone and a hearing aid then here are some beneficial tips to ensure that you have the best experience possible.
iPhone and Made for iPhone hearing aids generally work best together. And since 2013 when the Apple iPhone 7 was introduced the makers are putting into more effort to make it more accessible.
iPhones are set to "M" also known as Acoustic Coupling mode. The iPhone receiver is near the hearing aids built-in microphone.
In other words, we can say hold your iPhone against your head as you would naturally hold the phone while making a telephone call. The hearing aid will also receive audio from the iPhone through its built-in microphones.
For the best hearing experience, you can experiment a bit by placing an iPhone in various positions relevant to your hearing aid device, like placing the receiver of the phone slightly above the ear near the microphone of hearing aids for better hearing possibilities.
If this does not provide you the satisfactory results than you can try T( Telecoil coupling mode). Most of the iPhone does not have this mode activated. If you have iPhone 5 or later series than try to activate this mode from the below processes.
---
How to Activate the Mode of Hearing Aids in iPhone?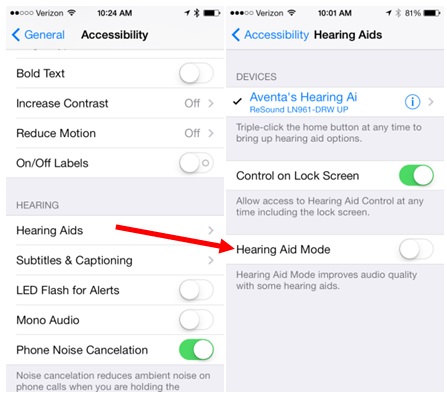 When you need to activate Hearing Aid Mode on iPhone 4 (GSM model) with iOS 5 or later.
Then go to Settings > General > Accessibility to the device of Hearing Aid Mode on the iPhone 4 (GSM model) also reducing the communication power of the cellular radio in the GSM 1900 MHz band, which may outcome in decreased 2G cellular coverage.
And then To activate Hearing Aid mode on iPhone 5 or later, go to Settings > General > Accessibility.
Hearing Aid mode on the iPhone updates & acoustic settings will also improve compatibility with hearing aids set in telecoil mode also being user-friendly.
The Benefit of Wireless Hearing Aids
Each and every iPhone with a HAC rating has been tested and is also rated to be used with hearing aids for some of the wireless technologies that it posses.
The wireless hearing aids are also very essential to try the features of the phone thoroughly. In different locations, using your hearing aid device as well as the cochlear implant is a problem when you hear any interfering noise.
In these cases, You should also consult your hearing aid service provider regarding the compatibility of your phone with your hearing aids.
If you have any queries about return or exchange policies, then consult with your service provider or phone retailer.
---
First Hearing Aid Available for iPhone/Apple
The requirement for best quality hearing aids is going to continue to be as consumer demands. While still having a bright future of technologies in hearing aids, What will set one aside from the other seamlessly connects to another electronic device?
We will also use them in our daily lives like we use Smartphones. Let's begin to learn about these features which are as follows:
1. Resound LiNX – (Worlds first iPhone/Apple hearing aids)
Resound first came up with the idea of made for iPhone(MFi) hearing aids where you can connect your IOS devices such as iPhone, iPad, or iPod touch directly with the Resound LiNX Made for iPhone hearing aids(MFI).
The smart hearing aids of Resound are likely to be used on the IOS series. There cost ranges from Rs 1,04,341 to Rs 2,22,594 and is compatible with the iPhone 5 and later devices.
The GN ReSound LiNX is the first hearing aid to earn the "made for iPhone" label. The audio from an iPhone can be directly transmitted to both hearing aids without the use of a streamer.
A new hearing aid from the Danish company GN ReSound is the coolest accessory ever.
GN ReSound's CEO, Lars Viksmoen, says that ReSound LiNX again underlines the core strength of bringing breakthrough innovations to the hearing impaired, making them consumers with choices rather than patients with challenges.
The device, called LiNX and dubbed "the world's smartest hearing aid, syncs wirelessly with all iDevices, making use of iOS 7's new accessibility options for the hearing-impaired.
Some of the amazing features which you can stream with Resound smart hearing aids are:
Direct audio stream on IOS devices: Resound smart hearing aids enables you to stream music, phone calls, and audiobooks directly to your hearing aids which means you do not need to carry streamer or any other additional device with your hearing aids.
Streaming from MFi( Made For iPhone) hearing aids to MFi devices: when you're made for iPhone hearing aids are paired with any of the Apple compatible devices, direct sound streaming and hearing aids adjustments are natively integrated on the compatible device.
Cost – The LiNX, which comes with a hefty Rs 2,08,681 price tag, is classed as a specialized medical device, so don't expect to see it at your local Apple store anytime soon. Depending on the patient's level of hearing, the price for ReSound LiNX can range between Rs 1,66,945 and Rs 2,43,462.
Technological Features – The 2.4GHz protocol used by the LiNX is also unique. The company worked closely with Apple to develop a special protocol specifically for communication between iPhones and hearing aids. GM built a new hearing aid processor to support it. It is much smarter about turning on and off quickly, saving battery life and delivering five to six days of battery life in normal use. For the first time ever, hearing impaired people will be able to stream music and phone calls directly from an Apple iPhone to their hearing aids.
A new hearing aid launched today connects directly to iPhones and other iOS devices. ReSound LiNX advances a number of ReSound technologies that already lead the hearing aid industry.
2. Starkey Halo
Starkey is the manufacturer of hearing aid from the US who makes made for iPhone hearing aids with streamers just like resound which can be called "HALO" from Starkey. Easily connected to the iPad as well as iPhone.
The cost of Starkey hearing aids ranges from Rs 1,04,341 to Rs 2,08,681. Manufacturers of the halo made for iPhone hearing aid are enhancing the features of their products as similar to iPhone connectivity requirements such as:
Phone Streaming and Audio: Hearing aids into headphones allow audio streaming of phone calls, audio, and also music directly to your hearing aids.
Remote Control of devices: User also uses their iPhone as a remote for their hearing aids to adjust the volume.
Illustrated Memories: Always remember preferred settings for specific environments by "geotagging" user adjustments. When the next time the hearing aid wearer enters that specific environment. The hearing aids can automatically adjust to the preferred setting as it has an adjustable function.
Some other hearing aid manufacturers may also have products that directly connect to smartphones. But in Starkey halo made for iPhone hearing aids, The connection needs an intermediary remote also known as "streamer" to connect.
This simply means that in addition to wearing the hearing aids and carrying a smartphone you need to keep streamer too. Hearing aid wearer with iPhone would also need to keep streamers around their neck which reach their smartphone while establishing the connection with the hearing aids.
The advantage of this neck-loop is that users can also work with any smartphone that has Bluetooth, not just the iPhone.
3. The Oticon Opn
Oticon opn is the compact and robust technology that comes with telecoil coupling. They are rechargeable with water and dirt protection. The cost of the Oticon opn ranges from Rs 1,04,341 to Rs 1,39,121.
This also connects to their Oticon ON app which is available in both the iTunes and Google Play stores nowadays. The Oticon ON app has its own functionalities, which are as follows:
As Remote Control: The user uses their iPhone as a remote for their made for iPhone hearing aids and can also adjust volume and tone.
Battery Drain barometer: Let the user see exactly that how much battery is left. They are using regularly and how long they have used until it requires replacement.
Live Mic: iPhone can also be transformed into a microphone for an easier noisy environment listening.
Hearing Locator: It can also use the iPhone as a hearing aid locator for misplaced of hearing aids.
---
Pair and Connect iPhone Hearing Aid/Apple Hearing Aid
1. Open your hearing aid battery door.
2. On your IOS device, tap Settings>General>Accessibility>Hearing>MFi Hearing Aids.
3. If Bluetooth is off, turn it on under Devices.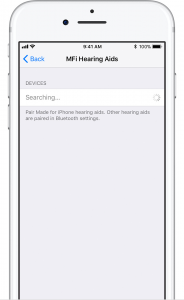 4. Close your hearing aid battery doors. While your iOS device will search for your hearing aid.
5. Under Device, tap the name of your hearing aid.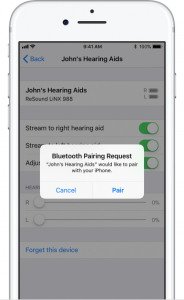 6. Tap Pair when you see the pairing request on the screen. If you have two hearing aids, you'll get two requests. It could take up to a minute while the pairing is done.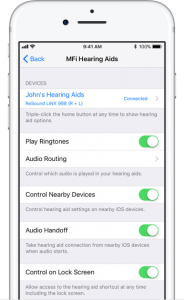 7. Now we can start using our hearing aid when we see devices with a checkmark. Control on the Lock Screen will be on. Leave it On to control your hearing aid from the lock screen and also from Control Center.
Need any help with Hearing Aid Devices? Call us +91-9899437202 today, book an appointment for a FREE consultation for hearing aids at the HearingSol clinic.
---