ReSound has been manufacturing world-class hearing devices since 1943, providing exciting and innovative technology to distributors in over 80 countries. They combine advanced Hearing Sol with designs that reflect what hearing aid wearers want, so you always get the best in technology and performance in a beautiful device that's sleek and easy to wear.
You can purchase the latest hearing aids at a fair price through HearingSol, If you need any assistance or you have a query regarding ReSound Hearing Aid or Hearing Loss, feel free to call us at +91-9899437202. We are always here to help you.
ReSound has given the industry some impressive firsts, from Dynamic Range Compression technology to Digital Feedback Suppression that eliminates distorted whistling or buzzing sounds, as well as the first hearing instrument that incorporated vents to provide more natural sound and eliminate the feeling of having a plugged ear.
Resound Hearing Aids
The ReSound provides a wide range of hearing aid styles and technologies to fit every requirement of its users. Some of these popular hearing aids are given below:
Alera Hearing Aids
The ReSound Alera hearing aids come in three models and each model has the option of wireless technology. These three models are:
Alera 9
Alera 7
Alera 5
The standard Alera models operate on a size 10A battery. The wireless Alera models operate with a size 312 hearing aid battery. The Alera hearing instrument is only available in a receiver-in-canal (RIC) or also known as a mini BTE (behind-the-ear) hearing aid.
Dot 2 Hearing Aid
The ReSound Dot2 is one of the most popular ReSound hearing aids, thanks to the fact that it is designed to be lightweight and extremely subtle. The device weighs roughly the same as an ordinary paper clip, and it is designed to fit snugly behind your ear and out of sight of anyone who sees you.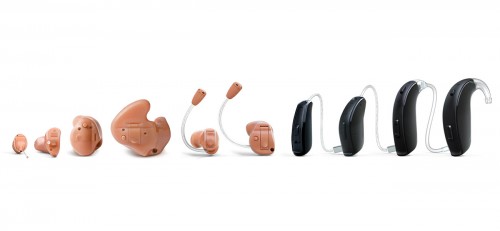 Despite the compact design of the ReSound Dot Squared Hearing Aid, you can rest assured that it packs a punch and will provide you with a crisp, clear, and natural sound that will revolutionize your hearing.
Features:-
The high-performance technology of this hearing aid ensures that the quality of sound filtering into your ears will be crystal clear. Thanks to the design of the device, wearers are able to get perfectly clear sound without any bother, making the ReSound Dot2 Hearing Aid one of the best of the ReSound hearing aids. Its features include:
Behind The Ear (BTE):- hearing aid is tiny, but it kept its standards of performance high. You will find that this small device is as powerful as the full-sized hearing aids but at half the size and weight.
Automatic Programming:- ensures that the hearing aid is easy to wear with no adjustments needed by the user. The device is designed to fit into any environment, and there is no need to fiddle with controls thanks to the fact that the device automatically adjusts itself.
Whistle Control:- ensures that passing wind will not cause whistle in the headset, and will guarantee that only the desired noises filter into the hearing aid.
Sound Quality:- It offers the best quality of sound, clear speech recognition, enhanced awareness of the world around you, and will improve your ability to locate sounds.
Advantages:-
The ReSound Dot Squared Hearing Aid comes in all of the popular colors for hearing aids, making it a device that is aesthetically pleasing as well as practical.
Three listening environments (demanding, moderate, and quiet) ensure that you are able to hear only the most important sounds.
The device is designed for those with anyone with hearing loss, no matter how profound.
The battery lasts over 100 hours, ensuring that your hearing aid will last as long as possible.
ReSound Dot2 Hearing Aid functions in three power modes: high, normal, and low power.
17 Band Warp processor ensures that only the most important sounds filter through the hearing aid and into your ear, guaranteeing sound of the best quality and clarity.
The soft-switching feature ensures that your ReSound Dot2 Hearing Aid functions in a directional capacity. Rather than simply having all environmental noise filter into the hearing aid, the ReSound Dot Squared Hearing Aid utilizes this directional feature to allow you to concentrate and listen in one direction at a time.
The AutoScope feature focuses on conversations directly in front of the wearer, while simultaneously filtering out any background and extraneous noise.
Whistle Control reduces feedback from passing wind, high pitched noises, and other extraneous noises that could cause discomfort in the hearing aid.
The discreet design of the ReSound Dot2 Hearing Aid ensures that the BTE device is hidden from sight. The device itself comes with a sleek design that radiates an air of elegance, making it the perfect device to wear for any occasion.
Warp ensures that all bandwidth sounds are heard, ranging from very high to very low sounds. The range of sounds is natural and organic, making walking around town a pleasure.
Environmental Optimizer automatically configures the listening device according to your hearing pleasure. The automatic feature switches listening modes for your convenience and is easily programmed to fit every situation.
Sparx Hearing Aid
When you need the most power a hearing aid can give, ReSound Sparx hearing aid is a perfect choice. Specifically designed with the needs of super-power users in mind, ReSound Sparx uses the best of ReSound technology to offer maximum power without discomfort. True super-power with extra gain:
The most powerful super-power instrument on the market (146 dB SPL Peak Output and 86 dB Max Gain)
Best-in-class DFS
The most usable gain in the category with up to 20 dB of extra headroom
Multi-channel MPO: Six customizable handles
Features:-
Output compression options give you maximum power and smoother sound quality at maximum outputs and quality of sound beyond comparison
9-band WARP provides excellent sound quality with superior frequency resolution (especially in the important low frequencies for Severe to Profound Hearing Loss).
Choice of linear or WDRC sound processing.
Verso Hearing Aid
The ReSound Verso hearing aids come in two technology levels. The two technology levels are Verso 9 and Verso 7. These hearing aids are available in the following models:
IIC (Invisible in Canal)
Mini Canal
Mini Canal with remote microphone
CIC (Completely in Canal)
CIC with remote microphone
ITC (In the Canal)
ITC with remote microphone
ITE Full Shell or Half Shell (In the Ear)
RIC (Receiver in Canal)
Mini BTE
Power BTE
Some Latest ReSound Hearing Aids available at HearingSol:
LiNX 3D (BTE, RITE, ITE, ITC, CIC, IIC, MIH)
LiNX2  (BTE, RITE, ITE, ITC, CIC, IIC, MIH)
Enya (BTE, mini-BTE, RITE, ITE, ITC, CIC)
Enzo 3D (BTE)
To know and compare the cost of these hearing aids, check out our page GN ReSound Hearing Aid Price List.
The ReSound Smart App
The ReSound Smart app gives you discreet and easy access to the programs and settings of your hearing aids. Through the app, you can control ReSound's tinnitus sound therapy program that provides relief from the buzzing or ringing sounds that interfere with your daily life. Using a large selection of therapy sounds, the sound generators draw your attention away from the tinnitus, providing relief and allowing you to get back to the important things in life. You can even use your phone to track your hearing aids.
Have you ever misplaced your hearing aids and spent a few frantic minutes overturning the house looking for them? With this new tracking technology, ReSound takes the stress out of finding your hearing aids with the Find My Hearing Aids. It will show you the exact location of your hearing devices, whether they're under the couch cushion or in your gym locker across town.
ReSound Technology
ReSound use several technologies of different levels for their hearing aid models. These are referred to by their model number. For Instance, the LiNX2 hearing aid is available in three different technology levels:
Level 5:- This level is considered as good. It contains a comprehensive standard feature set which includes tinnitus sound generator, iPhone audio streaming, and all external accessories connectivity. This level of technology is perfect for those users who enjoy small group or one on one conversation, watching television at home and similar types of activities.
Level 7:- This level is considered better than good. It contains all level 5 standard features and additionally advanced versions of some features like the directionality, wind reduction, or noise reduction algorithms. This level of technology is best for those users who have more difficult listening situations like conversations with groups or in a noisy environment.
Level 9:- This level is considered as the best of all the levels and has premium models. It contains the most intricated versions of the entire features set which include noise and wind reduction algorithms and the directionality feature. This level of technology is best for those users who demand very latest technology and desire perfect listening. Connectivity requirements will get the most benefit through this technology level.
ReSound Assistive Listening Devices
With hearing aids, ReSound also provides assistive listening devices for their users to get a complete and natural healing environment. These devices include:
Unite Phone Clip+:- This device helps you in the connectivity of your smartphone to your hearing aids.
Unite TV Streamer 2:- This device provides you the facility to connect your hearing aids with Television, audio devices, and personal computer.
Unite Micro or Multi Mic:- This device helps you in getting better communication during situations like one-on-one conversations.
Unite Remote Control 2:- This remote control device helps you in changing the settings of your hearing aids.
ReSound Smart App:- By this app you can use your mobile as a hearing aid remote control.
ReSound Control App:- Through this app, you can manage the streaming between your hearing aids and an iPad or iPhone.
ReSound Relief App:- This app provides tinnitus therapy sounds in your hearing aids.
You can get the latest hearing aids at a fair price through HearingSol. There, you can also get information about the latest hearing aid prices in India. To know more such information, browse our website.
If you need any help with Hearing Aid Devices feel free to call us on our toll-free +91-9899437202, or you can also book an appointment for a FREE consultation for hearing aids at HearingSol clinic.