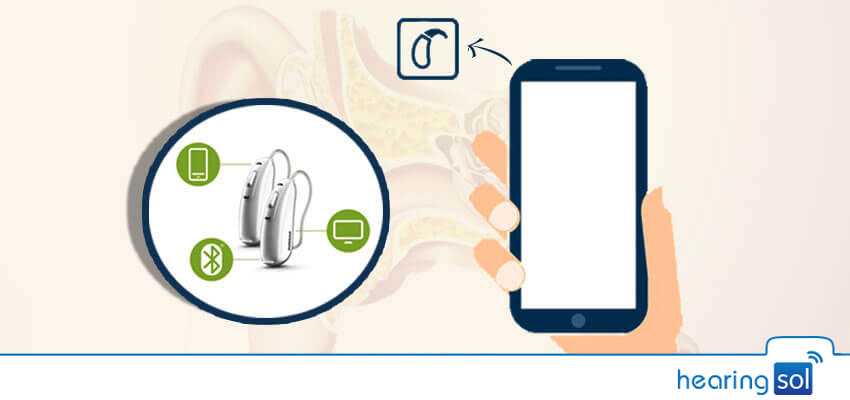 Hearing aid devices help to overcome hearing loss problems. If the "hearing aid" is a new term for you then let me make you feel familiar with this term.
With the help of hearing aid people can improve their hearing. Hearing cannot recover completely but it can be improved by using a hearing aid.
You can purchase the latest hearing aids at a fair price through HearingSol, If you need any assistance or you have a query regarding Hearing Aids and Hearing Loss, feel free to call us at +91-9899437202. We are always here to help you.
There are various types of hearing aid devices available in the market with different technology, features, and colors. Now the main point is how a smartphone works as a remote control for hearing aid.
---
Remote Control App & Smartphone Hearing Aid Control
As we know, the development of hearing aid following the same track as other new technologies area. When you go to purchase hearing aid devices then firstly check out the new updates regarding the hearing aid and its technologies.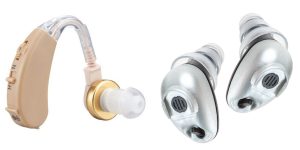 It will help you to overcome your speech therapy with the development. Its a smart move to check out information on the internet about hearing aid before purchasing it.
Remote Control App
Sometimes we hear from hearing loss patients that they have a rough time operating the small buttons on their digital hearing aid device.
We consider that it can be a real frustration. Fortunately, we have a couple of choices that will make it easier for you to personally instruct in the form of a program and have success with your hearing aid devices.
If you suspect any type of hearing loss, the very first step is to consult hearing care professional right away (+91-9899437202).
Currently, there are many hearing aid brand manufacturers that provide smartphone Apps to Assist with Hearing Aids:
Smart-phones are also playing a vital role in advanced technology. Now you can say as a smart-phone is used to connect with the hearing aid it is becoming a really helpful resource for deaf people or people who have hearing problems.
Giving iPhone users a ton of new features and functionality represent a lot about the iPhone itself. After all much of that technology has not made its way to Android phones, leaving plenty of smart-phones users wondering which hearing aid is most android friendly.
To check out which hearing aid will work best for your smartphone device- you need to conclude how you want your hearing aids and cellphone to work together for better performance.
Some features of the use of a smartphone remote control app for hearing aid
Your hearing aids are designed to adjust your everyday listening situations in any environment. Following are several ways to adjust volume and memory:
Many hearing aids have features push buttons to adjust volume, mobile app, or accessory. These can be configured by your hearing expert to perform a number of functions, such as adjusting volume and switching between memories.
Many hearing aids have options for adjusting hearing aid settings. These accessories are compatible for use with Muse, SoundLens Synergy and Z Series devices, as well as some earlier generations of hearing aids.
Some hearing aids, like our Starkey Halo 2 devices, are designed to be paired with a smartphone and controlled remotely by a mobile application. Some app allows users to change volume and memory, as well as create custom memories without even touching their hearing aids.
People can check the battery status of your hearing aid on your smartphone application.
Through your smartphone App, you can easily unmute or mute your hearing aid.
You can change the memory and as well as create a custom memory.
You can switch between memories of your hearing aid.
The direction and the span of the microphone can be changed by your smartphone.
The adjustment of bass and treble can be done by your smartphone.
Smartphone Hearing Aid Control
Your smart-phone will work as a remote control as it has some advanced features and technology which help you to control your hearing aid devices by using it in manner.
If what you'd like is to easily respond a call as you've always compassed and hold the phone to your ear and hear clearly.
Then any properly programmed hearing aid will do the job- you just need to make sure your smart-phone is hearing aid friendly.
If you are glancing for your hearing aid devices and smartphone to have more advanced features and functionality, then there are mainly two options out there which are as follows:
Firstly, You can get hearing aid devices that can be controlled by your smartphone with no intermediate device.
Second, You can easily get hearing aids that can be remotely controlled by your smartphone or streamer + stream music, calls, and more, with an intermediate device.
Connected to the hearing aid device with the new updated smart-Phone Clip+ accessory. The applications turn the smart-phone into a remote control for the advanced hearing aid device.
Some features include easy adjustment of volume, choosing sound programs, and other controlling buttons.
"What we have to put into the hands of our users is a world's first prior. Not a single other manufacturer has been able to bring a similar product to the market.
So simply we are quite proud of the fact that we have been able to combine our hardware products with a mobile solution in this manner. We are certain that, it will be really helpful to our hearing aid customers".
---
Hearing Device Connect With Smart Phones
When concluding to build the new remote control and smartphone application also decided to partner with some app to develop the user interface.
Integrate with the hardware product and make better solutions available in the App Store and Google Play. As smart-phones with hearing aids become more sophisticated, the plenty of app allowing users to link them seamlessly keeps growing— the style shows no sign of slowing.
The application plays indicator tones, which we can decode to make particular changes to the user's hearing aids. For most people, the hearing aid device has faced some difficulty in detecting the indicator tones.
Although some listeners report that the tones sometimes draw unwanted care or attention. To work certainly, the T2 feature must enable the fitting software.
---
Compatibility Of The Smartphone With The Hearing Aid
The smartphone Remote app is compatible with Android devices running Andriod 4.0 and the latest generation of Rexton 6c and 4c, Audio services G4 and G3 and A&M XTM hearing aid, and many more.
You can control your smartphone remote app for hearing aid with these 6 large buttons –
You can individually configure each button. Firstly assign each button the code sequence valid for your hearing aid. You can take reference from your hearing aid manual for the codes.
If you want to delay the DTMF (dual-tone multi-frequency signaling) tone sequence prior to playback then set the number of seconds you want to delay. Normally the default is 2 seconds.
If you want you can change the time period or duration of each tone code in the setting menu. The default is normally 600 milliseconds.
The volume button on your side of your smartphone can control the volume of your hearing aid.
Always test the tone intensity before moving the device close to your ear.
You can easily set the vibration of your hearing aid. Set vibration at your smartphone key button press to on 1 or 0 in the setting menu.
---
Wireless Streaming Devices
Wireless streaming has been possible for people for a number of years. Several manufacturers offer streamers, which we can use to connect wireless to a short of technology.
Like telephone, television, or music player via Bluetooth or another proprietary wireless protocol. Streamers are also known as intermediary devices. Which transmits an audio signal to the hearing aid device(s).
This kind of streaming allows a listener to connect with many types of technology and media with relative ease and then with personalized boost settings applied to all of the audio signals.
Read more: Hearing aid connected with wireless devices
Two of these manufacturer's companies GN Resound and Siemens have created applications that work in tandem with the streaming device.
It allows remote control of the hearing aid device's settings, rather than ruling the aids directly. GN Resound's application Control is available for Apple devices and some Android devices.
This app is also called "mini Tek Remote" and is available for Android.
In both cases, people can control their hearing aid device's volume and program settings without interfering with an intermediary device.
People's reviews are really positive for both the applications. Although some people report difficulty establishing or maintaining a connection to the intermediate device.
---
iPhone And Hearing Aid Compatibility
In the last year, some manufacturers released hearing aid devices with the Apple-approved "made for iPhone" label. It is allowing patients to stream sound directly from their Apple iPhone without an intermediate device.
The accompanying applications also have suitable features that include control of volume, frequency shaping, preference settings, geo-tagging, and much more.
Read more:- How to pair a supported hearing aid to your iPhone or iPad.
And this is just a beginning. As more manufacturers release "made for iPhone" devices and applications, our users' choice will continue to expand.
These applications aren't good, there are certainly some tech-savvy patients out there who might appreciate the connectivity these applications provide.
To read more such article you can browse our website. Or if you need any help with Hearing Devices. Feel free to call +91-9899437202, or can also book an appointment for a FREE consultation for hearing aids at the HearingSol clinic.