Trusted Hearing Aid Centers In Surat
Schedule an appointment
Get in touch with the best audiologist in Surat. You can call now or fill up the consultation form to make an appointment. This will be your first step toward improving your hearing. We will help you understand what type of hearing loss you have & depending upon that will suggest you best possible treatment.

Digital Hearing Aids In Surat
The biggest hub of diamond cutting and polishing, Surat which has also earned titles for the world's 4th-fastest growing city and 1st smart IT city in India.
With this growth rate and sharp minded peoples, no stoppage from any kind of disease like hearing loss should occur to its people as this disease can impact their work as well as overall life.
Hearing Loss Cases In Surat
There are approximately thousands of sufferer of hearing impairment that we are dealing every week. Many of them are Tinnitus patients also, who looks for a hearing aid that can reduce or cover the ringing in their ear.
The major problem is that most of the people ignore this disease or don't take it seriously hence giving it a chance to get big and influence their whole life.
How HearingSol Helps In Hearing Loss?
Here at HearingSol, you will have a large variety of modern technology hearing aids to choose from. We are dealing in ear machines since 2007 from best and top manufacturers. We can arrange a consultation for you.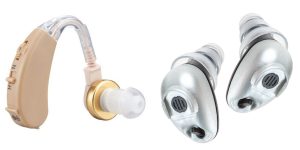 We don't only provide hearing machines that are capable to give you an impressive result, but with our technology, you can also connect these hearing aids to your TV, smartphones, or any other audio devices for calling or streaming music.
Now let's discuss some other details about ear machine:
Hearing Aids Different Kinds
Below are given the various type of ear machines:
The Range of Hearing Aids In Surat
There are three groups that divided according to hearing aids cost and features.
Basic Hearing Aids
These types provide basic relief from hearing loss and best for those people who stay indoors most of the times. Cost of basic ear machines starts from Rs. 27,490 to Rs. 36,990. Thus include features of:
Hardly any Feedback
Multiple customizable hearing programs
Modern digital technology
Mid-range Hearing Aids
Price of Mid-range hearing aids price starts from Rs. 52,990 to Rs. 1,29,990 including features of:
Speech recognition and enhancement
Effortless directional hearing
Background noise elimination
Wireless connectivity option to external audio devices
Premium Hearing Aids
These types provide you crystal clear sound even in a noisy or worst hearing environment. Price of these ear machines cost starts from Rs. 1,54,990 to Rs. 2,74,990. Features of premium hearing machine are:
A wide range of colors and style
Automatic adjustment in different listening environments
Wireless streaming
Enhanced 360 spatial orientation
Multimedia applications like Cellphone or Television
Hearing Aids Brands Connected To HearingSol
Given are the best brands of hearing machines whom HearingSol is dealing:
Elkon

Oticon

Unitron

Bernafon

Rexton

Audio Service

Hansaton

Audibel

Beltone

Liberty

Miracle-Ear

NuEar

Axon

Amplifon

Alps

Embrace Hearing

Audifon

Sonic

AM
See An Expert In Your Area
Are you experiencing hearing loss, hearing impairment or Tinnitus and looking for a way to treat it? Just call on our toll-free number +91-9899437202 and talk to our specialists about your problem and they will suggest and provide you the best hearing aid according to the type of your hearing loss.
You can acquire the latest hearing aids at a fair price through HearingSol, visit our price list and get discounted offers today!