Find trusted hearing aid centers in Guwahati
Schedule an appointment with us
Get in touch with the best audiologist in Guwahati, Assam. You can call now or fill up the consultation form to book an appointment. This will be your first step toward improving your hearing. We will help you understand what type of hearing loss you have & depending upon that will suggest you best possible treatment.

Best Hearing Aids In Guwahati
The largest city of Assam which is also the largest urban area in northeast India, Guwahati is having a population of approx 9.57 lakhs people where thousands of people are experiencing hearing loss problem.
When a person experiences a problem of becoming nearly deaf or totally deaf in one or both ears it is known as hearing loss or hearing impairment. This affects our lives in many ways like decreasing social interactions. Productivity, performance in office work etc.
Hearing Loss Statistics In Guwahati
In Guwahati, we deal with hundreds of people per week suffering from hearing loss or hearing impairment. They all look out for a hearing aid that can help them in all ways and conditions. People suffering from Tinnitus also need an ear machine to get relief from it.
Not every person takes the hearing loss problem on a serious level thus ending it getting worse day by day and decreasing their productivity. They are not only losing their hearing but also compromising their quality of life on the worst level.
How HearingSol Would Be Beneficial?
HearingSol helps you in improving your quality of life by increasing your hearing. We are a leading company which is providing offers on hearing machine of best brands since 2007. We have a wide variety of modern technology hearing aids to deliver impressive results for your hearing impairment.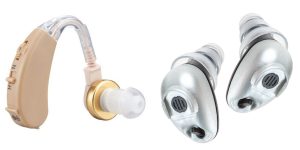 We have a variety of technologies like Smartphone compatible or Bluetooth with hearing aids which can connect to your TV or audio systems or Smartphone.
Below are some details about hearing machines that we provide to our customers:
The Range Of Hearing Aids In Guwahati
Hearing Aid prices are divided into three groups:
Basic Hearing Aids
These types help in providing basic relief from hearing loss or hearing impairment and are best for those who stay indoors. Basic hearing aids range from Rs. 27,490 to Rs. 36,990 and consists of features like:
Modern time digital technology
Barely any feedback
Multiple customizable hearing programs
Mid-range Hearing Aids
Mid-range hearing aids range from Rs. 52,990 to Rs. 1,29,990 and include features like:
Background noise reduction
Speech recognition and augmentation
Simple directional hearing
Wireless connectivity with external audio sources
Premium Hearing Aids
These types help you in providing a crystal clear sound no matter how noisy or worst your hearing situation or surrounding is. They are costly because they are less with every feature that a hearing loss sufferer required. These aids cost from Rs. 1,54,990 to Rs. 2,74,990 and include features like:
Automatic adjustment in different listening environments
Wireless streaming
Multimedia applications like TV or Cellphones
Enhanced 360° endemic orientation
A broad range of colors and styles
Hearing Aids Types
Following are the different types of hearing machines:
Behind-the-ear (BTE) – It is the most popular and oldest type which include a thin tube and a device that fits perfectly behind the ear.
In-the-canal (ITC) – ITC has no tubes but still perfectly fits into the ear because they are custom made according to your ear canal size.
In-the-ear (ITE) – These types are the same as ITC. They just fit into your ear instead of the ear canal. They are also custom made.
Invisible Hearing Aids (CIC & IIC)– These are too small that it is hard to see in the ear as they completely fit into your ear canal. They are custom made through 3d painting.
Receiver in Canal (RIC) – In these types, there is an electrical wire instead of sound tubes, which make acoustic response much faster and smoother which is also recommends it as one of the latest version of hearing aids.
CROS Hearing Aids (Micro-CIC) –  These are useful for those who have hearing loss in one ear as it takes sounds from one ear to transmit it to the normal ear. CROS stands for Contralateral Routing Of Signals.
Bluetooth Hearing Aids –  These types allow you to connect to your smartphone, TV or other devices wirelessly to make calls or stream audio or music.
Brands Connected To HearingSol
Following are the top brands of hearing machines which are connected to us:
Elkon

Oticon

Unitron

Bernafon

Rexton

Audio Service

Hansaton

Audibel

Beltone

Liberty

Miracle-Ear

NuEar

Axon

Amplifon

Alps

Embrace Hearing

Audifon

Sonic

AM
See An Expert in Your Area
If you are suspecting or suffering from hearing loss or hearing impairment and looking forward to treating it, just call us at +91-9899437202 and talk to professionals who can suggest and provide you with the best hearing aid for your hearing loss.
If you wish to Buy an Hearing Aid at huge discount, get it today from HearingSol at an affordable price. Limited offers only. So Hurry up!