Discover Digital Hearing Aid Centers In Nagpur
Schedule an appointment
Get in touch with the best audiologist in Nagpur. You can call now or fill up the consultation form to book an appointment. This will be your first step toward improving your hearing. We will help you understand what type of hearing loss you have & depending upon that will suggest you best possible treatment.

Hearing Aids In Nagpur
Nagpur is popularly known as Orange City and Tiger Capital.  Nagpur is famous for its oranges. Nagpur produces a huge amount of oranges often called as Nagpuri Oranges. They are famous all over the world. The oranges are cultivated over a large section. Nagpur is the 3rd largest city of Maharashtra and also known as Winter Capital of Maharashtra. The city is well known for its historical monuments, temples, and lakes. It ranks the cleanest city in India. It always stays on top. From the last three years (2017-2019), it has been declared the cleanest city in India.
Nagpur has several industries of mechanical, refineries, steel plant and many more. The noise created by the mechanical industries is above 75db whereas noise produced by oil refineries is around 90db or more. The hammering of steel causes around 70db noise. Exposure to these high sounds results in hearing loss to the ear.
Hearing Loss In Nagpur
The vehicle's horn is also responsible for noise pollution. Nagpur is the developing city and rise vehicles may happen. As there is a survey for 24 hours it is found that the avg noise level was 80db at a specific location. At the railway station, the level of sound is around 80.1db and a power grid it is 80db.
In this survey, the noise level is around 60db in some places like Lata Mangeshkar hospital, Mayo hospital, New English High School. The permissible level of noise is 50db during the day and 40db during the night. AR Wockhardt Hospital the noise level is around 70db.
The noise permissible in the commercial area is around 65db during day time and 55db at night.
There is 40db to 50db noise level around residential areas which is considered moderate. During the night the level of sound is 40db to 45db.
The noise level of 60db to 80db is considered loud whereas noise level that is above 90db can cause damage to the hearing of a person. It causes only when exposure is for a long time.
Help From Hearingsol.com
hearingsol.com comprehends the need of the client and give the best help of its client. The hearingsol.com trusts in one thing "WE" rather than "I".  With that effort, they believe in giving the best quality.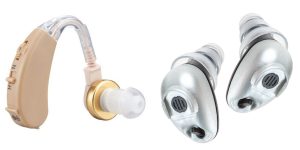 There are various people groups who are encountering hearing disability. We new innovations to give the best outcomes. hearingsol.com join with the team of an audiologist and to treat the hearing disability.
Our experts will ask for your needs. In perspective on your needs, the best portable hearing assistants will be given to you. With the development of technology, there is an improvement in the development of hearing machines too. hearingsol.com values its customers and gives the best facility to its customer.
Hearing Impairments In Nagpur
Its time to walk with the technology. So the time of grandpa hearing aids has gone. Now it is time to walk shoulder by shoulder with technology. The requirements of the people changes with respect to time. So hearingsol.com always listen to the needs of the client and always provide the best hearing impairments.
Fundamentally, there are 3 types of hearing impairments available in Nagpur and price of hearing aids depend on its model and design.
Basic Hearing Aids
These sort of portable hearing assistants costs begin from Rs 27,490  to Rs 36,990. It is best for those people who invest a great deal of energy at home.
Mid-Range Hearing Aids
Mid-Range listening devices cost begin from 52,990 rs to 1,29,990 rs. In this sort of listening device, irritating noise is removed. They incorporate innovative features like they can play back TV or phone sound specifically.
Premium Hearing Aids
Premium amplifiers cost begins from Rs1,54,990  to Rs 2,74,990 . It can give you a completely clear sound even in the most awful hearing circumstance. Yet these hearing aids are so expensive but it is worth spending on them. These can give you the best solid experience and best accommodation
Different Models of Hearing Aids available
Best Brands, Manufacturers Available In Nagpur
Elkon
Oticon
Unitron
Bernafon
Rexton
Audio Service
Hansaton
Audibel
Beltone
Liberty
Miracle-Ear
NuEar
Axon
Amplifon
Alps
Embrace Hearing
Audifon
Sonic
AM
Specialist In Your Area
If you determine any kind of hearing loss. The first and foremost step is to counsel specialist. So book your appointment with us and buy hearing aids. We will do all the necessary arrangements. Contact us on our toll-free number +91-9899437202.