Trusted hearing aid centers in Chennai
Schedule an appointment with our Audiologist
Get in touch with the best audiologist in Chennai, Tamil Nadu. You can call now or fill up the consultation form to make an appointment. This will be your first step toward improving your hearing. We will help you understand what type of hearing loss you have & depending upon that will suggest you best possible treatment.

Hearing Aids In Chennai For Hearing Loss
Living in Chennai is equivalent to living in a factory. Chennai ranks fourth noisest metro city in India. Research shows that the noise levels everywhere in Chennai are over 100dB, more than a typical factory. The average noise level in Chennai is actually higher than 129 dB. It must be noted that pain in the ear begins at 125 dB. The allowable limit is 85 dB fixed by the WHO.
The sounds we hear become noise when they are unwanted, when sounds interfere with concentrating, thinking, working, talking, listening, or sleeping. Repeated or chronic exposure to sounds at or above 85 dB can cause hearing loss.
Many people are not aware of the presence of environmental sound at damaging levels, the level at which sound becomes harmful. If you cannot tell, you are damaging your hearing, might cause trouble in the future. But it is something that you can prevent by taking considerations.
HearingSol establishes a trusting relationship with our hearing care professional team. With the desire to provide actionable data for better effectiveness and solution.
How HearingSol Can Help?
HearingSol is continually making an effort to meet the desires of each and every patient's hearing healthcare needs. Providing services informed by an up-to-date knowledge of innovative technology.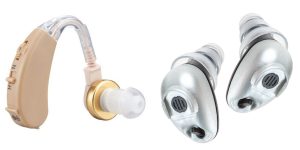 We believe there is no better feeling than having the opportunity to improve the lives of individuals living with a hearing impairment. Our team tries to give effective treatment to bring possible outcomes in your health.
Hearing Aids In Chennai
Here, types of hearing aids that are available in India are mainly categorized into three groups:
Basic Hearing aids
These type costs from Rs.27,490 to Rs.36,990. It has modern digital technology and multiple customizations. Thus offers features like; advanced innovation, low feedback, and different adjustable hearing programs.
Mid-range Hearing aids 
The user uses – wireless network with external sound sources, speech-identification, and effortless directional hearing. These costs from Rs. 52,990 to Rs.1,29,990. A few devices playback TV or mobile phone sounds directly.
Premium Hearing aids 
They cost 1,54,990 rs. To 2,74,990 rs. It reduces background noise and focuses on the talker. These gadgets give you the best experience and service.
Here is a specific list of hearing machine and their functioning available in the market:
BTE

(Behind-The-Ear) –

They are the world's most common and old hearing aid style. Because these are easily adjustable and have simple buttons to control volume.

In-the-Canal (

ITC

)

– ITC tends to work in a noisy environment and are lightweight. The reason behind they can perfectly fit into the ear is that they are customized as per the shape of the ear.

Invisible hearing aids (

CIC

&

IIC

) –

These hearing aids are the tiniest form that fit very deeply in the ear canal. They are available through 3D print.

Receiver-in-canal (

RIC

) –

It is one of the latest version of hearing aids due to, instead of sound tubes, RIC has an electrical wire that makes acoustic response smoother They are worn behind the ear, come with tiny housings and are quickly adjusted.

CROS Hearing aids –

Contralateral Routing Of Signals is a perfect solution for those who have one perfect ear and hearing loss in the other ear. It takes sound from the defected ear and transmits it to the ear which has better hearing.

Bluetooth Hearing aids –

It can be used in conjunction with

assistive listening devices

to stream sound to you. This device allows its user to connect wirelessly to smartphones so that you can stream music or make calls.
List of Best Brands, Manufacturer & Supplier of Hearing Aids
Elkon

Oticon

Unitron

Bernafon

Rexton

Audio Service

Hansaton

Audibel

Beltone

Liberty

Miracle-Ear

NuEar

Axon

Amplifon

Alps

Embrace Hearing

Audifon

Sonic

AM
How To See An Expert?
Come to our HearingSol Clinic, We recommend the most suitable price of hearing aid for your hearing loss and budget. We encourage patients to take care of their hearing and understand the fact about hearing loss. Our audiologist will provide you with a better suggestion.
If you need help or advice related to any hearing problem, discover or browse our Website or dial our toll-free number +91-9899437202 today.