Trusted hearing aid centers in Chandigarh
Schedule an appointment
Get in touch with the best audiologist in Chandigarh. You can call now or fill up the consultation form to schedule an appointment. This will be your first step toward improving your hearing. We will help you understand what type of hearing loss you have & depending upon that will suggest you best possible treatment.

Hearing Aids In Chandigarh
The city which is internationally known for its architecture and urban design and which has a population of approx 10.6 lacs should not be restricted with any disease like hearing loss especially when there are modern hearing technologies available in the market.
Hearing loss is a condition which can be described as near to deaf or total deaf situation. But both of these conditions affect our day-to-day life activities like social interactions, home activities, household works, and office work which leads to decrement in our productivity.
Here HearingSol might help you in solving the problem of your hearing loss whether it is in 1 ear or both. We are a leading company providing hearing aids of the top and best brands according to your need and comfortability since 2007.
Hearing Loss Rate In Chandigarh
It's no coincidence that we are dealing with hundreds of customers from Chandigarh city every week to deal with their hearing loss or hearing impairment problem. In fact, many of our customers who are suffered from tinnitus are also treated through hearing aids.
But, not every person is aware or serious about this problem that is why they ignore it in the beginning stages and get the worst results like an earache, ear pain etc. They are not only losing their hearing power but also allowing this disease to interfere in their lifestyle, work, relationships, and many other things.
How HearingSol Will Help You?
HearingSol provides you a variety of modern technology hearing machine that delivers impressive results for your hearing loss or hearing impairment. We have created a partnership with the best hearing aids brands all in over the world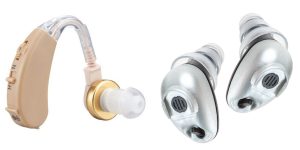 Which means you will have no problem in finding the best hearing aid of your choice and need. You can choose from our various technology like Smartphone-compatible hearing machine or deaf aids with Bluetooth which can also connect to your smartphone and audio system/TV making daily life activities more easy and enjoyable.
Here are some details and specifications of hearing aids of different brands which can be helpful to you while looking for the perfect hearing loss solution:
The Range of Hearing Aids
Hearing machine are categorized into three groups according to their range and features and price of hearing aids. These categories are:
Basic Hearing Aids
Cost of the basic hearing machine starts from Rs 27,490 to Rs 36,990. It provides only basic relief from hearing loss and best for people who stay indoors. It's key features are:
Hardly any feedback

Multiple customizable hearing programs

Modern digital technology
Mid-range Hearing Aids
Cost of mid-range ear machine starts from Rs 52,990 to Rs 1,29,990. This type of deaf aids includes several features like:
Background noise elimination

Wireless connectivity with external audio sources

All directional hearing

Speech recognition and enhancement
Premium Hearing Aids
Cost of premium hearing aids starts from Rs 1,54,990 to Rs 2,74,990. It so full of features like it can provide you a crystal clear sound even when you are in the worst hearing situation. More of its features are:
Multimedia applications like TV or Cellphone

A wide range of styles and colors

Wireless streaming

Automatic adjustment in different listening environments

Enhanced

360° spatial orientation
Types And Styles of Hearing Aids
Following is a specific list of different types and styles of hearing aids:
Behind-the-ear (BTE) –

It is the most common and old hearing aid style. It has a clear thin tube and a device which fits perfectly behind the ears.

In-the-canal (ITC) –

These have no tubes and it perfectly fits in your ear because they are custom made, according to the size of your ear canal.

In the ear (ITE) –

This type of hearing machine has no tubes and it fits perfectly into your ear. They are also custom made according to the size of your ear.

Invisible Hearing Aids (CIC & IIC) –

These fit completely into the ear canal and sometimes can be difficult to see in the ear. They are custom made through 3D painting àccording to your ear canal size.

Receiver in Canal (RIC) –

These types of deaf aids has an electrical wire instead of sound tubes. This electrical wire makes the acoustic response smoother. Because of this feature, It is considered as the latest version of hearing aids.

CROS Hearing Aids (Micro CIC) –

Here CROS means Contralateral Routing Of Signals. It is beneficial for those who have hearing loss in one ear because it takes sound from the defected ear and transmits it to the normal ear.

Bluetooth Hearing Aids –

This types of deaf aids allow you to connect wirelessly to your smartphone so that you can make calls or stream music.
List of Available Best Brands of Hearing Aids In Chandigarh
Following is the list of some best brands dealing in hearing aids that are also connected to HearinSol. These brands include:
Elkon

Oticon

Unitron

Bernafon

Rexton

Audio Service

Hansaton

Audibel

Beltone

Liberty

Miracle-Ear

NuEar

Axon

Amplifon

Alps

Embrace Hearing

Audifon

Sonic

AM
See An Expert In Your Area
If you like the idea of getting a professional hearing machine in Chandigarh, all you need to do is call on our Toll-free number +91-9899437202  and we will suggest you the best hearing aid for your hearing loss or hearing impairment and lifetime support.
If you wish to buy a hearing aid at a fair price, browse our price list and grab the exciting offers today!