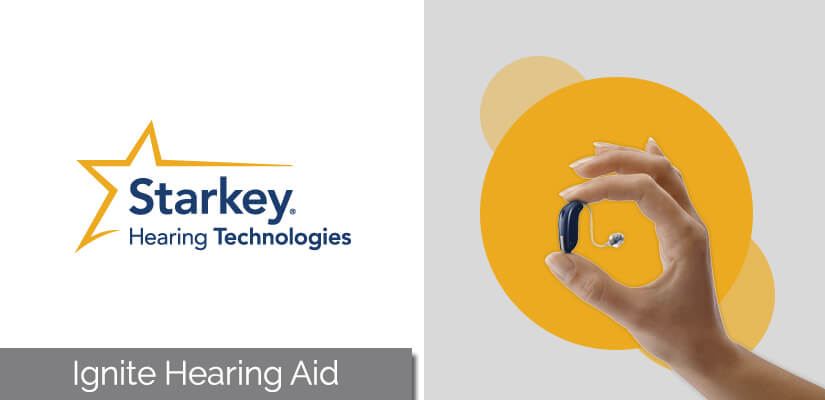 Ignite hearing aid is one of best hearing aid and it is introduced by Starkey which is one of the best hearing aid company. This device is used by any age group of people who has the hearing disorder and who cannot hear any kind of sound clearly. It works on wireless directional microphone technology and amplifies the meaningful sound at the desired level. Ignite hearing aid is based on the digital signal processing technology and it is designed for different types of hearing loss.
This device reduces the noise and gives better clarity of sound or speech. It has sound compression technology which differentiates between soft and loud speech and available in different styles of hearing aids like CIC (Completely in the canal), ITE (In the Ear), BTE (Behind the Ear), ITC (In the canal) and non-wireless hearing device etc.
Features and Benefits of Starkey Ignite hearing aid are:-
Ignite hearing device has PureWave feedback eliminator which eliminates the feedback of error signals like buzzing or whistling. This technology helps to produce a wide range or fast response of the signal.
It has Voice iQ2 technology which reduces the noise and maintains the speech volume and clarity of sound.
The InVision Directionality technology eliminates the unwanted background noise in any environment.
It helps to hear important speech means that this device understands that what is important or not.
It has HydraShield nanocoating technology which helps to protect the hearing device from dust, ear wax, water, humidity, oil etc for the long life of hearing aids.
It helps to detect what is using by the user like watching television, phone calls, listening music etc and adjusts the hearing aid's setting level according to them.
It reduces the distortion in any signal and gives an accuracy of sound.
Ignite hearing aid is easily connected to Surf Link Mobile which helps to improve conversation through transmitter or receiver of your mobile.
It is very comfortable in wearing and it gives better performance.
Manual volume and memory adjustments are very easy with the help of Sweep technology.
The Ignite hearing aid is easy to use a hearing device. It can be placed and removed easily and quickly. It has no risk of aid damage and long life of the battery. It is easy to replace hearing aid battery.