Trusted Hearing Aid Centers In Pune
Schedule an appointment with our Experts
Get in touch with the best audiologist in Pune, Maharashtra. You can call now or fill up the consultation form to make an appointment. This will be your first step toward improving your hearing. We will help you understand what type of hearing loss you have & depending upon that will suggest you best possible treatment.

Hearing Aids In Pune
Every people's ears differ in their degree of vulnerability to noise, noise exposure levels that are well tolerated by some people may cause harm in others. And you know that level of noise is damaging and hearing protection is needed in that situation in the future.
A study has observed that Pune leads the noisiest city. Most of the areas observed a decibel level higher than the permitted limit. On account of rapid urbanization, industrial expansion, mode of communications and growing technology, report shows that young people in their 20s and 30s are suffering from hearing loss.
Chronic exposure to elevated levels of community creates significant health risks. These impact of noise depend on the intensity and duration of exposure. So digital technology enables us to create effective solutions for a wide range of hearing difficulties and customize the solution to specific requirements. So hearing aid can benefit by improving the quality of anyone's life, allowing to recognize and boost speech over background noise and automatically adjust their volume depending on the environment.
HearingSol put time, passion, and pure research into our oriented delights, and the results are worth to be remembered for all each category. Here we have the best team of highly qualified and trained audiologists and ENT specialists who are dedicated to treating problems associated with hearing loss.
How HearingSol Can Help?
According to the American Speech-Language-Hearing Association, hearing loss is the third most common chronic health condition that adults are facing today. Our primary goal is to identify the root cause of hearing loss whether a profession or congenital deafness. HearingSol provides products of outstanding quality, delivery industry-leading benefits, and reliability to every customer.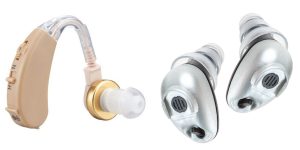 Our commitment is not to only hearing loss, but also to make sure we are providing best hearing aids, solutions, and care that benefit each people's lifestyle and needs.
Range of Hearing Aids In Pune
Here, hearing aids price that is available in India are mainly categorized into three groups:
Basic Hearing aids –
These type costs from Rs.27,490 to Rs.36,990. It has modern digital technology and multiple customizations. These devices offer feedback reduction and identify speech in calmer settings. Thus are very powerful, particularly when user spending a lot of time at home.
Mid-range Hearing aids –
These costs from Rs. 52,990 to Rs.1,29,990.They have wireless connectivity with external audio sources and great enhancement. These devices incorporate innovative elements to build hearing comfort.
Premium Hearing aids –
They cost Rs 1,54,990. Rs To 2,74,990. It reduces background noise and focuses on the talker. The intense innovation in premium devices grabs speech the best and replicates discussions in perfectly clear sound. The premium gadgets are high, but so is their value.
Here is a specific list of hearing machine and their functioning available in the market:
BTE(Behind-The-Ear) – These are suitable for almost all ages, from elder people to a child. They are connected to the custom earpiece place inside the ear canal through a clear plastic audible tube.
In-the-Canal (ITC) – They have a larger size than IIC and CIC and even longer battery life. ITC is visibly larger in size and fits partly or completely into the ear canal.
Invisible hearing aids (CIC & IIC) – They are suitable from mild to moderate hearing loss. These hearing aids are the tiniest form that fit very deeply in the ear canal.
A receiver in canal (RIC) – These are worn behind the ear, come with tiny housings and are quickly adjusted. They can be quickly adjusted and provide a high degree of appropriate amplification.
CROS Hearing aids – Contralateral Routing Of Signals is a perfect solution for those who have one perfect ear and hearing loss in the other ear. If the patient wears one device on the deaf ear that picks up the sound by way of a microphone.
Bluetooth Hearing aids – These type of device uses multiple channels to convey the sound and is, less likely to lose that signal due to interface with one of the channels.
Best Brands, & Supplier of Hearing Aids In Pune
Elkon

Oticon

Unitron

Bernafon

Rexton

Audio Service

Hansaton

Audibel

Beltone

Liberty

Miracle-Ear

NuEar

Axon

Amplifon

Alps

Embrace Hearing

Audifon

Sonic

AM
How To See An Expert?
We hope all information proved to be informative for you. Come to our HearingSol Clinic, Our professional team will guide you to the best hearing aid choice. And you will be able to decide which style & type is right for you.
Here hearing care professional will decide which option will fulfill a person's need and help them to buy hearing aids. If you need any help related to any hearing problem, discover or browse our Website. Or visit HearingSol in Delhi NCR or dial our toll-free number +91-9899437202 today.