Trusted Hearing Aid Centers In Nashik
Schedule an appointment with our Team
Get in touch with the best audiologist in Nashik, Maharashtra. Call now or fill up the consultation form to arrange your appointment. This will be your first step toward improving your hearing. We will help you understand what type of hearing loss you have & depending upon that will suggest you best possible treatment.

Best Hearing Aids In Nashik
The people of Nasik is slowly moving towards urbanization because it is near bigger cities like Mumbai and Pune. When your hearing level decline It feels like your life is going downwards. Hearing loss can have a range of consequences it depends on the individual and their unique type of hearing loss. Nasik needs to make sure their hearing is in good health.
The population of Nashik is around 14.5 lakhs. The most common problem with hearing loss has reduced the ability to understand other people. Hearing loss can have a negative impact on people like negative attitudes, anger, and irritability, Depression, Trouble remembering things or following directions. HearingSol can help Nashik to have great hearing abilities.
Hearing loss In Nashik
Children of Nashik suffering from mild hearing loss have difficulties learning and developing the necessary speech and language. People of Nashik gives a lot of importance to religious and cultural festivals and they are generally spiritually inclined. Which means that a large amount of crowd is exposed to high noise levels in the transportation sector, temples, and colleges.
A hearing loss can change a person speak, learn and interact with others. This city exposed to high-level noise daily, but it is necessary to protect their hearing ability to let them enjoy their life to the fullest. With the proper hearing loss treatment and technology, Nashik can prevent hearing loss.
Do You Need Digital Hearing Aids?
People who are having trouble listening in the crowd, unable to understand what exactly people are saying, asking others to repeat the words. HearingSol provides you hearing aids which give you better clarity of sound. There are some following statements which describe people with some level of hearing loss, and it would be a good idea to visit our hearing center if any of these issues apply to you:  
If you are asking people again and again to repeat themselves.
You feel like you're always making effort to hear others conversation.
You have more difficulties in understanding women and children than men.
You feel nervous and hesitate about attending social situations because you think you'll have trouble following conversations and communicating with others.
Our hearing aids will improve your daily life as we have done for so many other cities. We will be happy to give a proper hearing test and identify the issue at our hearing center.
How HearingSol Can Help You?
We provide digital hearing aids which are self-learning. Which means they get to know automatically what settings to be made for the places you go and adjust automatically. People who sufferers if they contact our audiologists and make the most of the options available. The price of our hearing aids depends on their style, technology, design, and features.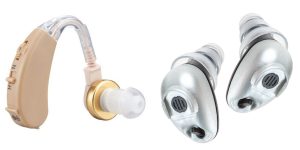 We can arrange a consultation for you, to book an appointment you can call on our toll-free number +91-9899437202. We will conduct your hearing test by an audiologist or hearing specialist.  
We will talk to you about your need and figure out some best advance digital hearing aids to find the one which perfectly suits your requirement. Option included hearing aid compatible with smart-phones and smartphone app control. It also has Bluetooth to connect you to smart audio systems. The price of hearing aids depend on its model.
Types of Hearing Aids
Hearing aids are mainly categories into three groups as per the need of individuals:
Basic Hearing Aids
These type of hearing aids costs start from Rs 27,490 to Rs 36,990. In this type of hearing aid limited adjustments are available for fine-tuning It is customizable and best suited for those individuals who spend their time at home because it only provides basic relief from hearing loss. Its key features are:
Modern digital technology
Hardly any feedback
Multiple customizable hearing programs
Mid-range Hearing Aids
Mid-range hearing aids cost start from Rs 52,990 to Rs 1,29,990. This hearing aid provide good sound quality even if you are in a complex listening situation. It allows you to change the listening programs and enhance your listening. It has automated features which remove the manual adjustment of volume. It automatically eliminates unwanted background noise. Its key features are:
Wireless connectivity with external audio sources
Speech recognition and enhancement
Effortless directional hearing
Premium Hearing Aids
Premium hearing aids cost starts from Rs 1,54,990 to Rs 2,74,990. It automatically adjusts to different environments. You can store manually your favorite settings for the places you mostly visit.  
It connects wirelessly to your electronic devices. The wireless streaming also prevents sound interference and optimize the sound. It reduces background noise and also focuses on the talker.
It is true that premium hearing aids costs are high but so is the value. These can provide you the best sound experience and best convenience. Its features are:
Enhanced 360° spatial orientation
Automatic adjustment in different listening environments
A wide range of  styles and colors
Multimedia application (TV or Cellphone)
Wireless streaming
Best Brands, & Supplier of Hearing Aids In Nashik
Elkon

Oticon

Unitron

Bernafon

Rexton

Audio Service

Hansaton

Audibel

Beltone

Liberty

Miracle-Ear

NuEar

Axon

Amplifon

Alps

Embrace Hearing

Audifon

Sonic

AM
See An Expert In Your Area
Schedule an appointment with us consult with our hearing professional who can evaluate your hearing. You can email us at [email protected]. For any further queries or to buy hearing aids, you can contact our expert on +91-9899437202.