Trusted Hearing Aid Centers In Mumbai
Schedule an appointment with us
Get in touch with the best audiologist in Mumbai, Maharashtra. You can call now or fill up the consultation form to make an appointment. This will be your first step toward improving your hearing. We will help you understand what type of hearing loss you have & depending upon that will suggest you best possible treatment.

Hearing Aids In Mumbai For Hearing Loss
Whether you are at work or home, hearing loss can be a huge issue in Mumbai. According to WHO, 360 million people have hearing loss so severe that it can be classified as a disability. Hearing problems that are ignored and untreated can get worse. The people have hearing loss equivalent to that of someone 10-20 years older than their age. If you suspect a hearing problem, see your hearing care professional right today.
Research shows that India is the global capital of noise hearing problems, with Mumbai categorized as one of the noisiest cities in the World. Recent with highest record noise level being 123.2 dB. On average, the city's pollution level stays around 71.25 dB. Which is considered relatively high.
Our trained audiologist at HearingSol analyze the hearing loss condition of the patient and start treatment depending on the intensity of the hearing impairment and whether you are affected in one ear or both.
Hearing loss is too common, but there has never been a better time to seek treatment with today's technology available and medical options. If you need with your hearing, do not wait. With modern advancement, we are here to help you 24*7 to overcome your hearing problems to give you a healthy and quality life.
How HearingSol Can Help?
HearingSol encourages patients to take care of their hearing and understand the fact about hearing loss and preventing it by establishing a trusting relationship with our hearing care professional team. Even from a mild hearing loss, our hearing aids can give you a better clarity of sound.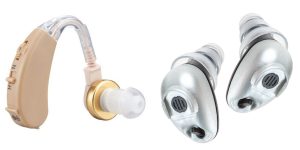 Latest technologies make it possible for modern hearing aids to match the loss, physical features, and lifestyles. Here you can always concern our health professional to find that good one for you. They will provide a better suggestion.
We are committed to not only treat impaired vision or hearing loss but also to make sure we provide solutions and care that benefits each individual's unique lifestyle.
Range of Hearing Aids In Mumbai
The price of hearing aids depends on quality and design. Hearing machine that is available in India are mainly categorized into three groups:
Basic Hearing aids
These type costs from Rs.27,490 to Rs.36,990. It has modern digital technology and multiple customizations.
Mid-range Hearing aids
These costs from Rs. 52,990 to Rs.1,29,990. They have wireless connectivity with external audio sources and great enhancement.
Premium Hearing aids
They cost Rs 1,54,990. To Rs 2,74,990. They have automatic adjustment and wireless streaming.
Best Brands, & Supplier of Hearing Aids In Mumbai
Elkon

Oticon

Unitron

Bernafon

Rexton

Audio Service

Hansaton

Audibel

Beltone

Liberty

Miracle-Ear

NuEar

Axon

Amplifon

Alps

Embrace Hearing

Audifon

Sonic

AM
How To See An Expert?
We hope all information proved to be informative for you. If you wish to buy a hearing aid comes to our HearingSol Clinic, Our professional team will guide you to the best hearing aid choice. And you will be able to decide which style & type is right for you. If you need any advice or help related to any hearing problem, discover and visit HearingSol in Delhi NCR or dial our toll-free number +91-9899437202 today.