Trusted hearing aid centers in Bhopal
Schedule an appointment with us
Get in touch with the best audiologist in Bhopal, Madhya Pradesh. Call now or fill up the consultation form to book an appointment. This will be your first step toward improving your hearing. We will help you understand what type of hearing loss you have & depending upon that will suggest you best possible treatment for you.

Hearing Aids In Bhopal
Hearing loss can have huge negative social and health impacts in both adults and children. Hearing loss can occur at any age. The deafness not only affects you but also have an impact on your social and emotional health too. You will have a feeling of being able to hear but not understand. People over there are united by their love for art, dance, and music, Bhopal needs to make sure their hearing is in good health.
Hearing loss can be caused by some injury, Prolonged exposure to excessively loud noise. Hearing loss can have a negative impact on people like increase blood pressure, negative attitudes, anger, and irritability, Depression, Trouble remembering things or following directions. HearingSol can help Bhopal to have great hearing abilities.
Hearing Loss In Issue In Bhopal
There is Bharat Heavy Electricals Limited, in the eastern part of the city. Bhopal is manufacture unit and other industries, as well as retail businesses. It has a large number of educational institutes. Which means that a large amount of crowd is exposed to high-level noise.
If you suspect that you are having a hearing loss, it is important to immediately seek the advice of our qualified hearing healthcare professional. Bhopal is exposed to high-level noise daily, but it is necessary to protect their hearing ability to let them enjoy their life to the fullest. With the proper hearing loss treatment and technology, Bhopal can prevent from hearing loss and get a quality life.
Do You Need Hearing Aids?
People having mild hearing loss, your ability to communicate with others can be compromised, but HearingSol provides you hearing aids which give you better clarity of sound. There are some following statements which describe people with some level of hearing loss, and it would be a good idea to visit our hearing center if any of these issues apply to you:
If you are asking people again and again to repeat themselves.
You feel like you're always making an effort to hear others conversation.
You have more difficulties in understanding women and children than men.
You feel nervous and hesitate about attending social situations because you think you'll have trouble following conversations and communicating with others.
Our hearing aids will improve your daily life as we have done for so many other cities. We will be happy to give a proper hearing test and identify the issue at our hearing center.
How HearingSol Can Help You?
We provide modern technology can deliver impressive results for most of the people who sufferers if they contact our audiologists and make the most of the options available. The price of hearing aids depends on their style, technology, design, and features.
We can arrange a consultation for you, to book an appointment you can call on our toll-free number +91-9899437202. We will conduct your hearing test by an audiologist or hearing specialist.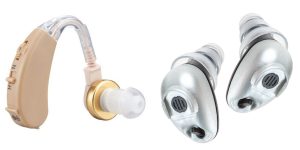 We will talk to you about your need and figure out some hearing aids to find the one which perfectly suits your requirement. Option included hearing aid compatible with smart-phones. It also has Bluetooth to connect you to smart audio systems.
HearingSol provides you modern advancements that are both highly effective and user-friendly. You will listen to High Definition Digital Sound
Types of Hearing Aids We Provide
Hearing aids are mainly categories into three groups as per the need of individuals:
Basic Hearing Aids
These type of hearing aids costs start from Rs 27,490 to Rs 36,990. It is best for those individuals who spend a lot of time at home because it only provides basic relief from hearing loss. Its key features are:
Modern digital technology
Hardly any feedback
Multiple customizable hearing programs
Mid-range Hearing Aids
Mid-range hearing aids cost starts from Rs 52,990 to Rs 1,29,990. In this type of hearing aid, annoying background noise is eliminated and speech is automatically recognized and increased. They include technological features to get more hearing comfort like they can play back TV or telephone sound directly. Its key features are:
Wireless connectivity with external audio sources
Speech recognition and enhancement
Effortless directional hearing
Premium Hearing Aids
Premium hearing aids cost starts from Rs 1,54,990 to Rs 2,74,990. It can provide you a crystal clear sound even in the worst hearing situation.
For instance, you can talk to your friends and can listen to them clearly even when people around you are having lots of conversation. It reduces background noise and also focuses on the talker.
It is true that premium hearing aids costs are high but so is the value. These can provide you the best sound experience and best convenience. Its features are:
Enhanced 360° spatial orientation
Automatic adjustment in different listening environments
A wide range of  styles and colors
Multimedia application (TV or Cellphone)
Wireless streaming
List of The Best Brands, Manufacturer & Supplier of Hearing Aids
Elkon

Oticon

Unitron

Bernafon

Rexton

Audio Service

Hansaton

Audibel

Beltone

Liberty

Miracle-Ear

NuEar

Axon

Amplifon

Alps

Embrace Hearing

Audifon

Sonic

AM
See An Expert In Your Area
Schedule an appointment with us consult with our hearing professional who can evaluate your hearing. You can email us at [email protected]. For any further queries or if you want to buy hearing aids, you can contact our expert on +91-9899437202.