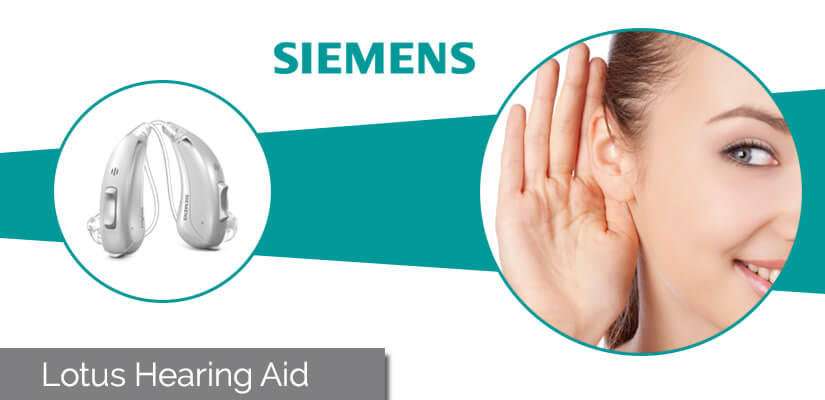 Lotus Hearing Aid is a type of Behind the ear Hearing Aid. It is very powerful and affordable that delivers you the best performance in a way that is reliable. It is helpful for mild to profound hearing loss.
Convenience:
Cheap

Reliable

Best Sound Quality

Easy to handle or use
Performance:
Stable

Trouble free

Comfortable

Programmable or trimmer-operated
Accessories:
Battery

T-coil Telephone function

Audioshoe
 Battery:- Battery consumption is very economical in the lotus family. If the battery of the hearing aid is low then the alert tune will ring. This is very beneficial to you and you will never be worried about the battery.
T-coil Telephone function:- Some of the Lotus models are available with the telephone function. It is easier to use the telephone. T-coil prevents undesirable whistling when wearing a hearing instrument and simultaneously talking on the phone.
Audioshoe:- Audioshoe enables audio connection directly. It is compatible with the most FM-system. It provides an excellent signal-to-noise ratio for learning in school or at home.
Siemens Lotus Hearing Aids
1.Siemens LOTUS 12P Digital BTE Behind The Ear Hearing Aid: Severe Loss (Premium)
2.NEW SIEMENS LOTUS 12P/23P -FUN P Digital Hearing Aid 6 Channel Free Shipping
3.US SIEMENS LOTUS 12P Hearing Aids Aid Digital BTE High Power Severe Hearing Loss
4.NEW SIEMENS LOTUS 12P/23P -FUN P Digital Hearing Aid 6 Channel Free Shipping
5.Brand New Siemens LOTUS High-Power 12P Digital BTE Hearing Aid Shipping Free
6.Brand New Siemens LOTUS High-Power 12P Digital BTE Hearing Aid USA
7.NEW SIEMENS LOTUS 12SP/23SP FUN SP Digital Hearing Aid 6 Channel Shipping Free
8.Siemens Lotus 23SP Hearing Aid BTE: For Severe to Profound Loss
9.SIEMENS LOTUS 12P TOUCHING HEARING AIDS HIGH POWER DIGITAL BEHIND THE EAR B
10.Brand New Siemens LOTUS High-Power 12P Digital BTE Hearing Aid USA Seller
11.New Siemens Digital Lotus12SP Profound Severe Loss Hearing Aid Small BTE Ear USA
12.SIEMENS High-Power LOTUS 12P BTE Hearing Aid For Severe-Profound Loss perfect! A
13.NEW SIEMENS LOTUS 12P/23P UPDATE-FUN P Digital Hearing Aid 6 Channel 2017 NEW!!!
14.SIEMENS High-Power LOTUS 12P Digital BTE Hearing Aid For Severe-Profound Loss US
15.NEW SIEMENS LOTUS 12SP/23SP UPDATE-FUN SP Digital Hearing Aid 6 Channel 2017 NEW
16.SIEMENS High-Power LOTUS 12P Digital BTE Hearing Aid For Severe-Profound Loss
17.NEW Siemens LOTUS 12P Digital BTE Hearing Aid Aids Fast Shipping From USA!
18.SIEMENS LOTUS 12P Hearing Aid 100% Digital Super High Power BTE Behind-the-Ear
19.SIEMENS Power LOTUS 12P Digital BTE Hearing Aid Severe-Profound Loss Super Good
20.Siemens High Power Severe hearing loss LOTUS 12P Digital BTE Hear Aid Moderate
21.Brand New Siemens LOTUS High-Power 12SP Digital BTE Hearing Aid USA
22.NEW Siemens High-Power LOTUS 12P Digital BTE Hearing Aid Aids Fast Ship From USA
23.MINI SIEMENS LOTUS 12P HEARING AIDS HIGH POWER DIGITAL BEHIND THE EAR BTE CASE