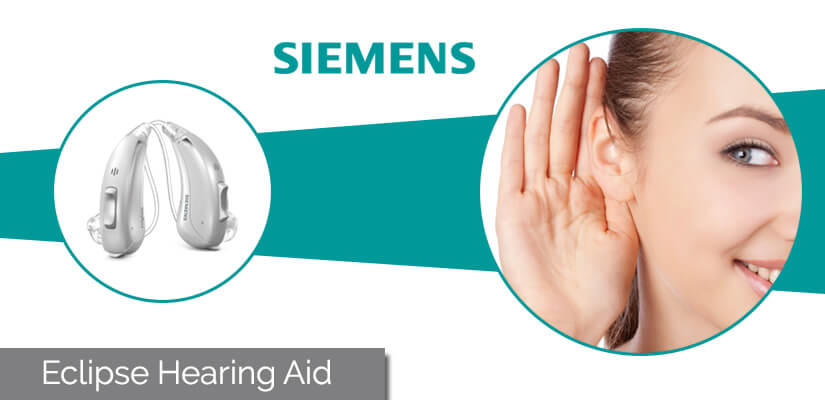 Eclipse Hearing Aid also called as small CIC(Completely In Canal ) and it is used by people who have mild to moderate hearing loss. Mild hearing loss is a starting phase of hearing loss. In this hearing loss, People can not hear soft voices in noisy or loud environment. People who cannot listen mild speech or voice in the noisy environment that is referred to as Moderate hearing loss. The eclipse hearing aid is based on 2 technology levels 701 or 301 and also it works on discrete or digital signals. It has two color code, the red color is for right ear and blue is for left ear. The eclipse hearing aid is placed directly in front of ear drum of the ear canals. It always provides best quality of sound.
Eclipse Hearing Aid Features:
Good Ear Impression:- It has good impression because it is small in size and put into the ear canal. It is invisible. Anyone will not see easily this hearing aid when others wear it.
Easy to use:- The eclipse hearing aid is easy to use hearing device. It can be placed easily and quickly. Their is no risk of aid damage. You can easily change hearing aid battery. It is placed into the ear canal with help of machine. It is available in different of sizes.
Stopping Feedback:- When any worst feedback occurs then it is eliminated by this hearing aid. The bad signal is not present in this.It stops frequently error feedback or signals. Due to this, It gives good accuracy.
Manage to noise and speech:- Eclipse hearing aid manages the noise and speech both. It has ability to differentiate between noise and speech. This device eliminates the background noise and gives clear voice or speech.
Better sound quality:- It gives a better sound quality at a different level of frequencies and eliminates unexpected noise or error. It helps to improve human's hearing sensitivity or ability.
Wind Blocking:- This hearing device blocks out wind noise and provides clear or better sound.
Use 16 Channel:- The channels are used for different types of hearing loss. It is programmed for hearing loss. and  based on 16 channel program.
Record data:- The data is recorded by eclipse hearing aids. So tat audiologist can easily analyze people hearing condition with help of this devices and give them best treatment.
Eclipse hearing aid is a unique hearing aid due to above all features. It is very good or beneficial for mild to moderate hearing loss people.