ReSound has been manufacturing world-class hearing devices since 1943, providing exciting and innovative technology to distributors in over 80 countries. They combine advanced Hearing Sol with designs that reflect what hearing aid wearers want, so you always get the best in technology and performance in a beautiful device that's sleek and easy to wear.
ReSound has given the industry some impressive firsts, from Dynamic Range Compression technology to Digital Feedback Suppression that eliminates distorted whistling or buzzing sounds, as well as the first hearing instrument that incorporated vents to provide more natural sound and eliminate the feeling of having a plugged ear.
Perhaps their most well-known innovation is the Made for iPhone technology featured in all ReSound's latest hearing aids that allows you to seamlessly connect with your iPhone, iPad, and other Apple devices, giving you the ultimate in connectivity. If you don't have an iPhone, don't worry. You can still enjoy ReSound's advanced technology using their Phone Clip+ to stream audio to your Android or another Bluetooth-enabled phone.
Read More : GN Resound Hearing aid price list
Clear Speech Understanding + Accurate Spatial Awareness
Purchase a ReSound hearing device, and you're guaranteed to get some amazing features. All ReSound hearing aids use the Binaural Directionality II program, which works in tandem with Spatial Sense to give natural hearing that helps the brain process the sounds around you. You'll have clear speech understanding and accurate spatial awareness.
The ReSound Smart App
The ReSound Smart app gives you discreet and easy access to the programs and settings of your hearing aids. Through the app, you can control ReSound's tinnitus sound therapy program that provides relief from the buzzing or ringing sounds that interfere with your daily life. Using a large selection of therapy sounds, the sound generators draw your attention away from the tinnitus, providing relief and allowing you to get back to the important things in life.You can even use your phone to track your hearing aids.
Have you ever misplaced your hearing aids and spent a few frantic minutes overturning the house looking for them? With this new tracking technology, ReSound takes the stress out of finding your hearing aids with the Find My Hearing Aids. It will show you the exact location of your hearing devices, whether they're under the couch cushion or in your gym locker across town.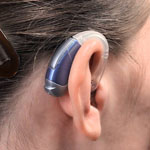 Available in a Variety of Styles and Colors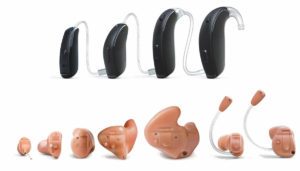 Not only does ReSound provide world-class features and technology, their hearing instruments also come in a range of styles, from behind-the-ear (BTE) models to subtler in-the-ear (ITE) and completely-in-the-canal (CIC) styles. They are available in a wide range of colors to match hair or skin tones.