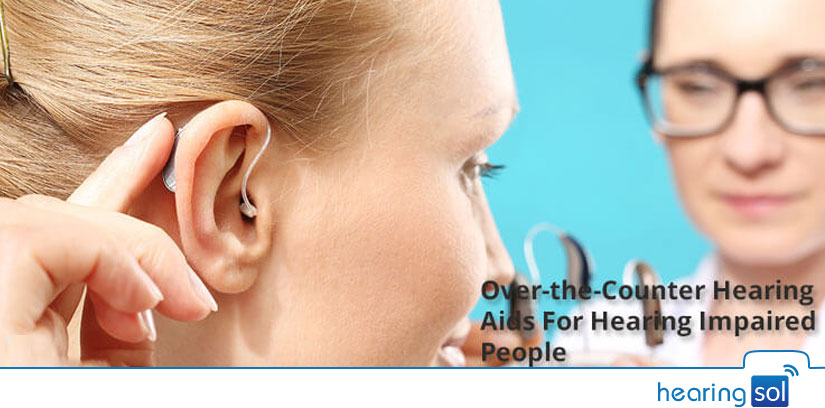 Over-the-Counter hearing aids are hearing machines for hearing impaired adults purchased online or directly from the retailer by consumers.
OTC Hearing aids provide relief to individuals with mild to moderate hearing impairment. However, we all know hearing machines are very expensive.
Average hearing aid cost more than Rs 1,40,475 Medicare and other health insurance also don't cover hearing devices.
You can purchase the latest hearing aids at a fair price through HearingSol, If you need any assistance or you have a query regarding Over-the-Counter Hearing Aids and Hearing Loss, feel free to call us at +91-9899437202. We are always here to help you.
Therefore, keeping in mind the interest and expensive cost of hearing aids the US government has taken a step forward.
The US Senate had already passed the Over-The-Counter Hearing Aids Act of 2017. On July 12 the bill was passed by the house of representatives. The Hearing Loss Association of America(HLAA) also approved the Over-The-Counter Hearing Aids act.
However, the Food and Drug Administration-regulated Over-the-counter hearing aids are not available at present for the consumers.
But consumers need to wait for some time for their OTC hearing devices. OTC hearing aid is a new term for most of the hearing impaired people.
OTC hearing aid is a new term for most of the hearing impaired people. Over the age of 65, 1 in every 3 persons has some degree of hearing loss or deafness problem.
So in this article, we will provide you all specifications of over-the-counter hearing aids in detail.
---
What Is The Hearing Aid Machine?
Hearing loss is a bigger problem nowadays due to the increase in more sound pollution day by day. It will affect not only your professional life but also you're personal as well as social life.
Hearing aids help you to hear the sound better and understand words or sounds much more clearly. It is an electronics wearable device that you have to put on your ear so that you can build your overall communications with others.
There are many types of hearing aids in the market that functions almost in a similar way but the outcomes may differ from persons to persons.
All the hearing aids working are different from each other as the electronics on which they depend are different.
The two main types of electronics that can be used: Analog and Digital.
---
What Is Over-The-Counter Hearing Aids?
People spent hundreds of dollars on their hearing impairment and bought PSAP(personal sound amplification device).
For normal hearing people, PSAP is a sound amplification device. Whereas Over-The-Counter Hearing Aids are PSAP but with FDA approval.
OTC hearing devices will be digital hearing devices with all the hearing device technology such as wireless, Bluetooth, and directional microphones, etc.
But the average price of the OTC hearing machine will be Rs 70,237 compared to Rs 1,40,475 of a PSAP.
OTC hearing device will be sold directly to the buyers rather than buying from a hearing aid dispenser. There is also no need to consult an audiologist for buying an OTC hearing machine.
OTC hearing aids are not available for people with severe hearing loss. However, all the online retailers will ask for an audiogram before selling any kind of hearing machine to the consumer.
---
Is It Important To Get Hearing Checked?
If you are experiencing any kind of deafness then stop waiting for OTC hearing aid. There is no particular time period, no one knows when the FDA approved OTA hearing devices will be available in the market.
Professionals suggest that in case you are having any kind of hearing difficulty, consult an audiologist (+91-9899437202). And take a hearing test on the advice of hearing care professional.
In case the hearing impairment is left untreated then the probability of other difficulties arises such as Anxiety, depression, loneliness, and lack of confidence. Everyone should get immediate treatment for hearing loss.
---
Are OTC Hearing Aids Better?
For millions of Americans, OTC hearing devices will come in the form of low-cost hearing technology. OTC hearing machines only are available for individuals with mild to moderate hearing loss.
Individuals with a severe hearing loss would not be able to use OTC hearing devices.
There is a probability that the cost of all the hearing machines can get reduce because of the OTC hearing low-cost prices. All the hearing impaired people will get benefit from these affordable prices.
Today, every one of us in search of discounts considers online purchasing of hearing the machine. Some of us also search online for the diagnosis of their hearing loss and its treatment.
However, it is very important to consult a hearing care professional or an audiologist before buying any kind of hearing aid. Because a wrong diagnosis can even make your hearing loss condition worse rather than improving it.
---
Pros And Cons Of OTC Hearing Machine
Pros:
Cost-effective in comparison to other hearing aids devices.
It can amplify only low voice sound otherwise it may difficult to hear.
It is convenient to wear.
Cons:
It can amplify sound but cannot help your brain process sound.
Sometimes feel uncomfortably in the ear, and for many patients, they're tough to manage.
While not using in a proper way may cause hearing damage.
---
Why Is It Important To Consult Audiologist?
An audiologist is a qualified professional who not only provides the hearing device. But also diagnose your hearing loss and also provide the required treatment.
These professionals constantly attend training workshops to keep them updated on the latest hearing-related treatments and recent hearing devices.
In some of the cases, if the hearing loss remains untreated or not treated properly then it can link to other health conditions.
Some of the other health conditions are Cognitive Decline, Diabetes, Depression, Cardiovascular disease, and Kidney Disease.
There are some other causes of hearing impairment such as Meiner's disease, Acoustic neuroma, Presbycusis, perforated eardrum, and Ototoxic drugs.
Read more:- 10 Diseases and Medical conditions that cause hearing loss
Most of the population uses online help to diagnose medical conditions including hearing loss. It is rightly said that"Taking information from the internet is like having a drink from a fire pump".
Purchasing a hearing device over the internet adds a disadvantage for the consumers as they are not buying from a trained source.
Moreover, people are not even getting proper guidance in terms of functions such as volume control or power controls.
The Hearing Industries Association(HIA) recommended that only those people get OTC hearing devices who have mild hearing loss. Even HIA suggested FDA to specifically set the standards high for OTA hearing machines.
---
Is There Any Difference In Cost?
People can buy Over-the-counter hearing aids at low prices compared to the other hearing machines. Other hearing machines are expensive because they involve the cost of manufacture and warranty which includes services such as cleaning, repairs, and other adjustments.
One can't predict the cost of OTC hearing devices because still FDA is in the process of deciding the cost. Cost is not the only factor responsible for opting for OTC hearing machines.
These hearing devices will help hearing-impaired individuals who go through social isolation, embarrassments, relational stress, and negative workplace outcomes.
There are some countries where the government provides subsidies for hearing devices. In some of the countries, hearing machines are available free of cost such as India.
In India under "Rashtriya Vayoshri Yojna" all the senior citizens will receive free hearing machines. With the vision to provide assistance for hearing impaired people Over-the-counter hearing aids are introduced.
---
Why Did Lawmakers Pass The OTC Legislation?
Like many today, we're always skeptical about the motives of legislators. Spiraling healthcare costs is a big worry for most Americans.
Washington DC has a saying, "follow the money". It will be interesting to see which special interest groups applied "pressure" by way of campaign donations to the bill sponsors in order to reclassify devices.
Yes, it seems cynical to question the motives of the sponsors and whether this law will improve the lives of millions of Americans.
However, the flow of contributions is how things get done in DC. An opinion column published in the DC insider website The Hill points out the unseemly underbelly of this legislation.
President Donald Trump had signed legislation in the Food and Drug Administration Relief Act of 2017, which included the Over-The-Counter Hearing Aids Act designed to provide more public access and affordability with the Law Over-The-Counter Hearing Aids.
---
Conclusion
Finally, need to conclude Over-The-Counter Hearing Aids as it stands today.
People with mild hearing loss will benefit from trying good quality Over-The-Counter Hearing Aids.
An amplifier is not a hearing aid, and will only make all sounds louder.
It is essential to find a professional hearing evaluation. (remember most insurances and Medicare Part B cover your exam if you are cost-conscious)
There will be many years before the FDA guidelines and rules will be written for Over-The-Counter Hearing Aids.
If you suspect you have a hearing loss now, the best thing to do today is to contact a professional for an evaluation. From there you can decide the best path to address for your hearing difficulties.
If you are noticing hearing difficulties then you are probably past the point of a mild hearing loss and may need something with a little more power and adaptability to suit your daily activities.
For any queries or issues related to Over-The-Counter Hearing Aids just give us a call on +91-9899437202. We are always glad to help you.
---
Read more:-