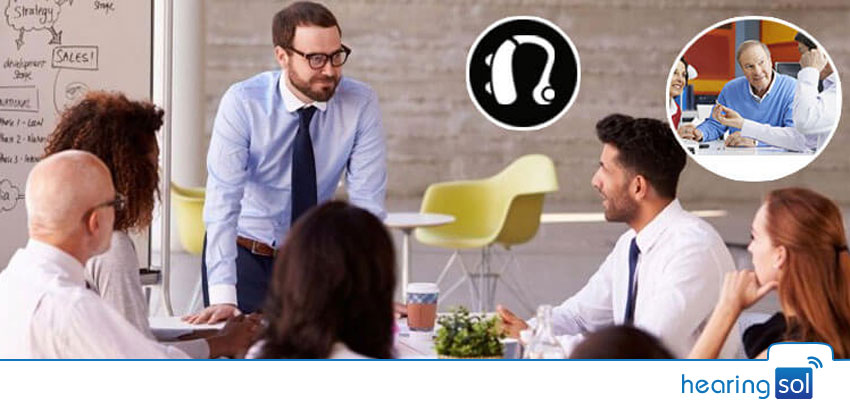 Is Hearing Loss Cure Going To Change Your Business Strategies? Is hearing disability hampering your business? Are you not able to concentrate on your business due to hearing loss? Then this article is just for you. Just go through it and you will probably get all your answers.
You can purchase the latest hearing aids at a fair price through HearingSol, If you need any assistance or you have a query regarding or Hearing Loss Cure, feel free to call us at +91-9899437202. We are always here to help you.
Hearing Loss Cure To Change Business Strategies
---
Way To Improve Your Communication In Workplace
Basically, my aim to write this blog is to help people who are suffering in working place with hearing loss. For all those people it's a big question, "Is Hearing Loss Cure Going To Change Your Business Strategies?" Working with hearing loss is not easy, conversations can be a challenge.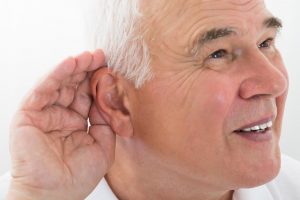 Handling your client and communicating with them can be difficult. But sometimes small hearing aid makes your lifestyle easier. Some people feel shy because of a hearing problem but there are many ways for hearing loss cure and communicate with your colleagues:
Tell your colleagues how to talk to you. Ask for a heads up.
Make sure to notice a persons' face from a reasonable distance from you. Their expression and body language will help you to grab easily.
When you start your conversation make sure your environment should be silent or switch off things like TV, radio and so.
Ask them to raise the volume of their voice slightly and use an appropriate visual hint.
Explain how your specialized devices work and inform your colleagues that you have a hearing problem.
Read more: Use Smartphone Remote control app for hearing aids
One of the best things associated with a good business strategist is that no matter what the circumstances are he/she will find an ideal way to deal with it. So when we hear the word partial or complete hearing loss, most of the people will sympathize with the victim but meanwhile if we look at the broad picture then we can clearly see that it is an 'open invitation to new possibilities'. So, taking a broad look at the data-:
There are around 360 million people who suffer complete or partial hearing loss.
Most of the times the sense of hearing can be brought back either by some medical help or by technological help. So being on the later side I will focus more on the technological part of the story. Let us consider the fact that we want to grow and prosper in terms of our business which deals with providing the hearing aid and essentials for the people in need. So here is a general layout that I will consider before making any change to my current business strategies.
Before making any changes to the current strategy, one would like to study the market. What is the current standing of the market regarding the same? What is the scope for improvement in my current plan? How much can I improvise in my business with that? We need to apply a new plan to read patients at every stage he is been.
After carrying out brief research, all we need is a plan for how to move further with our study. We need to hire a team that will consist of experts and professionals working in the same field so that we can work precisely on our desired path.
At this point, we need a solid strategy to move further. As we know that we are not alone in the market, the competition is tough and it's survival of the fittest. So, the first thing would be to go for the most feasible option that will serve the purpose and at the same time would also help us grow. Everyone in the market wants to make a profit so do we. So basically what are our possible options to do so?
Read more: Technologies help to connect hearing aids with wireless device
Hearing Assistance Technologies
These devices include:
Microphones and Transmitters-: These devices can be put near sound sources like T.V, computer to receive the sound through receiver or headphones wirelessly.
Personal pocket devices-: These devices enable a person to hear clearly to other people while reducing background noises. These are smaller in sizes and can be charged once to last 100 hours, portable to carry and can be put in a pocket, belt or collar.
Telephone Ringers-: These enable the telephone ringing louder or enabling the phone to vibrate or flash and are quite helpful to the person with a complete hearing disability or partial hearing loss.
Read more: How to become audiologists – Career | Salary | Education
Hearing loss facts and Treatment
According to a survey, approximately 31% of the population has a hearing loss by the age of 65. By the age of 75, it reaches up to 50%. Hearing loss is often occupied by buzzing, ringing, and tinnitus in the absence of the sound. So, if we look closely at the data then apart from the Technological aid most people prefer to go and seek medical aid and if we are planning on going big then we must consider this fact in mind too.
So, we can invest in this side of the story too. We can hire a medical team, that would be solely based upon the purpose of treatment related to hearing losses. A medical team can work on the followings:
So overall, we develop a firm where we can provide a complete solution for receiving medical attention for providing medical aid to the affected people, all under one roof. It is one of the most effective ways of growing the business. It would be like a supermarket where people can buy daily household products along with basic items to keep their daily life simple.
Layout For The Organization
With an idea like this, a lot can be saved on promotion, "it will sell itself". Consider people coming in with some hearing problems:
Initially, they can consult a doctor about their problem.
After the doctor's consultation, if the problem can be solved via medical help, they can provide it and the patient won't have to leave.
If there is some serious damage then one can move to technical help which may provide suitable aid for the patient that suits them best.
A team of professionals can fix the microphones and other devices that need to be used.
The patient can also contact the research team if he/she wishes to go for some other medical help, who by the way would be available under the same roof.
So if we can focus on opening such an organization that works from ground level to top-level providing all the necessary care and treatment for a hearing loss then it will help boost the economic growth of the organization to a very large extent. Consider that every day around 50 people showing up if we consider that 50% of people stick with us. And follow the treatment chart made by us. It means we have 25 customers if we take as an estimate for 1 month approximately will be around 400. We are talking business now so let's make some calculations-:
Let us assume that we receive 400 patients per month. So if we collect 400 Rs as consultant fee from each of the then we receive 1,60,000 Rs per month.
Let us assume 50% of our patients seek some medical advice and on an average. We collect as 500Rs with respect to medicine and other test charges. It takes about 1,00,000 Rs.
Now, if 20% of our patients need serious concerns regarding hearing aid, then we have about 100 patients. And if we calculate the margin of profit on the microphones and transmitter as we are selling them directly. Each one would make a cut of around 20% and that would be about 2000-5000Rs differing from patient to patient. So if we take the average that would be about 3,00,000Rs per month.
Now, we will have patients who will go for therapy to ease their hearing condition. And it would require help from a team of medical professionals. So it would cost around 10,000 Rs per person. So that would make around 1,00,000Rs.
Now look at all the figures we can estimate an income around 10,00,000 LPA and after cut shorting all the expenses. It seems like a single organization just got you Rs 5,00,000 per month. If we want to grow the business we can simply set more branches and include better facilities. Which could attract more people to seek attention from our organization?
So basically we can increase the facilities and services which would help in increasing our business. Once we are set all these processes we can have a quick look at our development on a monthly basis.
After all, the preparation has been done and goals have been defined, the monthly budget must be drawn up. A monthly budget for any business – it is concrete and certainly your best planning tool.
A Simple planning budget will improve all these kind of things-:
Turnover
Cost of sales
Gross profit
Gross profit (GP) percentage
Expenses (overheads)
Net profit

Read more: Headphones for hearing loss
Strategic Partnerships:
It is the most effective way to grow the business. Where we can also collaborate with one of a medical center to deal with the daily patients and provide medical attention. We can provide all the technical care along with financing the project. What would be its advantages-:
Access to new technology.
Access to more associated content.
Building brand awareness in the community.
Improved quality.
Increased production.
Reaching individuals and companies otherwise unobtainable.
Reduced risks and liability.
Access to more resources.
Following all the steps make sure that all are in the right direction and business will gloom and the idea prospers.
You can purchase the latest hearing aids at a fair price through HearingSol, If you need any assistance or you have a query regarding or Hearing Loss Cure, feel free to call us at +91-9899437202. We are always here to help you.
References: