ABA therapy is the most widely used therapy for autism. Applied Behavioral Analysis is an avoidance based technique.
Generally, it is based on the principle of analyzing behavior in real-life situations, with the ultimate goal of encouraging behavior through positive reinforcement, which helps in learning personal. It is also effective in discouraging behaviors that interrupt learning. ABA focuses on step-by-step or incremental learning – a particularly effective way for children suffering from autism.
If you need more information or you have a question regarding ABA therapy or Autism, you can discuss it with our HearingSol healthcare professionals, just give us a call on +91-9899437202. We are always here to help you.
In which systematically behavior modification improve autistic child behavior to a meaningful degree. In this therapy skills of a child broken down into small and also easy to learn steps.
It helps in improving child behavior which includes:
Improving communication such as language, understanding, conversation, social skills, reading and also writing.
It improves their living such as fine motor skills, toileting, dressing skill, eating, personal self-care, domestic skills, work skills.
Improve various child behavior such as hyperactivity, self-injury, tantrums, Non-Compliance, Aggressive.
ABA therapy can help –
Communication skills and increase language.
The decrease in behavior problem.
Improve social skills, memory, attention, focus, and academics.
But as the ABA has expanded and it has become common. It has also acquired critics among parents and Autism advocates, who raise issues with its methods and methods used by some physicians.
One of the criticism stems the fact that the earliest form of behavior analysis developed for autistic children by Dr. O. Ivaar Lovaas in the 1960s. Which is called Discrete Trial Training (DTT), that was not wholly based on positive reinforcement for desired behaviors.
"Dr. Lowa used the principles of both positive reinforcement and punishment to reduce self-harmful behavior in residential settings, for treat severely impaired individuals," Dr. Susan Epstein, diagnostic neuroscientists say. The use of reversible reinforcement methods, which included electric shocks, are not considered acceptable today.
Too tough on kids?
While the use of cloning reinforcement has generally gone, there is still a complaint that ABA therapy, which can involve very much repetition, is difficult on children, and the skills they learn do not necessarily be normal for other situations.
There are various risk factors and negative effects of ABA therapy in autism.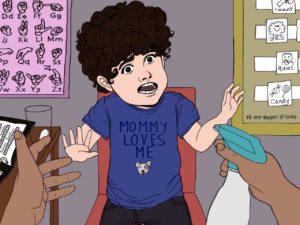 Negative effects of ABA therapy in autism
Cost: ABA therapy is very expensive and also time-consuming. It takes a long time to fulfill client as well as the patient's perspective.
One size does not fit all: The efficiency of applied behavior analysis depends on the individual. Though ABA can be fitted to some extent, putting it into actual practice is the only way out to determine if it will work for a certain client.
Compliance training and harmful therapy goals are two main problems with different forms of ABA, but there are huge concerns that Autistic people and their allies have risen about the ABA which they experienced.
Skills learned in during this therapy is not useful in other environments. Patients in some other environments may not reinforce or resist. The behavioral changes or skills are not generalized to the real world.
An autistic client sometimes frustrated or upset during therapy.
An addressing behavior of a patient's alone some time mask some other things.
What a good doctor does, expert says, whether it is ABA or not ABA?
"Try to find ways that build on the power of an individual child, who use their interests, but this specialist allows them to participate in society and they will give them the most options. This is what we want, we do not want to be the best person, we want a person. As much as possible, and get as much enjoyment as possible from the world.
What questions should I ask?
following questions can help you evaluate whether a provider will be good for your family. Remember to trust your instincts, as well!
How many BCBAs(Board Certified Behavior Analyst) do you have on staff?
Are they licensed through BACB and state?
How many behavioral doctors do you have?
How many doctors will work with my child?
What type of training does your doctor receive? how many times?
How much direct medical attention do doctors receive from BCBA Weekly?
What does a normal ABA session look like?
How do you manage security concerns?
How will you determine the goal for my child? Do you consider input from parents?
Do you offer home-based or clinic-based medicine?
How often do you re-evaluate the goals?
Do you have a waiting list?
How is progress progressed?
How many hours per week can you provide?
What type of insurance do you accept?
Consideration
It is important to find an ABA provider and therapists who are a good fit your surrounding.  The foremost step is for therapists to settle a good relationship with your child. If the child trusts their therapists and enjoys spending time with them, then therapy will be more successful.
Read More –