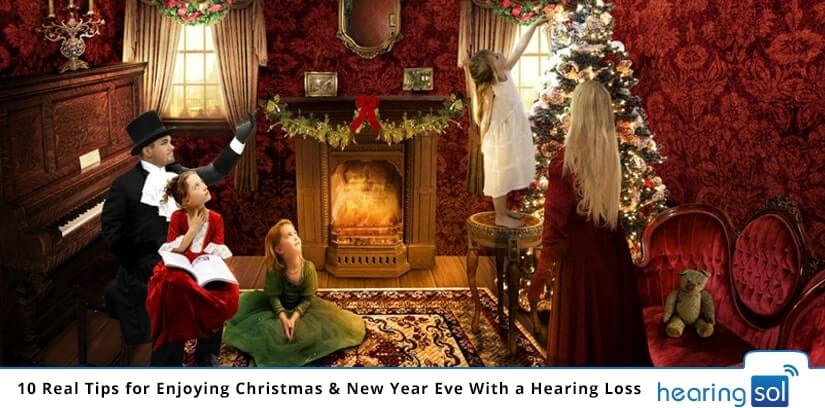 Enjoying Christmas New Year eve? Well, it is a delightful moment of enjoyment, Christmas carols, singing, dancing, sharing gifts, and the arrival of Santa Claus. But it becomes a challenging moment for the people suffering from hearing loss as they face various problems in attending such Christmas carols, singing, and dancing, gathering with people due to hearing problems.
You can purchase the latest hearing aids at a fair price through HearingSol, If you need any assistance or you have a query regarding Hearing Loss, feel free to call us at +91-9899437202. We are always here to help you.
Are you thinking to stay away from this delightful moment or hesitating to participate in the Christmas party?
Just quit this idea and be ready to make this Christmas more enjoyable and special ever. You can follow the given tips for Enjoying Christmas New Year with a hearing loss.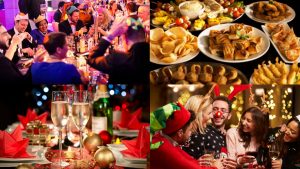 Tips For Enjoying Christmas New Year With Hearing Loss
Whether you are suffering from hearing loss or you are communicating with the hearing impaired people, these tips will help you to enjoy Christmas together. The following tips are as follows :
Secure a person's attention before speaking
When the speakers and listeners attend each other, communication becomes more effective. Thus you have to catch and secure the person's attention before speaking to them. This will enable you as well as the person to understand the views of each other. And you can involve yourself with the guests during Christmas and make your Christmas party awesome. While speaking you should turn towards the face of the people.
Wear your hearing aids
If you have been prescribed hearing aids for better hearing, don't forget to wear it at the Christmas party. Well, wearing a hearing aid is irritating for maximum people. Thus you may think that it will spoil the Christmas party. But this time you should change your attitude and wear it proudly.
This Christmas you can try new hearing aids like Bluetooth hearing aids, rechargeable hearing aids, and devices of the latest technologies. As it will not only help to hear from you but it will remove unwanted noise and amplify the sounds in a better way. It will enable you to enjoy singing, dancing and Christmas carols.
Seating arrangements for Christmas dinner
You should focus on the seating arrangement for the Christmas dinner in such a way so the hearing impaired people can also join you. Choose the roundtable for dinner so that each and every person can face each other. Let the hearing impaired people sit centrally so that they can understand the conversation by lipreading, gestures, and expressions.
Try not to sit with your back against the wall as this is the worst position for hearing clearer. Choose the seat where you are facing the wall so all the noise is behind you. Your ear shape and your hearing aids are designed to reduce sounds from behind and pick up from in front, so if you can seat yourself with the noise behind you, you will help filter that unwanted sound down as much as possible.
Prioritization the needs of the hearing impaired people
This Christmas, be empathetic towards the hearing impaired people and invite them wholeheartedly to make your Christmas happy and awesome. But you have to do special arrangements for these people according to their basic needs.
Ask them if they want you to lip read, speak in a loud voice, or say something clearly.
Keep your conversation simple and clear so that they can understand it properly without any difficulties.
Do activities together like you can watch movies with the subtitles, play cards and assist them in these activities.
Refer some hearing loop technology to experience them for better hearing.
Communication with Santa Claus in a sign language to support these people morally.
Pick your buddy
Well, it is not possible for others to understand your needs and problems up to a desirable extent. Therefore, this Christmas take your buddy along with you. Buddy is the person with whom you can be confident and comfortable. Your buddy will make your Christmas party more wonderful and merrier than ever.
Turn down background noise
No doubt background noise disturbs your gathering, celebration, and even eventful conversation. To tackle this noise, generally, you make your conversation even louder and this irritates the hearing impaired people.
Therefore it becomes necessary to remove background noise. You can do it in the following ways :
Postpone the noisy activities, like the noise of the utensils, generators, cleaning the heavy materials.
Keep your conversation away from loud noise, noisy places like restaurants, bars, etc.
Choose the quiet corner for a peaceful gathering.
Turn off the TV.
You should refer to places of soft furnishing and a lower ceiling.
Proper communication tips in the party
You can follow these communication tips at the Christmas party for the sake of hearing-impaired people:
Do proper lip movements so that they can understand your views by lipreading.
Stand in proper lightning to see each other clearly.
Involve your gestures and expressions very properly during communication.
Turn the face toward the people while speaking.
Speak in simple language. Avoid difficult words and long sentences.
Speak clearly and keep your voice down.
Involve sign languages in your conversation.
Pick a suitable venue for the celebration
The venue or location plays an indispensable role in making the party delightful. But you have to select the venue so that everyone can join you including hearing-impaired people. If you plan a party in the restaurants or bars, the noise of the places can ruin the celebration. Thus you have to do proper arrangements for such noisy places.
You can pick your home or friends home as the location of the Christmas party. This will make hearing impaired people more comfortable and their celebration will be also delightful.
Help others in helping you
If you are suffering from hearing loss, and you attend the Christmas party. Then you have to be prepared to help yourself rather than expecting from others. As others, can't understand your priorities and need until you will discuss with him. Thus you have to help others in understanding your needs without hesitation at all.
Now after reading these tips, I hope you will definitely change your mind and start planning for the Christmas & new year eve. As the delighted, and special moment of Christmas is waiting for you.

You can purchase the latest hearing aids at a fair price through HearingSol, If you need any assistance or you have a query regarding Hearing Loss, feel free to call us at +91-9899437202. We are always here to help you.
Read also: New Year's Resolutions To Improve Your Hearing in 2020