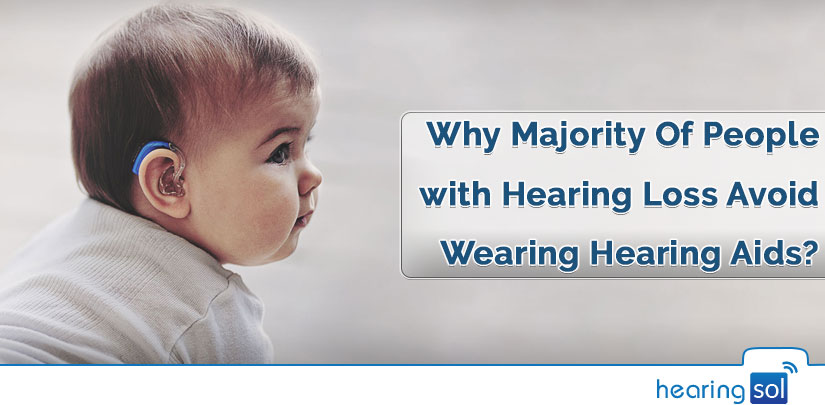 Age-related hearing loss gradually increases with time. Generally, it affects 40% of people age 55–74 years old. Hearing loss is managed by hearing aids which are a primary clinical management intervention. Most of the people who have the facility of hearing aids but they do not wear it.
So Let's find out why majority of people with hearing loss avoid wearing hearing aids?
NIDCD found out that 28 million people in the united states have hearing loss and 27 million people hearing could be better by hearing aids.
You can purchase the latest hearing aids at a fair price through HearingSol, If you need any assistance or you have a query regarding Hearing Aids or Hearing Loss, feel free to call us at +91-9899437202. We are always here to help you.
But only 6 million people have hearing aids. It means a very large amount of people who need hearing aids to improve their hearing but they don't have.
What is the possible approach to connecting with someone who can provide hearing aids? These are the questions has been asked by the people which will become more complex by time.
---
Does Wearing Hearing Aids Make Me Stand Out?
Well, wearing a hearing aid may sound uncomfortable and some people don't want to wear it. But the question still strikes their mind whether they can stand without hearing aid or not. Let's discuss it in detail.
A hearing aid helps you with better hearing. It helps to provide a clear sound at a different level of sound frequencies. It is used by hearing loss people.
If you are using this device then you can go outside with full confidence because now you will not face the hearing problem.
You will not feel embarrassed and anyone won't become irritated in talking to you. You can feel enjoying your life by using a hearing aid.
Now a day, the hearing aid is available in the different styles of hearing aids which look like fashionable devices or invisible. So, others cannot see clearly your hearing aid that what you wear and you can concentrate on your activity.
Hearing aids help to enhance your personality by canceling the background noise and promoting proper communication.
It promotes communication and understanding in your workplaces, with your loved ones, friends, and groups.
If you are thinking that you should isolate yourself due to hearing loss, then just wipe these thoughts from your mind.
A hearing aid helps to maintain the proper rapport between the speaker and the listener and reduces the communication gap.
---
20 Reasons Why People With Hearing Loss Avoid Wearing Hearing Aids?
There are various reasons due to which people avoid hearing aids and fear to wear them. Let's discuss each factor in detail:
1. Poor Fit
If your hearing aid does not fit properly it seems uncomfortable and not working properly. If earmolds don't fit properly it will cause the redness or wrong fitting custom hearing aids can also cause redness in the ear.
Consult your professional when your device does not fit properly. They will adjust your device correctly and then you will feel comfortable while wearing them.
2. Lack Of Confidence
Nowadays hearing devices will be more vast in technology and very helpful in daily routines if you know how to use it.
If you forgot how to use the apps on your phones and how to change the batteries of your hearing aids you can call your hearing aid center.
They will provide you with guidance on how to use it properly and it works better in your daily life.
3. Lack Of Commitment
If you use your hearing aids only occasionally it may happen that it won't work. Because hearing is brain activity and your brain takes time to sense the signal coming from your inner ear.
It totally depends on the severity of hearing loss and how much time you waited for the treatment. Wearing your hearing devices daily will make your brain consistent with the signals coming from the inner ear.
4. No Longer Effective
If your hearing aid doesn't work properly or you can't hear the sounds then consult your hearing care specialist. They find the reason for not hearing properly.
It may happen when your hearing loss has changed or your hearing aids need cleaning.
5. Don't Realize That They Have A Hearing Loss
Numerous people don't know about their hearing loss. They don't realize their hearing disability because it gradually decreases by time.
People don't notice the gradual decrease in their hearing ability and they have used it. This slight reduction in their hearing becomes habitual and they think that their hearing is normal.
At any stage, if people have the possibility of hearing loss then it will be necessary to check out their hearing.
6. Higher Priorities
Sometime people will know that they have a hearing loss but they avoid it because they give preference to their other health issues.
People will suffer from cancer or heart problems ignore their hearing disabilities. They want to first deal with their other problems rather than hearing loss but they don't know that hearing loss is also affecting their other problems.
7. Cost
Cost is a very crucial issue for most people. People who belong to a poor family can't buy hearing aids.
As well as for older people who have fixed income or pensions, children who belong to a poor family, adults who have less income is a big issue for them to purchase a hearing aid.
8. Lack Of Transportation
People who are older and live in rural areas may not get an audiological treatment and hearing aid solution to their areas.
This type of facility available in limited areas. Getting transportation and hearing professionals for them at their place is the solution to this problem.
9. Lack Of Motivation To Hear
It happens when people don't interact with others and live alone. It may also occur when people withdraw from social interactions and their environment are irritating.
Irritating environmental sounds can reduce a person's courage to hear. Providing some pleasant sound environment and something that could be interested in them may motivate them to wear hearing aids.
10. Family Resistance
Sometimes family members oppose the person who wants to get a hearing aid. Family resistance also may occur because they don't realize that their loved ones have hearing loss.
Family member motivation is very helpful in any circumstances. Sometimes family members don't want to spend their money on buying hearing aids for their loved ones.
11. Fear of Being Seen as "Failing" or Incompetent
Some people don't want to wear hearing aids because they think they look older than others. They think that wearing hearing aids is a sign of aging.
In their workplace wearing hearing aids will get the wrong impression and seems incompetent in their supervisors' eyes.
Without hearing aids people misunderstands or fail to hear that may come to look like they are being unfriendly, weird, and incompetent for other people.
12. Afraid of Doctors (Professionals)
It is true that medicine was much more primitive than today. Older people don't want to take medicines because it is tasteless. They avoid visiting the doctor regarding any health issues.
It is not necessary that only older people have a phobic reaction against the doctor but younger people have also the phobic reaction to the professionals and specialists.
At the time of severe condition professional help is very important.
13. Motor Coordination Problems
Some people also ignore hearing aids due to facing problems in motor coordination. They don't know how to remove and put the batteries into the hearing aids and also cannot adjust the volume.
Hearing aids are small in size and require good motor coordination. Some hearing aids provide external controls through which manipulation of a device would be easier.
14. Bad Prior Experience With Hearing Aids Or Vendors
Some people have a bad experience with their hearing aids. They face some problems like adjustments in hearing aids and did not work well-hearing aids in their past.
It may be happening because they get their product form some magazine ads or through any ads which have low-quality sound and cannot hear much.
Bad experience with hearing aids vendors in the past can turn to change people's minds about hearing aids use in the future.
Adjustments with hearing aids can take many weeks or months. Some people don't want to take much time for hearing aids adjustments that's why people avoid using hearing aids.
So it is very important to consider the person's past experience with hearing aids. It may improve their person's expectations about hearing aids.
15. Friends' Or Relatives' Bad Experiences
Some people avoid hearing aids because of their relatives and friends have such bad experience with hearing aids.
It is important to know that is there any person in their family or friend has any bad experiences with hearing aids.
People have heard some time with another person, it may be a seller or user, have such experiences can be a refusal to hearing aids for them.
The solution is only that find ways to prove the benefits of hearing can convince or motivate the person about the hearing aids.
16. Overstimulation
Most of the people hear different sounds while wearing hearing aids which they never heard before. Some people being habitual to this sound but for some people, it's being irritable and uncomfortable.
That's why they refuse to wear hearing aids and don't want to consider it in the future. It only overcomes when people wear these hearing aids for a short period of time on a daily basis and increase their wearing time day by day.
17. Emotional Status
Hearing loss plays a major role in depression. Depression can reduce a person's energy and interest in using hearing aids.
The person may feel uneasy and concerned about the hearing test, fitting of hearing aids, problems of batteries, volume adjustments, etc.
18. Ear Pain and Allergies
Many people observe sensations and ear pain in the ear when they using hearing aids. Some people also experience allergies due to hearing aids.
To resolve this, a person can consult their hearing specialist and audiologist to reduce the pain and allergies. Here are some home remedies for earache to get relief.
19. Vanity
Many people don't wear hearing aids because they think that it doesn't go with their outfit or their image.
It may be overcome if discussing it with them in a sympathetic and elegant manner that they may fail to hear or misunderstand what is being said.
20. Fear Of Ridicule
This problem occurs with the younger and kids. Kids who are in high school or junior high school may stop using hearing aids because they have fear of making fun of their friends and schoolmates.
Younger has also the same fear. It doesn't matter how helpful are hearing aids for them in previous years.
It only overcomes by the strong encouragement and motivation of some people friends and their families to wear hearing aids.
---
Some Other Reasons
I can hear just fine.
It's not my hearing, it's your talking.
My friend cannot stand his hearing aids
They are complicated to use
They make screeching noises
It will be difficult talking on the phone
I will look old wearing one
What will others think of me at work?
---
Conclusion
Don't fear to wear your Hearing Aids in mild, moderate, or severe hearing loss. You must wear it. It may improve your hearing ability.
Fashionable and properly fitted hearing devices can conceal your hearing problem from the public. At the same time, you will have very effective communication with others.
You can purchase the latest hearing aids at a fair price through HearingSol, If you need any assistance or you have a query regarding Hearing Aids or Hearing Loss, feel free to call us at +91-9899437202. We are always here to help you.