Hearing Loss benefits from cochlear implants in young children are nowadays is improving very sudden. It helps to improve the auditory perception and speech intelligibility of young children suffering from intense hearing impairment.
It is significant that deafness in youth influences the improvement of sound-related speech recognition, speaking speech, and English language abilities. A few kids with significant deafness create reasonable oral abilities with traditional hearing aids. However, most don't. Inability to create sufficient oral relational abilities can have a huge negative impact on education and work.
Cochlear implantation:
Cochlear implantation is a surgically implanted electronic device (doctor puts in your ear through surgery). This device helps to send impulses directly to the auditory nerve of your ear, which carries the sound signal to your brain.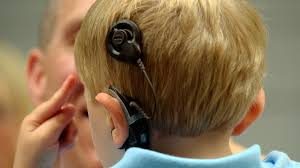 The implantation from cochlear will not only make you hear normally again but also it can help you a lot with sounds. Surgical risks are not too much but can cause tinnitus as well as dizziness. It is only available for people who have hearing difficulty in both the ears.  
Is your child eligible for cochlear implants?
Before taking your child to the cochlear implantation, you must ensure whether your child is eligible for this surgery or not. As it is the main factor of the success rate of the cochlear implants. Thus the child is eligible if :
He is suffering from severe to profound hearing loss in both ears.
Children of 12 -24 months with limited benefit from hearing aids.
If children are from 2-17 years, speech scores while using hearing aids need to be less than 30% correct.
Cochlear implant benefits for hearing impaired young children:
In the case of younger adults the cochlear implants benefit at an early age and so is the surgical outcomes. The first two years of your child's life are especially important for the development of your child's language, speech and communication skills. Thus the cochlear implants enhance the speech understanding, sound clarity, and language skills.
Young children improve at a slower step. A lot of training is done after implementation that helps the child use the new 'hearing' which they can experiences. They can watch television easily especially when they can also see the speaker's face. However, listening to the radio is often more difficult because there are no visual clues available. That is the way that Cochlear implant benefits for hearing impaired in young children. Thus the child can hear the different level of sounds within the normal range of hearing as well as in the noisy environment.
An audiologist or another health professional can help you to decide the best option for your child. If you don't have someone to speak to, we can help you to find a clinic's appointment where your child can have their hearing test. It's important the person you choose to look after your child's hearing impairment should be someone who has enough knowledge in cochlear implants to help you to make the most informed decision and your child should be comfortable with.
You may observe the desired educational outcomes in your child after the cochlear implantation. As it replaces the functions of the hair cells and provides quality of hearing.
Benefits
All youngsters, particularly those embedded at a youthful age, exhibited an enhancement in sound identification. Studies additionally have appeared in speech creation aptitudes and generally speaking discourse understandability in kids with prelingual deafness. Improvements in sound-related discourse acknowledgment and discourse generation happen over quite a while course in prelingually stunned kids who get multichannel cochlear inserts.
There is a vast individual difference in the advantage that kids get from multichannel cochlear implants because of cochlear implantation, for example, age at beginning of deafness, age at implantation, a measure of cochlear implant involvement, and instructive preparing.
For additional info:-