VA (Veteran Affairs) is a nationwide health-care department of a federal agency (cabinet level). It established in 1989 headed by the secretary David Shulkin. VA provides services and medical care to military veterans or directly to civilians over many countries.
If you need more information or you have a question regarding How does the VA Calculate Disability, you can discuss it with our HearingSol healthcare professionals, just give us a call on +91-9899437202. We are always here to help you.
It is the largest provider of health care in the United States – public or private – operating 152 hospitals and over 1,400 outpatient clinics across the US.
Like education resource, home loans, vocational rehabilitation, disability compensation, and life insurance. Here is the brief description of VA disability calculator.
How the VA works:
Veterans Health Administration (VHA), Veterans Benefits Administration (VBA), and National Cemetery Administration are the 3 main subdivision under the VA department. Though, each controlled by an Undersecretary.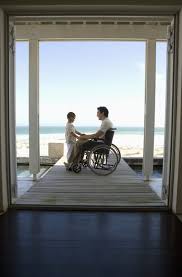 However, VBA responsible for business benefits and entitlements like Home Loan Guarantee, Insurance, Employment, Education, Compensation & Pension), initial veteran registration, and eligibility or disable determination.
Various Priority Groups for the Eligible Veteran
An eligible veteran is put into one of eight categories called priority groups.
1: Veterans with VA service-connecting to disabilities 50% or more disabled, or determined to be unemployable due to service-connected conditions.
2: VA-rated service-connected disabilities 30 or 40% disabling
3: Awarded veteran either the Purple Heart or Medal of Honor; veterans medically discharged for injuries incurred or aggravated during their service; veterans with VA-rated service-connected disabilities 10 or 20% disabling; Former Prisoners of War or resulting from medical mistreatment, as established by law.
4: A veterans who receive aid and attendance benefits, housebound benefits, or who have been determined to be "catastrophically disabled."
5: Veterans receiving VA pension benefits; veterans eligible for Medicaid; veterans who do not have a service-connected disability, or whose service-connected injury is non-compensable, but whose income is below geographically means-tested limits.
6: Veterans with compensable, VA-rated service-connected disabilities of 0% combat veterans; "atomic veterans"; Project SHAD participants; veterans on active duty at Camp Lejeune during its water contamination.
7: Veterans with gross household income below the geographically-adjusted income limits for their resident location and who agree to pay copays.
8: Veterans with gross household income above the VA and the geographically-adjusted income limits for their resident location and who agrees to pay copays.
Eligible for VA disability benefits:
Depends on the veteran's disabilities if it acquired by, or provoked throughout active service
Death while on duty; or death resulting from service-linked injury
Having hearing disabilities or have a spouse, child, or parents
And for the seriously disabled spouse
VA disability calculator:
Firstly, should arrange in the exact order of severity
Start with the greatest disability and place in Combined Rating Table.
The degree of one disability place in the left column and the other in the top row, whichever is suitable
A combined value of the two appearing in the space where the column and row intersect and rounded to the nearest 10%
Secondly, A record of the first two combine values when there is more than two disability
Subsequently, it combined with the degree of the third disability
This calculation continues and the final number is round off to the nearest 10%.
Following above, Making the process manageable there's an easy way available to calculate what your combined disability rating should be i.e VA disability calculator.
Accordingly, it helps to check the payment procedure as per your legal status and whether you've any dependents.