Some people have a question in their mind whether they can donate their old hearing aids. The answer to there question is yes definitely they can. There are so many people who are suffering from deafness but still can't afford a hearing aid.
Donating an old used or unused hearing aid is a noble cause.  In this digital world, everyone replaces their old hearing aid with a new upgraded one. Instead of throwing the old hearing aid, donate your hearing aid. There are so many non-profit organizations who take donated hearing aid and provide a hearing aid recycling program. Donations to non -profit organization is tax-deductible also.
Every year thousands of hearing aids are donated in order to recycle them for the people who are looking for help.  Hearing aids which are donated open up the world of sound for the people in need. A large number of hearing aids used on international hearing missions comes from recycling program, which makes hearing aid donations vital. Donating the hearing aid is the absolute journey of love.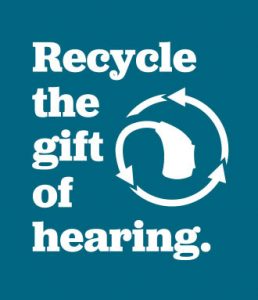 Where To Donate
There are many hearing charities you can find on the internet nearby you that collect hearing aids. After taking the hearing aids, they refurbish them and donate them to low-income people who are in desperate need of hearing aids but can't afford them.
What about Batteries and Accessories
Unfortunately,

Hearing aid batteries

cannot be donated as hearing aid machines. Once a battery is used up, that's it. You can't reuse it. Either you can dispose of it or you can recycle it.

All other necessary

hearing aid accessories

like earmolds, repairs, and tubing can be donated if all are well functioning.

The overall hearing aid should be in good working condition.