Bachelor of Audiology and Speech-Language Pathology
Last Updated:

Dec 8th, 2018

Posted by:

admin

Category:

Student: Audiology and Speech Therapy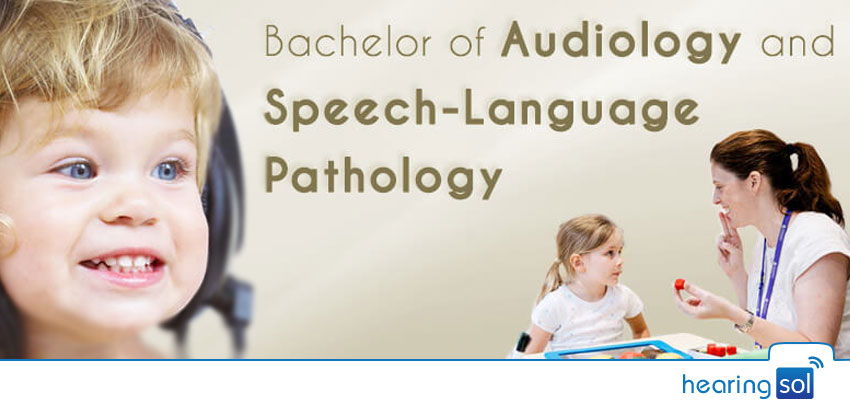 Bachelor of Audiology & Speech-Language Pathology is an undergraduate or professional 4 year long full-time program which was launched in the year 1992. The course involves various techniques and methods used for diagnosing and treatment of hearing, speech, and balance-related disorders in people. This program combines both theoretical as well as practical knowledge which focuses on the clinical teaching-learning. From the time of its inception, the number of enrolment in BASLP course has increased progressively.
This course is designed for those who have qualified their Senior Secondary Examination (10+2) in science stream, from a recognized educational board. In India, admission to this course is done based on the candidate's performance in a relevant entrance test.
If we break down this 4-year program, then it will consist of 3 academic years of coursework (6 semesters) and 1 academic year of internship (2 semesters). The average course fee for BASLP in India ranges between INR 20k up to 4 lacs, varying across different universities/institutes.
After successfully graduating this course, one can find employment in both governments as well as private sectors, such as:
Hospitals
Clinics
Schools or universities etc.
Hearing aid and cochlear implant manufacturing
Hearing Conservation Program in various industries
The average annual salary ranges between INR 2.5 to 7 lacs depending on the candidate's expertise and experience in the field.
What is this BASLP about?
This course is designed to offer certain specialization to the eligible candidates regarding the audiology and speech-language pathology:
To identify and treat stuttering, disarticulation, speech and language problems
Treating hearing impaired, mental retardation, cerebral palsy, autism, stroke/paralysis, laryngectomy and learning disorder
Diagnosing middle ear and inner ear disorders, auditory nerve, central auditory nervous system or differential diagnosis of any auditory disorder
Techniques used to identify people with hearing impairment
Management and elimination of voice, speech and hearing disorder
To study about normal and abnormal aspects of voice, speech, and language
Can pursue advanced research in this discipline
After successfully completing the course, interested candidates may go for higher studies in the discipline, such as
Higher studies after BASLP Course
M.Sc. in the molecular pathogenesis
M.A in Communication Sciences and disorder
MBA in healthcare management
Doctoral research in the subject
Master of Speech Language Pathology course
Master of Science in Speech, Pathology & Audiology
Master of Special Education
PG Diploma in Clinical Linguistics for SLP
Master of Science in Audiology
PG Diploma in Forensic Speech Sciences & Technology
Post Graduate Diploma in Neuro Audiology.
Subjects covered under BASLP Course
1st year
Introduction to Speech and Language Pathology
Introduction to Audiology
Psychology Related to Speech and Hearing
Clinical Work (Audiology)
Basic Acoustic and Electronics
Clinical Work (Speech Pathology)
Basic Human Anatomy & Physiology
Introduction to Linguists
2 nd Year:
Clinical Work (Audiology)
Voice and Laryngectomy
Articulation and Phonological Disorders
Educational Audiology
Basic Statistics and Research Methods in Speech-Language Pathology and Audiology
Otorhinolaryngology
Diagnostic Audiology
Clinical Work (Speech Pathology)
Amplification and Assistive Devices for Hearing
Community Oriented Professional Particles in Speech-Language Pathology
Childhood Communication Disorders
3 rd Year
Paediatric Audiology
Adult Neuro-communication Disorders
Neuro-motor Speech Disorders
Clinical Work (Speech Pathology)
Rehabilitative Audiology
Noise Measurement and Hearing Conservation
Fluency and its Disorders
4 th Year
A six month in hospitals and speech and hearing department linked with institutes or specialized schools for people.
A six month duration training in number of steps according to the respective institutes.
Institutes offering the bachelor of Audiology and Speech-Language Pathology in India
There are many medical colleges or institutes in India offering a Bachelor's degree in Audiology and Speech-Language Pathology. There are some of the institutes/colleges listed below along with their location as well as approximate average annual fees.
| | | |
| --- | --- | --- |
| Institute Name | Location | Approx. average fees |
| All India Institute of Medical Sciences (AIIMS) | New Delhi | INR 1,100 |
| University of Bombay | Mumbai | INR 5,100 |
| Gujarat University | Gujarat | INR 10,000 |
| Guru Gobind Singh Indraprastha University | New Delhi | INR 35,000 |
| School of Allied Health Sciences, Manipal University | Manipal | INR 1,00,000 |
| Post-Graduate Institute of Medical Education and Research | Chandigarh | INR 700 |
| University of Madras | Chennai | INR 5,000 |
| University of Mysore | Mysore | INR 10,000 |
| Osmania University | Hyderabad | INR 3,000 |
| All India Institute & Special Hearing | Mysore | INR 10,300 |
| Indian Institute of Health Management Research | Jaipur | INR 10,000 |
| College of Audiology and Speech-Language Pathology | Pune | INR 3,500 |
| National Institute of Speech and Hearing | Thiruvananthapuram | INR 5,000 |
| Ali Yavar Jung National Institute for the Hearing Handicapped | Mumbai | INR 18,700 |
| Medical Trust Hospital | Cochin | INR 3,000 |
Eligibility for BASLP
There is a minimum eligibility criterion followed for the admission in BASLP. The candidate needs to fulfill these criteria for the admission.
Senior Secondary Examination (10+2) in science stream, from a recognized educational board
Minimum aggregate of 50% at 10+2 level (45% for SC/ST/OBC candidates)
The main subject at 10+2 level should be physics, chemistry, maths/biology/computer science/electronics/ psychology
On provisional basis, candidates waiting for their 10+2 results are also eligible
Admission Procedure
Institutes admit candidates based on their performance in the relevant entrance exams conducted at the state, national, or institutional level, followed by counseling process. Some of the institutes even consider merit obtained at 10+2 level as the criteria for admission, while some conduct their own entrance tests. Admission procedure varies across the colleges.
Students participating in counseling process need to clear two additional rounds i.e. Group Discussion and personal interview. These rounds help in examining the general aptitude of the candidate required for the course. Then a merit list is generated by the institute, allocating seats to qualified candidates.
Here are some of the entrance examination conducted in the country for the admission to BASLP course:
GGSIPU UG Entrance Exam
PGIMER UG Entrance Exam
JIPMER UG Entrance Exam
AIIMS UG (All India Institute of Medical Sciences Undergraduate) Entrance Exam
NEET UG (National Eligibility cum Entrance Test Undergraduate) Entrance Exam
Manipal University Entrance Exam
Career Opportunities
Specialists who have qualifies Audiology and Speech-Language Pathology in India, have great employment opportunities. As the requirement of these specialists is far exceeding than the supply.
Employment in popular areas:
Hearing Aid Manufacturers
Health care establishments
Government & private hospitals
NGOs
Academic – Teaching for children with special need
These professionals are responsible for:
Conducting speech and hearing research
Conducting clinical activities with patients
Dispensing hearing aid and assistive hearing devices
Teaching to students with special needs at any special school as well as universities
Some other job descriptions are also explained below:
| | | |
| --- | --- | --- |
| Job Profile | Job Description | Avg. annual salary |
| Audiologists | They are specialized in Geriatrics, cochlear implant, hearing aid, tinnitus, auditory balance & processing, and pediatrics among others such. They conduct clinical activities with their patients in a variety of setting & area. | INR 3 to 7 lacs |
| Speech Pathology Reader | They are responsible for preventing assessing, diagnosing, and treating speech, language, social communication, cognitive-communication, and swallowing disorders in children and adult both. If an individual faces any trouble in the social use of verbal or nonverbal communication, it is known as the social communication disorder. | INR 2 to 5.7 lacs |
| Clinical Supervisors | These supervisors are professionally responsible for overseeing a casework and any professional issues of the employee. They promote the development of counseling skills and approaches through assessments and evaluations. They also need to be responsible for addressing ethical and legal issues within mental health counseling. | INR 2.5 to 5 lacs |
| Lecturer in special schools | The lecturers are responsible for teaching a small group of pupils within or outside the class. They need to employ some special skills such as teaching Braille to visually impaired students or sign language and lip reading to hearing-impaired students. There is a need to prepare lessons and adapt conventional teaching methods to meet individuals needs of pupils. They also use special equipment such as computer and audiovisual materials in order to stimulate interest in learning. They also assess children suffering from short-term or long-term learning difficulties etc. | INR 3 to 6 lacs |
| Teachers, | Teachers are professionally responsible for creating lesson plan teach those plans top entire class, individually or in a small group. They create tests. They also create and reinforce classroom rules, track student progress and work with school administration for preparing students for such standardized tests. | INR 2 to 4.5 lacs |
| Researchers | They monitor the progress of research projects and coordinate information between departmental sections. They need to perform a wide and complex variety of assays, test & studies. These people carry out highly specialized and advanced experiments for better methods of treatment for people with speech and hearing disorder. Researchers also need to collect, prepare, analyze and evaluate specimens for tissue culture. | INR 3 to 7.5 lacs |
Read also:

List of Audiology Courses, speech language pathologist courses available in India.

Top deaf universities in the world for deaf students.

Speech Therapy Courses – Everything you need to be a Speech Therapist.