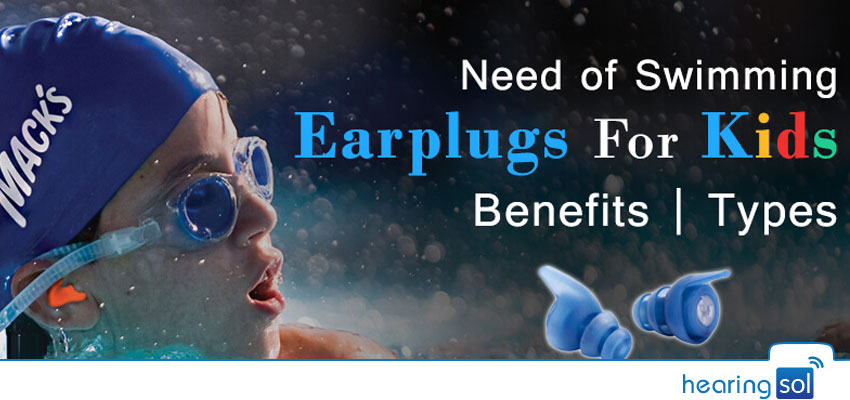 Swimming, splashing, playing in and around water is one of the favorite summer sport which kids enjoy. Before getting into the pool, you must know how to protect your children's ear while they are enjoying their moment in the water. The best solution for this situation is Swimming Ear Plug or toddler earplugs for swimming.
You can purchase the latest hearing aids at a fair price through HearingSol, If you need any assistance or you have a query regarding Swimming Earplugs for Kids or Hearing Loss, feel free to call us at +91-9899437202. We are always here to help you.
But how will you get to know if your child needs them or not? And if they need them then what type will be best for them.
---
What Is The Need For Swimming Ear Plugs?
Children with hearing loss or frequent ear infections such as swimmer's ear(otitis externa), infection of the middle ear(otitis media) or ear tubes must use swim earplugs. Ear tubes are small cylindrical tubes placed through the eardrum for recurring middle ear infections.
Earplugs allow the fluid to drain out. Earplugs will keep ears dry and prevent trapping of water in ear containing any harmful bacteria.
Some doctors recommend the use of earplugs every time you go swimming in untreated water, such as rivers, lakes, oceans. Even if the child is without an ear tube, swimming still poses a risk for the child with current ear infections or previous surgery.
Swimming will not cause any middle ear infection, but wearing the best swim earplug will prevent worsening the existing ear infection.
There are still many arguments about the limited use of plugs for children with ear tubes. It is predicted based on the fact that the surface tension of water will prevent it from entering the ear tubes.
The child would be safe unless going to swim in 3 feet or more underwater. On that note, it is prescribed that children with ear tubes should wear earplugs while their ears are submerged in soapy water i.e. in the bathtub.
This is so because soap acts as a lubricant which will reduce the surface tension and allow the water to enter the tubes.
Remember that underwater swimming causes pressure change can be really painful for children with ear infections.
Swimming should strictly be avoided in the case of ruptured acute otitis media i.e. ear infection with a ruptured eardrum.
---
Benefits of Earplugs For Swimming
A person will use anything only when it provides some benefits. The same is the case with earplugs. Following are the benefits that earplugs provide-
Swim earplugs are able to avoid any disease, infection, or injury. For young children having ear tubes in their middle ear for frequent ear infections, earplugs are a must to avoid further complications.
If someone is swimming in the cold or dirty water, they can use earplugs to avoid any kind of injury or infection from the water itself. Earplugs are especially necessary for those having damaged eardrums.
They prevent water from entering into the auditory canal.
Earplugs enable people to enjoy swimming even if they suffer from a perforated eardrum.
---
Types of Earplugs For Swimming
The solution for keeping water away from ear varies greatly in effect and cost. There are basically two types of swim earplugs available: custom-fit plugs and one-size-fits-all swim plugs from any drugstore or pharmacy.
Both are effective in keeping ears dry having their own advantages and disadvantages. To get the right kind of earplug for the child, must contact your hearing care professional.
Custom Fit Swim Earplugs
This kind of earplugs needs to be ordered by hearing care professionals. This is a very high quality and comfortable earplug. They will last longer than usual drugstore earplugs. For greater hygiene, they are reusable and are washable.
A major drawback of these earplugs is that they are very expensive. They are very difficult and expensive to replace if get lost as compared to other drugstore earplugs. Maybe a swim ear band can help in keeping them in place and preventing loss.
One-Size-Fits-All Swim Plugs
This is the other option available from the drugstore. These are usually made up of silicone or putty. They are advantageous over custom-fit swim earplugs because they are easy to obtain and less expensive, so replaced easily. Custom-fit is not required by them and they often come in bright colors.
1. Silicone earplugs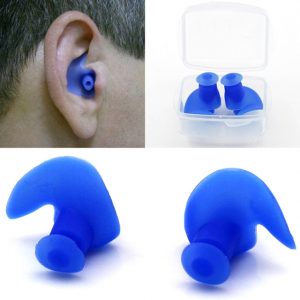 These types of earplugs are pre-molded which means that you can wash them after use and get a lot of mileage out of them.
They do not need to be custom-fitted to your ear (one size fits all). They come in bright colors which make them easy to find in the water.
2. Silicone Putty Earplugs
These are the most popular kind of earplugs you see with swimmers. It is made up of clear moldable silicone that you can ball up and jam into your ear and has a tighter and less leaky fit. Hence you will get a custom fit every time you use them.
These drugstore earplugs are not washable and therefore not very hygienic. Users consider them disposable after one or two uses, as it leads to wax and debris build-up.
Earplugs made of putty have even more disadvantages. It has a possibility that there may be remains of putty left in the ear even after the removal of the earplug. However, earplugs made of silicon may solve this problem, as they are washable.
---
Points To Keep In Mind While Purchasing Earplugs For Swimming
Swimmers are at a risk from water, but they are not at all prepared for this. Water trapped in the ear can be really uncomfortable and leads to painful conditions.
So for those who swim often needs to figure out some methods for prevention of such condition. And the easiest way to do so is, finding the best earplugs for swimming.
Every Earplug looks like the other, So how to tell the difference between them? You should buy earplugs based on the review, and for this, you should check out the following points:
1. Materials: Some of the materials are more comfortable and better as compared to others. They are either made of wax or silicone, or the combination of both.
Some of the earplugs are made of hard plastic mixed with some extra components. But this plastic part should not touch the softer flesh within the ear. Or this may lead to some kind of injury or infection.
2. Noise Reduction: Most of the earplugs have some level of noise reduction. Being more watertight will allow less sound inside the ear.
There are some earplugs designed to allow some sound, but they may not be as watertight as other earplugs. It is really easy to find out earplugs that block both, sound as well as water.
3. Fit Creation: To become watertight, the earplug must fit in your ear perfectly. How watertight fit is created will let you know its effectiveness.
Some earplugs can be customized with the help of heat, they can be molded to different shapes. Some earplugs come in different shapes to fit different people.
Having an issue with the fit, you should look out for earplugs with a different fit, as you can't do much to change its fit.
4. Reusability: There are earplugs that are both reusable as well as disposable. Reusable earplugs are common among swimmers, along with few disposables made for a similar purpose.
Reusable earplugs are easily available in the budget. They can be washed and reused over and over again rather than throwing them after one or two use.
It can be easily customized and has improved features, along with being environment – friendly.
Whereas, disposable earplugs are used for the sake of hygiene. They can be used by anyone and can be shared. So it is advised to carry more than one pair of earplugs.
---
Best Swimming Earplugs For Kids
1. Zooshine 6Sets Silica Gel Children Swimming Earplugs Ear Protector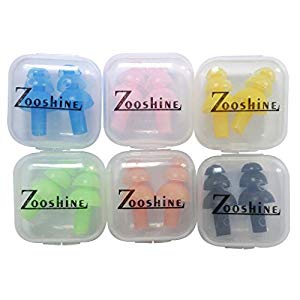 These earplugs are especially for children under 10 years. Zooshine earplugs are made of soft silicone and are very comfortable and suitable for the earholes of kids.
It helps to protect kids' ears when swimming or showering and hence improve their swimming confidence.
2. Mack's Pillow Soft Earplugs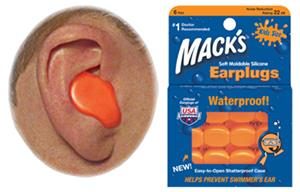 It helps to prevent Swimmers ear and also helps in preventing the hearing from loud noises. They help in providing non-toxic, hypoallergenic protection. More comfortable and better fit and seal than custom earplugs.
3. Soft Silicone Moldable Ear Plugs Set for Swimming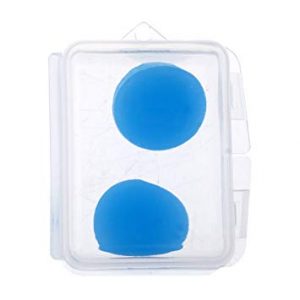 It is made of soft and high-grade silicone. It will seal out water from the ear and you will have a pleasant swimming experience. These earplugs are excellent for beginners.
4. BRBD 6 Pairs Waterproof Kids Swimming Earplugs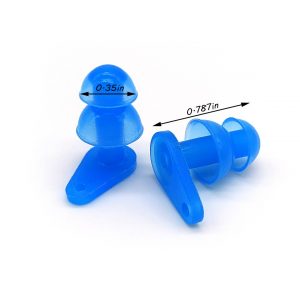 These earplugs are specially designed for children under age 8. It is made up of soft and flexible silicone and hence are comfortable to wear to protect ears against infections.
5. BEST CC 5 PAIRS(10PCS) Children's Swimming Earplugs Waterproof Soft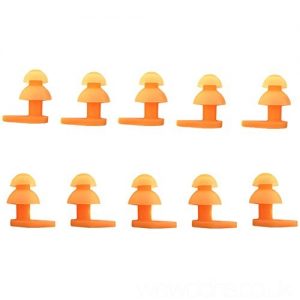 It is made up of soft silicone material and is easy to insert and remove from the ear. It will help you against ear infection. These earplugs are easily fitted for kids and children.
---
Advice By Professionals
Opinions vary on the basis of use and type of earplugs. The situations differ from child to child, so you should consult your pediatrician or hearing care professional for specific advice.
A specialist will suggest earplugs for your child based on his/her needs. Keeping your children's ear safe, clean, and dry this summer will mean fewer hearing hassles and less frequent office visits.
You can purchase the latest hearing aids at a fair price through HearingSol, If you need any assistance or you have a query regarding Swimming Earplugs for Kids or Hearing Loss, feel free to call us at +91-9899437202. We are always here to help you.
Read also: 10 Best High Fidelity Earplugs for Concerts 2018 – (Guide & Review)