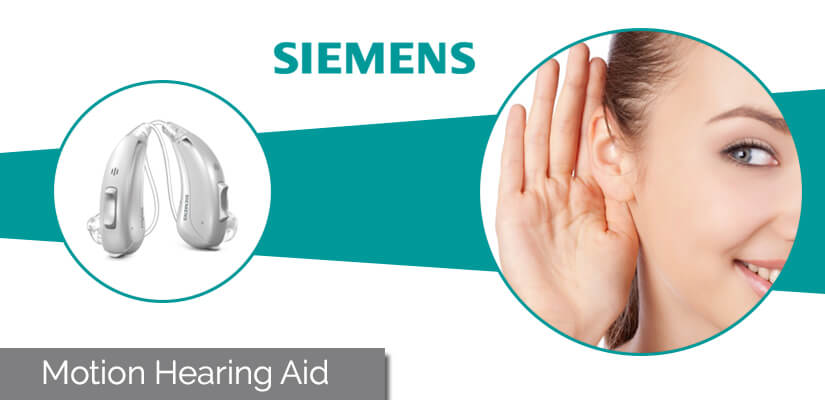 Motion Hearing Aid are useful for new and old hearing aid wearers. It is additionally loaded with amps – designed to power up for those with moderate to severe hearing disorder. It is  loaded with better features that makes life better. Motion is a adaptable of BTEs. It facilitates different benefits in different models so that it can be fit to any ear and any degree of hearing disorder. You need not to worry about this hearing aid. All the motion hearing machine models the offer perfect solution to almost hearing aid wearer.
You can talk with individuals while not waiting a second because motion hearing aids work automatically. Even you can talk with people in a noisy environment with the help of motion hearing aid. It focus precisely on speech from where it is coming ? By using motion hearing aid you can enjoy every moment of life effortlessly.If you are walking with someone and if he is talking to you. Then motion hearing aid adjusts the sound automatically so that you can talk easily and continue your conversation without any problem.
Now a days tinnitus becomes a big issue. It irritates and distracts people especially in Quite area. Motion will provide Tinnitus Therapy Signal. It will reduce the affect of tinnitus problem or ear ringing in single ear. Motion has good clarity and this will help you to focus what is important. This hearing aid has advanced technology that will automatically learn and adjust itself according to your need. It is easy to use and control. It fits comfortably and discreetly behind your ear.
Siemens motion hearing aids are given below:
1. Siemens Motion Hearing Aids PAIR! 3 Micon BTE, with accessories. SLIGHTLY USED!.
2. AS IS SET/PAIR Siemens motion 100 (ITC) digital Hearing aids w/volume cost $1900
3. SIEMENS Motion M 5Mi Wireless Digital Hearing Aids
4. Siemans EasyTek hearing aid remote for, Primax,Binax, Pure,Carat,Motion,Insio
5. 2 SIEMENS MOTION P BTE ( Behind The Ear ) Both Ears Digital Hearing Aids
6. 1 New SIEMENS Motion 3 BX Binex BTE Either Ear Digital,Waterproof Hearing Aid
7. 2xDigital Hearing Aids Siemens Motion 101 XCEL Open Fitting
8. Siemens Motion 7PX Supper Power BTE Hearing Aids Aid PAIR + easyPocket
9. One New SIEMENS Motion 5BX Binex BTE (Behind-The-Ear) Either Ear Hearing Aid
10. Siemens Easy Pocket remote control for hearing aids Life, Pure, Motion
11. 2xDigital Hearing Aids Siemens Motion 500S Open Fitting+Charger+Remote
12. 2 x Siemens Motion 301P digital professional hearing aids for sale ! 8 Channel!
13. 1 SIEMENS MOTION PX 3mi BTE (Behind-The-Ear) EITHER Ear Digital Hearing Aid
14. 1 NEW Siemens Motion 5 MI BTE Either Ear Waterproof Rechargeable Hearing Aids
15. One Siemens Motion 301 XCEL is Sx Behind Ear Hearing Aid Left Side New $1,200
16. 2xDigital Hearing Aids Siemens Motion 101 Open Fitting+Free Charger
17. 2xDigital Hearing Aids Siemens Motion 700S Open Fitting+MiniTEK+eCharger
18. One New Siemens Motion 7 MI BTE (Behind-The-Ear) Either Ear Digital Hearing Aid
19. Siemens Easy Pocket remote control for hearing aids Life, Pure, Motion-JM
20. 1 New Siemens Motion 7 BX BINEX BTE Either Ear Digital, Waterproof Hearing Aid