Siemens is one of the highly trusted brands known for providing hearing aid products of exceptional performance, design, and quality. It was founded way back in Berlin in 1847 but began focusing on hearing instruments in 1877. Although it was recently acquired by Sivantos, Inc., it is still known as Siemens Hearing Aid in the market. It has built a major trust of customers and earned loyal customers through the years. Siemens has been producing hearing aids that deliver almost 25% clearer and higher speech understanding than individuals having normal hearing.
It is easily adaptable for every kind of situation and offers an extremely enhanced hearing to its wearers. Individuals wearing these do not have to worry about facing any kind of difficulty in noisy places like restaurants, social gatherings, sports events etc. The trust factor remains intact and there has been no compromise in the performance of their hearing aids. The brand is so well known that its name is enough for anyone to buy its products. Hearing Sol strives to work towards helping their customers find the right Siemens hearing devices. We have even hired personal hearing consultants to help people learn about hearing aid styles and accessories.
"Binax" got introduced by Siemens in 2014 which got termed as the first hearing aid that is so good that it surpasses normal hearing. The brand has been specifically focusing on designing hearing instruments that make hearing easy for people. There is a constant up-gradation in technology that provides immense clearness. There are proper volume controls that can be adjusted at any time and even at complex surroundings. At Hearing Sol, you will get to know more about Siemens and it's product range as their products ensure the greatest comfort, convenience as well as discretion.
Read More: Siemens Hearing aid price list
Signia Hearing Instruments
Signia's hearing aids are extremely powerful, they have been tried and tested to diminish listening effort, and provide a better-than-normal hearing in demanding surroundings. All models are supplied with "tinnitus" therapy features to reduce the discomfort of "ringing in the ears."
They also offer the following advantages:-
High performance, low energy consumption: High performance is accompanied by complicated functions in these hearing aids, their batteries don't easily die, all because intelligent processes that reduce power drain and prolong battery life. There is also a rechargeable feature available in these hearing aids and require battery changes on an average of once in a year.
Hear without strain: These hearing aids pick out a target speaker's voice from background noise so that listening effort is notably diminished.
Easy listening even in rooms where sounds vibrate: Rooms with hard surfaces like uncovered walls and marble flooring reflect more sound than rooms with carpets and similar items that decrease echo. The Echo Shield function reduces interference due to reverberation, ensuring speech signals are clear and listening effort reduced.
Make phone calls with ease: The best feature is that it automatically detects a phone nearby and turns on. The user can hear caller's voice in the hearing aid next to the phone receiver, they can also be transferred to the hearing aid in the opposite ear, ensuring a high level of speech understanding, even in noisy surroundings.
Follow every conversation effortlessly: For some people having "hearing loss" daily situations like conversations at a metro station or bus stand are also a challenge. But Signia hearing aids limits the speaker of interest and reduces any sound disturbance from the environment.
A whole new music experience: Another endearing feature of these hearing aids is that it easily connects to HD Music programs to improve the sound quality of music, whether it is playing live, through a stereo system, or during an onstage performance.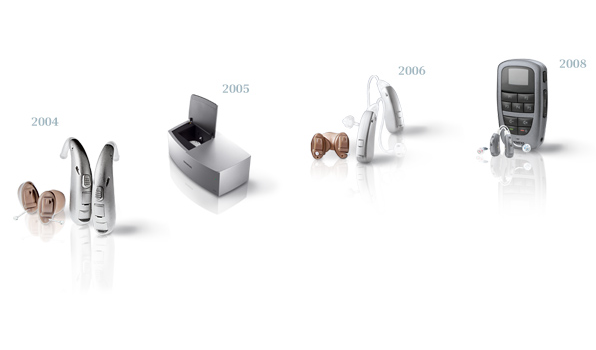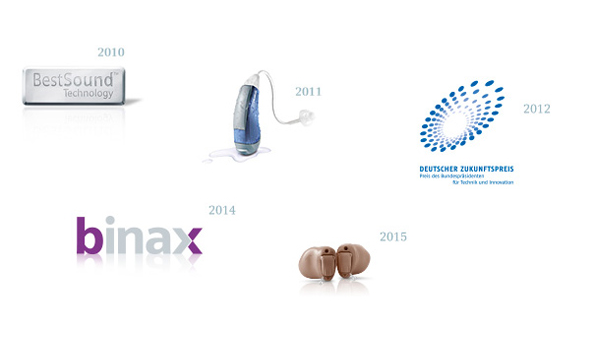 2004 Acuris: Siemens introduces the first hearing instrument featuring a wireless system, e2e wireless™.
2005 iScan: Siemens presents the world's first in-office digital earmold impression scanner.
2006 Centra: Siemens launches its first trainable hearing instrument.
2008 Siemens Tek: Siemens introduces a revolutionary wireless enhancement system enabling access to all favorite audio devices.
2010 BestSound Technology: Siemens improves the sound of hearing devices to a previously undreamed-of quality level.
2011 Aquaris: Siemens introduces the world's first waterproof digital hearing aid.
2012 micon Chip Technology: Siemens presents its new chip technology with 48 channels – a world record!
2013 Nitro micon: Siemens offers a new power hearing aid for people with profound hearing loss.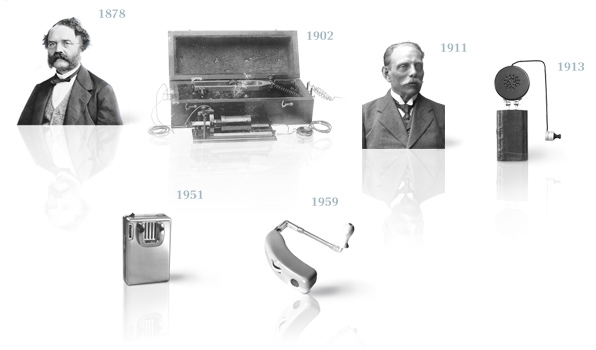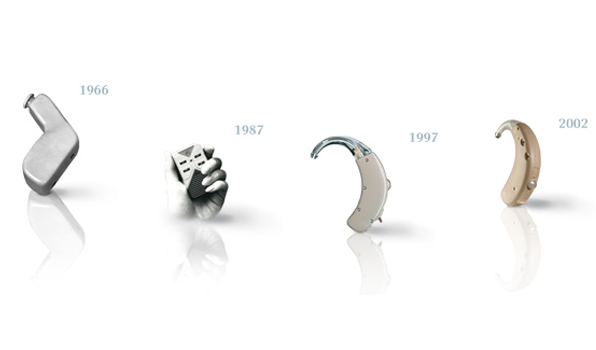 1878 Telephone receiver with substantially improved transmission quality. People with hearing impairments were able to understand a conversation better over this telephone developed by Werner von Siemens.
1902 Electric hearing testers, Siemens (or rather the predecessing company called Reiniger, Gebbert & Schall) makes audiometry electric.
1911 First steps in the development of electrical hearing aids. Louis Weber (Siemens&Halske) starts the development of the first device for hearing impaired.
1913 Esha-Phonophor, Siemens begins the first serial production of hearing instruments.
1951 Phonophor Alpha, Siemens presents the first pocket-size hearing instrument.
1959 Auriculate 326, Siemens launches its first Behind-The-Ear hearing instrument
1966 Siretta 339, Siemens presents the first In-The-Ear hearing instrument.
1987 Telos, Siemens launches first remote control in the world of hearing technology.
1997 Prisma, Siemens introduces the first digital hearing instrument featuring two microphones.
2002 Triano, Siemens launches the first hearing instrument with three microphones.